Types of degrees available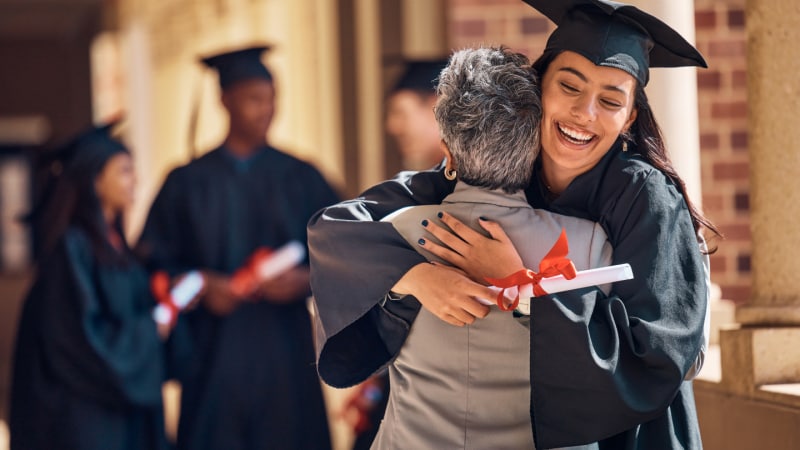 Many types of advanced degrees are available — from the degrees you can get as an undergraduate to even more advanced degrees like master's degrees and Ph.Ds.
The options leave a lot to consider when planning your education journey and deciding what degree or degrees make the most sense for your goals.
Read on to discover the degrees you can attain and the time commitments for each.
What kinds of degrees are there?
Associate's Degrees
Associate's degrees are a type of undergraduate degree. Usually, this degree requires a lot of general education classes, like college math, science, and a language. You can receive an associate's degree from community colleges, technical schools, vocational colleges, and some four-year colleges. Associate's degrees generally require 60 credits and two years to complete.
You can choose from an Associate of Arts (AA), an Associate of Science (AS), or an Associate of Applied Science (AAS) degree. AA and AS degrees are usually transfer degrees, meaning you can transfer the credits earned to a four-year college to continue your education and earn a bachelor's degree if you ultimately want to.
AAS degrees are designed for students who plan on entering the workforce immediately after they graduate from the program. Most AAS degree programs require students to choose their specialty early on in the program so they're well prepared for entry-level career positions within a specific field upon graduation.
Bachelor's Degrees
Bachelor's degrees usually require 120 credits and typically take four years to complete at the rate of 15 credits per semester. The first half of the degree usually overlaps somewhat with the coursework required for an associate's degree and involves general education classes. Students' classes tend to get more specialized when they select a major as they progress in school. This degree is sometimes referred to as a "traditional college degree."
Bachelor's degrees are divided into specialties such as:
Bachelor of Arts (BA)
Bachelor of Science (BS)
Bachelor of Science in Business Administration (BSBA)
Bachelor of Business Administration (BBA)
Bachelor of Engineering (BE)
Master's Degrees
A master's degree — a graduate degree — usually requires between 30 to 50 credits to complete, depending on the program. Typically, master's degrees take two years to complete, but the time depends on your program and if you're attending school full-time or part-time.
This degree is specialized, and most students pursue a bachelor's degree first. Master's degrees are divided into specialties such as:
Master of Business Administration (MBA)
Master of Arts (MA)
Master of Science (MS)
Master of Fine Arts (MFA)
Ph.D.s And Doctorates
Both Ph.D.s and professional doctorates are considered the most advanced degrees that you can earn in the U.S. and signify an advanced knowledge of a specific area of study.
A Ph.D. stands for Doctor of Philosophy and is typically considered a research degree. A doctorate is an umbrella term for many advanced degrees. That umbrella includes Ph.D.s and also other advanced degrees like Doctorate of Theology degrees. Almost all schools require you to have completed a master's degree before you start one of these programs. These degrees require anywhere from 60 to 120 credit hours and typically take four to six years to complete. This timeframe depends on the program itself, the subject matter, and the school, though.
Professional Degrees
A professional degree prepares people for work in a specific field. Professional degrees are offered for various industries, such as architecture, dentistry, engineering, law, pharmacy, medicine, veterinary medicine, and education. Some programs require a bachelor's degree for eligibility, and others don't. These degrees typically take three to five years to complete, although they vary widely. Upon completion of the program, graduates are often eligible to pursue accreditations or sit for licensing exams in their fields. Examples of professional degree licenses include medical licenses, law licenses, and pilot licenses.
Non-degree certifications
A certificate program is an alternative to a degree program. Certificate programs are usually short-term training programs that help you develop the skills and experiences necessary for a particular job and often take less time to complete than a degree. There're certificates for careers in various industries, including healthcare, business administration, and information technology (IT). Examples of certification programs include dental assistance certificates, web programming certificates, and massage therapy certificates.
Final thoughts
As you begin to prepare for college and assess your career goals, it's essential to outline what you want out of your education. With so many options and degrees available, you want to make sure you choose what's best for you and your future. There's no such thing as one size fits all.