What happens if you file FAFSA® late?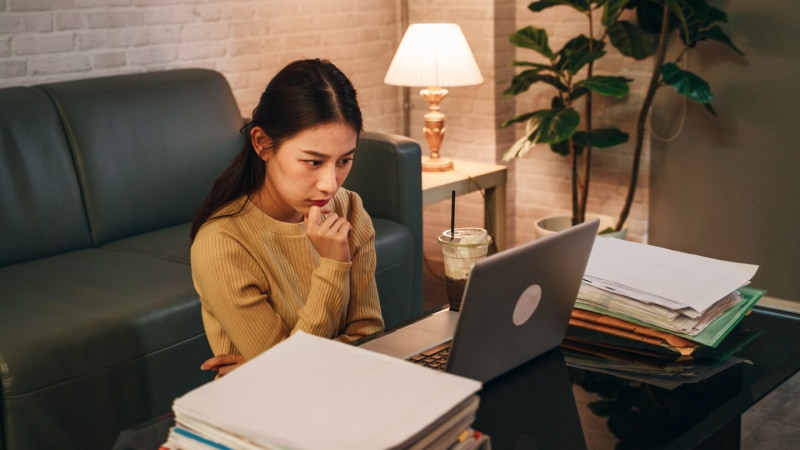 As you plan to further your education, you have many responsibilities. Sometimes things happen, though, and you miss deadlines.
Here's what you need to know about the Free Application for Federal Student Aid (FAFSA®) deadlines and what to do if you miss any due dates associated with it.
When's FAFSA® due?
There're three FAFSA® deadlines to remember: federal, state, and your college's. While the deadlines might differ, remember that each requires the same FAFSA®, so your best bet to file without missing deadlines is to research what the earliest deadline is going to be (whether that's from your college, your state, or the federal deadline) and file before that date.
College deadlines:
The first FAFSA® due date usually comes from colleges. Deadlines vary from school to school but typically come well before the academic year starts. If you're applying to multiple colleges, look up each school's FAFSA® deadline and factor those deadlines into when you file the FAFSA®.
State deadlines:
Your home state usually sets the second deadline. Some states have hard deadlines, while others suggest dates to make sure students in their state get priority consideration for college aid. It's important to note that states often award aid on a first-come-first-served basis.
Federal deadlines:
The last deadline usually comes from the U.S. Department of Education. The federal deadline is June 30th for that academic school year. For example, the 2023-24 academic year application deadline is June 30, 2024.
Important FAFSA® dates to add to your calendar
Students should circle three key dates in their calendars every year: October 1st (when FAFSA® opens), June 30th (when FAFSA® closes), and the September corrections due date. The one exception is the 2024-25 application which will open in December 2023.
Until further notice from Federal Student Aid (FSA), the FAFSA® open and deadline dates will remain the same for subsequent academic years, with the 2024-25 application being the exception.
2023-24 Academic Year FAFSA® Deadlines
FAFSA® Open: October 1, 2022
FAFSA® Deadline: June 30, 2024
Corrections Due: September 14, 2024
2024-25 Academic Year FAFSA® Deadlines
FAFSA® Open: December 2023 (exact date to be announced)
FAFSA® Deadline: June 30, 2025
Corrections Due: September 14, 2025
2025-26 Academic Year FAFSA® Deadlines
FAFSA® Open: October 1, 2024
FAFSA® Deadline: June 30, 2026
Corrections Due: September 14, 2026
You should talk to your school's financial aid administrator if you have questions about school-specific deadlines. Remember that your state's deadline might differ from the federal deadline, too.
Common FAQs about FAFSA® deadlines
Can I apply for FAFSA® late?
If you missed your college's financial aid deadline, contact your school's financial aid office to see if you can do anything. Not all colleges are flexible, and they might not have any award money left to distribute after a certain date. So, if you get your information in after the deadline, there's no guarantee that your college will have any aid for you.
If you missed your state deadline, submit the FAFSA® as soon as possible and try contacting your state agency that handles financial aid about other steps you can take.
Residents of Massachusetts, for instance, can contact the state's Department of Higher Education, while residents of California can reach out to the state's Student Aid Commission.
Remember, your state might've already distributed its available aid to students who filed before the deadline. While it's worth a shot to contact state agencies to help, there's no guarantee that you'll be considered for state aid if the deadline has passed.
If you missed the federal deadline, unfortunately you won't be able to fill out the form for that academic year.
What happens if I miss the FAFSA® deadline?
While some colleges may offer some flexibility, the state deadlines are largely firm, and the federal deadlines are completely firm. This means, for the most part, if FAFSA® isn't filed by the deadline, students won't be able to receive most forms of financial aid and will have to wait until the following academic year to apply.
Is it better to submit FAFSA® early?
You should file your FAFSA® as soon as possible. The sooner you file your FAFSA®, the better your chances might be of maximizing your financial aid because a lot of aid is offered on a first-come-first-served basis.
How long will it be until I receive a response to my FAFSA® application?
For an electronically filed FAFSA®, you'll receive a link to your Student Aid Report (SAR) in as little as three to five days. By contrast, paper FAFSA® applications can take up to ten days to process. You'll have to wait to receive a financial aid award letter from individual colleges to assess how much aid, if any, a school is offering you.
Can I still get financial aid after the federal deadline?
Unfortunately, once the FAFSA® closes, you won't be able to fill out the form for that academic year. Instead, you may have to find other ways to fund your post-secondary education. This underscores how important it is that you don't miss these deadlines. That being said, there might be opportunities to receive scholarships and grants that aren't reliant on the FAFSA® process.
Final thoughts
Make sure you write down all the financial aid deadlines you need to know and put them in a calendar or reminder app on your phone so you know when the dates are approaching. By submitting the FAFSA® and any other forms as soon as possible, you could put yourself in a better position to receive federal, state, and institutional aid.