What're careers to consider for moms going back to school?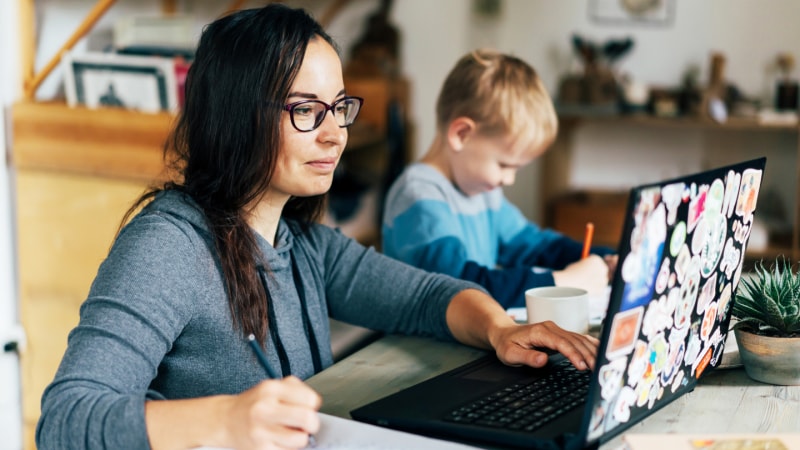 If you're a mom (including a single mom) considering going back to school or taking another continuing education pathway, narrowing down career options that make sense to pursue isn't always easy. The last thing you want to do is jump into a career that'll make your family life too challenging, given how much you likely have on your plate already.
Luckily, there're plenty of options, no matter what you might be most passionate about.
Here're a few options to consider as you weigh what interests you the most.
1. Web developer
Having a leg up when it comes to technology will benefit you in the long-term career-wise. These days, having web development skills offers a great path to steady work and a consistent income because of how in demand this skill set is.
What does a web developer do?
A web developer designs, creates, and manages the technical backend of websites. You'll likely need to understand coding and sometimes design and be available to troubleshoot problems as they arise.
Why this could be a good job for moms
There's often flexibility with web development jobs. You can, in some cases, be your own boss and work from home, or get a job with a company and negotiate flexibility into your package.
2. Realtor
Realtors can work independently or as a part of a real estate team and often get to set their own schedules. Some even work for just part of the year. These're just a few reasons this career might be a good option for a busy mom.
The unfortunate downside to being a realtor is that it, for the most part, is closely tied to how good or bad the housing market is doing at any given time. This uncertainty can be why some people choose not to pursue this path.
What does a realtor do?
Realtors are responsible for representing either the seller or the buyer (or both) when it comes to buying, selling, and renting properties. This is an excellent career for natural-born sellers, as much of your job will be highlighting the unique aspects of a property and negotiating a sale on behalf of your client.
To become a realtor, you must be licensed in the state you plan to do business in and go through the licensing certification process. You don't necessarily have to be college-educated to pursue a certification, which means the timeline for getting straight to work can be shorter than for a career that requires a certain degree.
Why this could be a good job for moms
Realtors typically get to set their own schedule. You can choose when to show a property and the hours you spend doing paperwork. If you work for yourself, you can even choose to work from home when you aren't showing properties.
3. Graphic designer
If you consider yourself an artistic, design-oriented person, you might want to consider going after a career as a graphic designer. Graphic designers generally need a creative eye, management skills, and the ability to strictly adhere to deadlines.
In many cases, you can complete an in-person or online program that'll give you the skills you need to succeed instead of pursuing a four-year degree.
If you already have some experience, it's easy to take one-off classes to educate yourself in the areas you want to improve in, too.
What does a graphic designer do?
A graphic designer creates visual design elements for websites, marketing materials, labels, and other necessary brand designs (among many other things). Graphic designers can work as freelancers, in-house at a company, or at an agency servicing clients.
Why this could be a good job for moms
Graphic designers can have flexibility in their work hours. Depending on the road you plan to take, you could prioritize working from home and creating your own hours. You can pick up freelance opportunities as well, outside of a full-time job, to help amplify your income if needed.
4. Medical administrative assistant
If you have the drive to help people in medical situations but don't want to spend the many years in school it takes to become a doctor, a medical assistant is a great option to step into the medical field. Typically, you can finish your education in two years for this job through a technical school or community college, which means you can start working full-time fairly quickly.
What does a medical administrative assistant do?
A medical assistant handles many daily operations in a medical office, including setting appointments, billing, managing medical charts, and reporting. You'll need to be skilled in technology and have a solid understanding of medical terminology and procedures.
Why this could be a good job for moms
Medical assistants generally work on a set schedule, meaning you'll know exactly when you'll be in and out each day and that you'll have holidays off.
5. Human resources specialist
If you enjoy helping others find their dream job or simply making the workplace better for others, human resources could be a great career option. It often requires a need for empathy, organization, and an understanding of basic state rules and regulations.
What does a human resources specialist do?
Generally, people who work in human resources help with the employee screening process, hiring, and daily workplace compliance. You'll have a hand in employee relations, benefits, and compensation, as well as ensuring your employees have what they need to thrive.
Why this could be a good job for moms
A job in HR usually means a consistent schedule. Additionally, in most cases, HR professionals don't have to work weekends or holidays, which means you'll get that time with your kids reliably while still getting a consistent paycheck. While there're potentially some certifications and education requirements required for a career in HR, it's often a career that you can grow in within a company, making the additional hurdles required worth it.
6. Administrative assistant
Administrative assistants handle the day-to-day needs of an office (and all of the organizational needs that come with that) and usually work a consistent schedule — both reasons it can be a great career fit for moms.
What does an administrative assistant do?
An administrative assistant is responsible for helping run an office or assisting executives with their daily needs. This can be anything from project management to clerical tasks such as filing paperwork, scheduling travel, routing calls, and gathering presentation assets.
If you're an organized person who enjoys keeping things on task and helping others, this can be a great job with room for growth with the right company.
Why this could be a good job for moms
Like working in HR, administrative positions typically come with set hours and holidays off. Depending on who you work for, there may be times when you must work overtime or help with events, but those situations should be discussed in the interview process to make sure you know what you're signing up for.
Final thoughts
As you can see, there are many flexible career options for mothers looking to go back to school. This is just a small sampling, too! Take time to figure out what's most important to you and create a plan based on a career that gives you the flexibility and peace of mind you need as a busy parent.