How much does culinary school cost?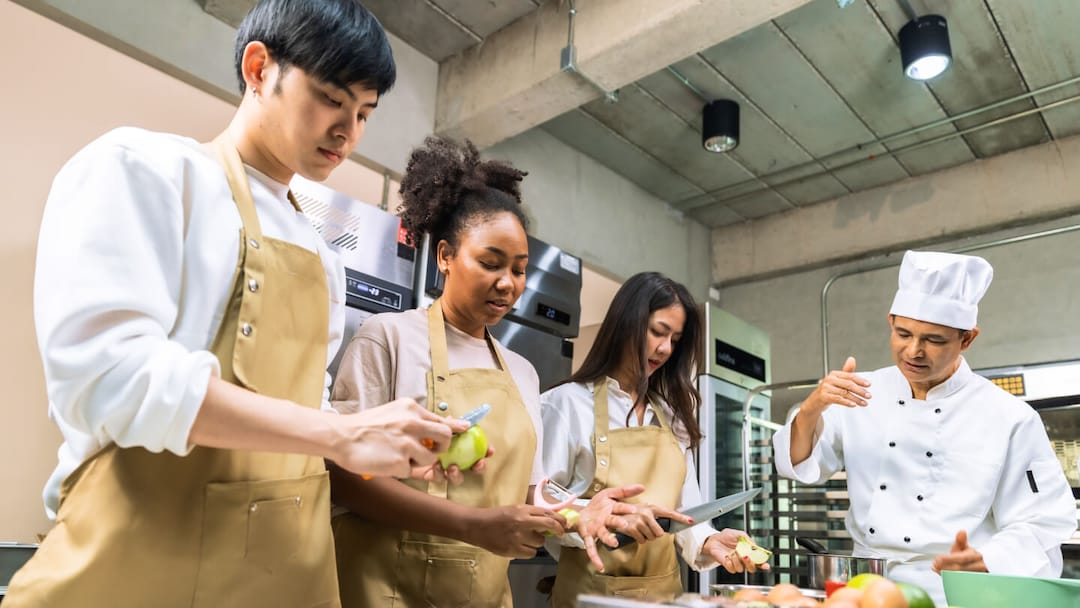 Students interested in a culinary education often wonder how much culinary school costs. Many different options are available for culinary school — be it online-only degrees, one-year, two-year, or four-year programs, and even certificate programs.
Let's dive into the cost of culinary school and important things to know about receiving financial aid and scholarships for culinary school to make it more affordable.
How much does it cost to go to culinary school?
Many people wonder, is culinary school expensive? The cost of culinary school depends on the school you choose to attend, the campus you choose to attend (some schools have several options), and the program you decide to enroll in.
The good news here is that because there's such a range of options, there's more of an opportunity to find a program that meets your needs, including your financial needs.
Once you decide on the type of degree that you're after, it'll be much easier to determine the cost of your culinary education.
What's the average tuition cost of culinary school?
The average cost of tuition at culinary school constantly changes and highly depends on where you go to school.
A few examples of the cost of culinary school include:
The above list is a small selection of schools offering culinary degrees. Again, costs vary widely depending on the school location and degree type.
What's the cost of online culinary school?
Online culinary degrees are another option to explore. Here're a few examples of what these degrees cost:
The above list is a small selection of schools offering online culinary programs. Just like with in-person culinary school degrees, the costs will vary widely depending on the school.
What non-tuition costs are associated with culinary school?
Beyond tuition, culinary school comes with other fees and expenses you need to know about. As you're looking at the figures for your culinary education, you should check to ensure these things are included or see if you'll have to pay for them separately so you can make sure to budget for them.
These additional costs could include:

Books and culinary supplies like knife sets, kitchen supplies, or a computer

Chef's uniform
Room and board
Additional school fees
If you're concerned about any of the associated costs of culinary school, contact your school's financial aid office to determine what'll still need to be paid outside of tuition.
Can you get financial aid for culinary schools?
Yes, you can get financial aid for culinary school. The first step towards getting aid is to file the Free Application for Federal Student Aid (FAFSA®). FAFSA® covers culinary school if the school is accredited and a part of the federal financial aid program. If you're unsure if your school qualifies, check with its financial aid office.
By filing for FAFSA®, you become eligible for aid like federal grants, student loans, and work-study programs. Additionally, if your school offers institutional aid, like scholarships, the FAFSA® may help you qualify.
Eligibility for aid via the FAFSA® will depend on your financial situation and how much need your school determines you have.
Scholarships for culinary school
There're also scholarships for culinary school. The best places to find scholarships are via your college's financial aid office or through an online search.
Scholarships for culinary school come in small and large amounts that can help you pay for everything from tuition to associated fees. Each scholarship will have its own requirements, and you'll likely have to fill out an individual application for each. Still, it's well worth the time and effort if you're awarded funds to help pay for school.
Final thoughts
Like any kind of advanced schooling, culinary school needs to be considered from a financial perspective. It's a big decision, after all. Don't be afraid to compare and contrast what different programs cost, along with the financial aid options that'll be available to you.