Your Life
Explore Major Purchases
Homebuying tips for those in house hunting mode
Homebuying tips for those in house hunting mode
By
Barbara Bellesi
Posted: 01/25/17
Updated: 06/27/18
The homebuying process can be confusing and exhilarating, especially for first-time buyers. Here are some tips from real estate pros and happy homeowners that may inspire the search for your own dream home: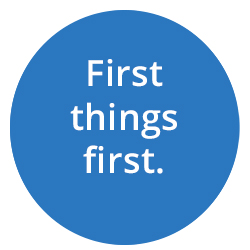 Determine how much mortgage you can afford
Leah Tozer, a partner and broker with New York-based luxury real estate firm Engel & Völkers, says it's important for potential homebuyers to determine what they can comfortably afford. A realistic monthly budget should include all living expenses, not just the mortgage.
"At the end of the day, it's more important for me to know [my clients] are not eating peanut butter and jelly sandwiches every day and that they actually have a life," Tozer says. "Getting someone a place to live is more than just the property itself. It's the lifestyle that's going to follow after they've signed those papers."
With this in mind, the question, Tozer adds: "How much mortgage can you afford?" becomes "How much mortgage should you afford?"
Susan Johnston Taylor and her husband had been hunting for a home close to downtown Austin, Texas. They envisioned buying a mid-century ranch, but soon realized that those older homes would require expensive updates and maintenance. Plus, being close to the desirable downtown area meant spending more money for less square footage.
"If we were right downtown, we'd be in a condo," says Johnston Taylor. "Mortgage payments might be similar, but less space and condo fees would likely add several hundred dollars a month to our overall housing payment."
The couple decided to look a little further outside of the downtown area to find the square footage they wanted at a price they could comfortably afford.
"We could have qualified for a larger mortgage to buy something bigger and closer [to downtown], but who wants to spend all your money on a mortgage when you have furniture to buy and other priorities?" Johnston Taylor says. "For us, being a little further out and having more space made more sense than [buying] a smaller home we'd likely outgrow or a pricier home that would have plenty of space but stretch us financially."
Network your way into a new home
Ayumi Otaki, senior managing director of Corcoran Group Real Estate, advises that once you are ready to begin the homebuying process, you should reach out to family and friends for insight and advice. This, she says, will be particularly helpful when it comes to finding a real estate agent.
"[The real estate business] is referral based," Otaki says. "The best way to find an agent is through your network of people."
Sarah Parmer and her husband asked friends and family for advice when they decided to upgrade from a townhouse to a single-family home. The Telford, Pennsylvania-based couple was excited at the prospect of having more privacy and space—preferably with an open-concept interior—but they also needed their dream home to be close to family, and work. "We paid close attention to other friends and family members that were shopping and aware of what was happening in the market," Parmer says.
Parmer's sister worked as their real estate agent, so she felt confident during the homebuying process. Parmer and her husband kept an eye on the MLS listings to determine their current home's value, as well as to shop around for homes in their intended neighborhood.
"Once we were actively in the thick of buying and selling,"she says, "we sought out referrals through friends and family members in regard to moving companies, mortgage brokers and home inspectors."
Plan now to avoid issues later
Pamela Liebman, CEO and president of Corcoran Group Real Estate, advises her clients to take care of basic tasks like credit checks early on as it's the best way to avoid unwanted obstacles during the homebuying process.
"Get all your ducks in a row now, so when you find [a home] you like, you're ready to move ahead," Liebman says, "I call it 'planning for surprises,'" Liebman says.
An early home inspection is another way to avoid delays. Diane Greaves of Manalapan, New Jersey, experienced an unpleasant surprise when she and her husband put an offer on a home. They were getting ready to close, but hit a snag when the backyard shed, built 2 feet too close to a neighbor's property, came into question. There was nothing to be done so the current owner had to rebuild the shed and wait for the home inspector to come and give the all clear, Greaves says.
Those 2 feet of space delayed the closing by a month. But Greaves and her husband took it in stride.
"These things are out of your control when you're the buyer," she says. "They're just things you have to wait for."
Don't delay the process
Even after moving into their dream home, some homeowners reflect on the homebuying process and see where they could have done things differently. Liebman says her clients are often so happy with their purchase that they wish they had started earlier. Being fearful of a complicated process, she says, is often what holds people back.
Tozer agrees. "What people will say is 'I should have done this earlier,'" she says, especially when buyers realize that prices and interest rates are again on the rise—"and they could have bought more [house] for the same amount of money."
Greaves is one such happy homeowner whose only regret is that she and her husband didn't start house hunting sooner.
"I didn't realize how long it would take me to find something I really wanted, because I didn't want to settle," Greaves says. "I wasn't willing to settle on a house I was only moderately happy with just so I could move in on schedule."
Whether you are looking to buy a home in a nearby town or are gearing up for a cross-country move, make sure you have the resources and support you need to make your dream home a dream come true.
Barbara Belles is a Chase contributor. She writes about real estate trends.