No loan colleges: what they are and who's eligible to attend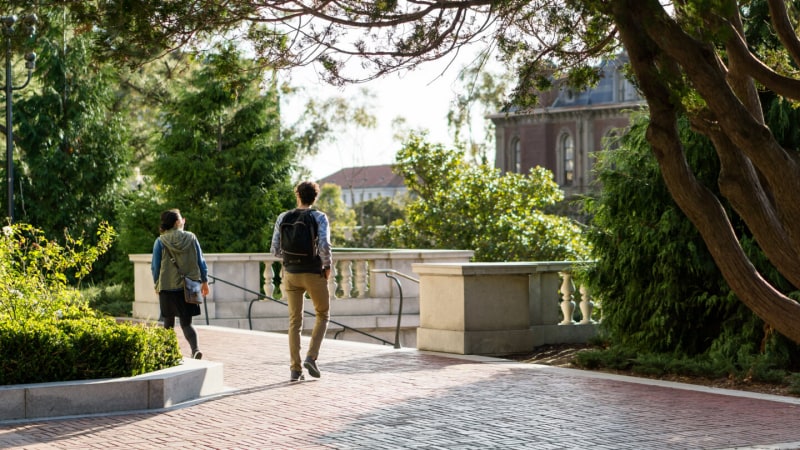 College is a substantial financial investment that's left many in debt. According to the White House, as of August 2022, cumulative federal student loan debt was $1.6 trillion.
On top of that, according to an analysis by the U.S. Department of Education, nearly one-third of borrowers have debt but no degree. Many of these students couldn't complete their degrees because the cost of attendance was too high.
As tuition and fees at many colleges and universities continue to rise, some are instituting "no-loan" policies, which remove or place less emphasis on federal student loans in financial aid packages and instead prioritize scholarships, grants, and work-study. The purpose behind these policies is to help students graduate college without having any debt.
It's important to keep in mind that attending a "no-loan" college doesn't mean your tuition will be free. The primary objective of most no-loan colleges is to meet the demonstrated financial need of students, which is calculated as the difference between the cost of attendance and their Expected Family Contribution (EFC). Your EFC is based on the information you and your parents provide on the Free Application for Federal Student Aid (FAFSA®). If your circumstances result in costs exceeding your EFC (such as voluntary extracurricular costs or fraternity or sorority dues), you may need to find another way to cover those expenses, such as private loans.
Continue reading to see a sampling of schools with "no loan" policies and things to keep in mind if you're considering any of these schools.
Schools that offer "no loans" to students
The below schools advertise "no-loan" options to all their admitted students regardless of their financial situation. Each school may have different policies, and these policies may be subject to change, so it's important to reach out to the school's financial aid office to confirm you meet the requirements and to find out the details of their policy.
Amherst College
Bowdoin College
Dartmouth College
Davidson College
Princeton University
University of Pennsylvania
Washington and Lee
Yale University
Swarthmore College
Harvard University
Rice University
Williams College
Schools that offer "no loans" to low-income students
These schools advertise "no loan" or "all-grant" options to low-income students who demonstrate financial need based on their and their families' incomes. Generally, this means that if your family earns below the income level the school has set and you're admitted, you'll be offered a financial aid package that doesn't include loans.
Colby College
Cornell University
University of Chicago
Haverford College
Things to keep in mind if you're considering a "no loan" college
It's important to keep in mind when considering "no-loan" colleges that all of them have a different way of defining what that means. For instance, some limit the policy to lower-income students, while others require some kind of contribution from students before the policy goes into effect. Reading the fine print to understand what you're signing up for is important.
As we covered above, a "no-loan" school doesn't always mean that the attendance cost at the college will be free. Usually, these colleges aim to cover the difference between the cost of attendance and your EFC. Because of that, there are certain situations where it might be more cost-effective to attend a college without this policy — say, if you're weighing a full-ride scholarship at one college versus a "no-loan" college without such a generous scholarship.
Even students attending "no-loan" colleges sometimes need to take out student loans to help cover costs. Because some "no-loan" colleges have opted out of the federal student loan program, that could mean taking out private student loans. This is another reason why "no-loan" colleges must be weighed carefully against other colleges, and all of the financial aid packages you're offered must be considered.
Lastly, many schools with "no-loan" policies — at least as of now — are some of the most challenging colleges in the U.S. to get into. This is yet another consideration to weigh as you apply to colleges.
Final thoughts
For many students, there are certainly advantages to attending a "no loan" college, but like with any big financial decision, when you're weighing what school to attend, make sure to understand the implications of choosing a "no loan" college over another option.