How to pay for college without your parents' financial support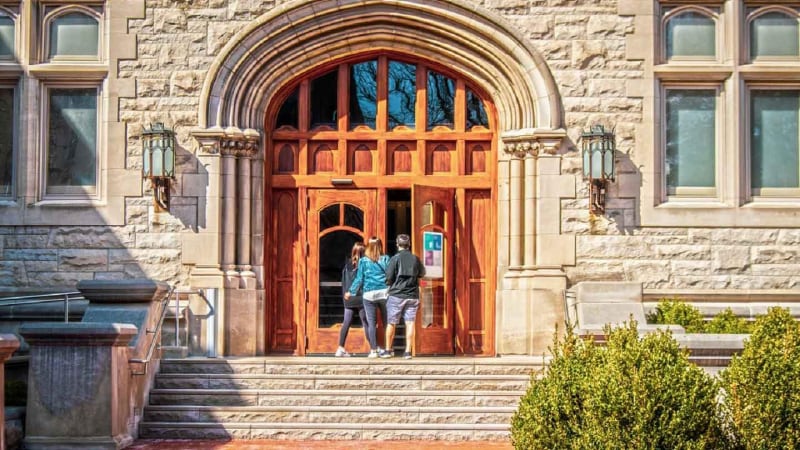 As you approach graduating from high school and are thinking about college, the topic of paying for college is likely top of mind. It might feel particularly daunting if your circumstances mean your parents can't help you with college costs.
Having this obstacle in front of you doesn't mean you have to give up on your dreams of higher education, though. Continue reading to discover tips and steps to take to pay for college without financial support from your parents.
1. Explore a variety of school and degree options
There's a lot of variety when it comes to post-secondary schools and degrees, and there's a lot of variation regarding how much they each cost, too. Getting a degree after high school doesn't have to mean going to a pricey private college.
If costs are a concern, explore all the options out there. For example, you can consider getting an associate degree, which typically requires two years of schooling. You can explore technical and trade schools. And yet another option to consider is going to a two-year community college and then transferring to a four-year college to complete the remaining two years of your degree. This can help you save money, as community college classes are generally more affordable. If you choose this route, check with the four-year college you plan to transfer to for their credit transfer policies.
Remember, college doesn't come with a one-size-fits-all tag. Explore your options to see what suits you best financially and aligns with your academic goals.
2. Research the financial aid options that might be available to you in advance
If your parents (or other legal guardians) won't be able to help you pay college tuition, the burden is going to be on you to ultimately figure out how to pay for college if you want to go. Aside from researching different schools and degrees (and their associated costs), do what you can to understand the financial aid options that might be available to you when you're ready to pursue applying to school.
A broad range of financial aid is potentially available to you to help you pay for college, including federal financial aid, state aid, scholarships, grants, and work-study opportunities.
A good starting point when assessing what financial aid might be available to you is understanding the four biggest government grant programs: The Pell Grant, the Federal Supplemental Educational Opportunity Grant, the TEACH Grant, and the Iraq & Afghanistan Service Grant. Students must file the Free Application for Federal Student Aid (FAFSA®) to see if they may qualify for these grants.
The Pell Grant
Exclusively for undergraduate students with demonstrated financial need, the Pell Grant is one of the most well-known federal grant opportunities. For the 2023-24 academic year, the maximum award an eligible student can receive is $7,395.
Federal Supplemental Educational Opportunity Grant (FSEOG)
This grant provides supplemental aid to students who demonstrate exceptional financial need beyond the Pell Grant. Awards usually range between $100 to $4,000 per year and are distributed at schools' discretion.
TEACH Grant
The Teacher Education Assistance for College and Higher Education (TEACH) Grant provides grants of up to $4,000 a year to students pursuing teaching careers. Students apply for the TEACH Grant before or during their undergraduate or graduate program. If your application is approved, your program will receive the funds and use them toward your tuition.
Most importantly, to receive a TEACH Grant, you must complete a four-year service obligation teaching full-time in a high-need teaching role at an institution serving low-income students. If you don't meet the TEACH Grant's requirements, the grant converts into a Direct Unsubsidized Loan.
Iraq and Afghanistan Service Grants
This grant may be awarded to students who don't qualify for a Pell Grant based on their Expected Family Contribution (EFC) but who meet the remaining Pell Grant eligibility requirements and lost a parent or guardian to military service following the events of 9/11 in Iraq or Afghanistan and were under 24 at the time of that loss or enrolled in college at least part-time. The award amount is generally the same as the Pell Grant for the academic year. Of note, the award amounts are currently reduced by 5.7% due to the Budget Control Act of 2011.
Again, there are many avenues for financial aid. These four federal grants are just a small sampling. Seek out the college counselor at your high school, explain your situation, and seek guidance early on about options.
3. If you have avenues for financial help, try to maximize them
Even if you don't have parents who'll be contributing to help you pay for college, you might have other people in your life like grandparents, aunts or uncles, mentors, or close family friends who want to provide you with some financial support for college. If that's the case, you can potentially maximize their help. There are a few ways to do this potentially.
Aunts, uncles, godparents, and just about anyone over 18 can give the gift of education by opening a 529 plan for a prospective student.
This is a tax-advantaged savings plan designed to help pay for educational expenses. Earnings in a 529 plan can grow federally tax-deferred (which means money in these accounts has a chance to compound faster). These accounts also allow for tax-free withdrawals when the funds are used to pay for a beneficiary's qualified education expenses. Funds can be used at any eligible accredited university, college, or vocational school nationwide, and potentially even at schools outside the U.S. The funds can also be used for room, board, textbooks, and other qualified expenses related to attending school.
529 prepaid tuition plans
Prepaid tuition plans allow people to prepay tuition at eligible public and private colleges or universities at today's rate in a lump sum or via an installment plan. The main idea is to lock in tuition costs at current rates for a student who may not attend college until many years later. Unlike savings plans, prepaid tuition plans usually don't cover room and board, and most require the person setting up the plan or the beneficiary to be a resident of the state offering the plan when they apply.
4. After you've applied to schools, complete the FAFSA® to see what your financial aid options are
Private organizations, the federal government, states, and corporations offer financial aid. Most students qualify for financial aid by filing the FAFSA®. The FAFSA® determines the amount of aid you may be eligible for (if any) from the government and other institutions who utilize it to distribute aid.
Some aid is first-come, first-served, so it's recommended that you file the FAFSA® as soon as possible after applying to schools to access the most aid that you're eligible for. You must also complete the FAFSA® each academic year you plan to enroll in school to secure aid.
5. Apply for as many scholarships and grants as you can
Scholarships and grants are funds you can receive for college tuition and related expenses you don't have to pay back. You can start applying for scholarships as early as high school, and there's no limit to the number of scholarships you can apply for. You can also receive scholarship funds alongside other types of aid like work-study, grants, and student loans.
Keep in mind that scholarships will affect the amount of other financial aid you can receive. A student can't receive a combined amount of financial aid that's more than the cost of attendance at their institution.
6. Compare aid award letters when deciding on the right school for you
After applying to schools and completing your FAFSA®, you'll receive aid award letters from the schools you listed on your FAFSA® that you ultimately get accepted to, outlining the grants, scholarships, and loans (if any) you've qualified for. Aid offerings will vary from school to school, so use these aid award letters as one of the bases for deciding what school will ultimately be right for you.
7. Consider getting a job if it works with your school schedule
Although college classes require time and commitment, depending on your class schedule, you can find a job that fits comfortably in with your free time. Try looking for jobs on campus, as they're designed for students. You can also look on online job boards for opportunities to make money while in college, including part-time jobs, temporary jobs, and freelance gigs. Every little bit will count as you try to ease the financial burden of college.
8. See how tax credits for qualifying college expenses could help you
There are potential tax credits to take advantage of while you're in school. Familiarize yourself with what they are to see if any could be financially valuable. You may consider reaching out to a tax professional to explore your options.
American Opportunity Tax Credit (AOTC)
The AOTC is a credit for qualified educational expenses paid for eligible students for the first four years of higher education. It's available to students, spouses, and parents (whoever is paying the educational costs for a student). The maximum AOTC credit is $2,500 per eligible student. There are certain income limits and other qualifying factors to claim this tax credit.
The LLC is a tax credit for eligible students that offsets the cost of college tuition and school-related expenses. The credit is for qualified tuition and related expenses paid for eligible students enrolled in an eligible educational institution. This credit is meant to help pay for undergraduate, graduate, and professional degrees — including courses to acquire or improve job skills. There's no limit to the number of years someone can claim the credit, and it's worth up to $2,000 per tax return.
9. Cut down on costs where you can
If you don't have parental support in college, and costs are a concern, do whatever you can to save money to ease your financial burden.
Just a few potential cost-cutting measures to consider:
Live with family and commute to school if that's a possibility.
Explore all of your housing opportunities – living in a dorm isn't necessarily the cheapest option.
Find unnecessary expenses you can cut back on – like streaming services, gym memberships, and other subscriptions.
Use public transportation or carpool if possible. This can save you money on gas, parking, and maintenance.
10. Consider your options when it comes to graduating early
This isn't for every student, but graduating early can help ease the financial pressures of college. There are several ways to do this, including taking Advanced Placement (AP) classes in high school that can potentially help you place out of general requirements at your college, taking summer classes, and loading up on credits each semester.
Final thoughts
Paying for college can undoubtedly be challenging, but with careful planning and perseverance, you can find ways to fund your college degree and achieve your academic goals. If this is one of your dreams, don't give up on it!