Internships versus part-time jobs in college: Which is right for you?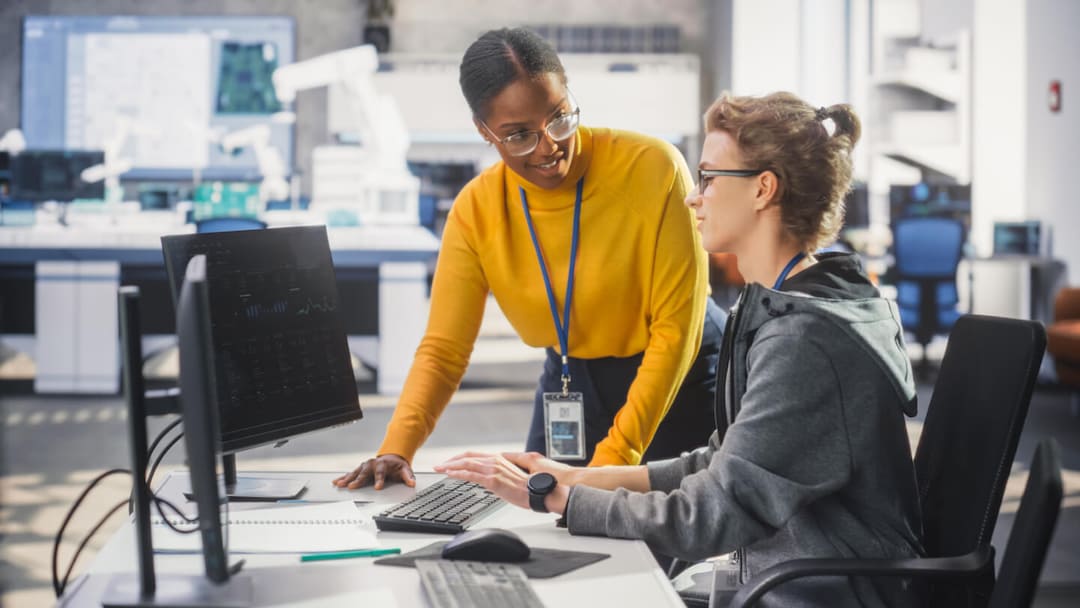 Every year, some college students spend their summers in paid or unpaid internships to help them build their skill set and get to know an industry they're interested in. An internship is an opportunity to grow outside the classroom and build skills for a future career. From helping with big projects to assisting with day-to-day responsibilities, interns get the chance to learn how a company works in practice rather than in theory.
Beyond internships, many college students also take on part-time jobs to build up their resumes and earn extra money throughout the school year and summer.
Here's what you need to know about paid, unpaid, and part-time jobs, and how to figure out which is right for you.
First things first, what's an internship, and do you get paid?
An internship is an opportunity for individuals who are still in school or early in their careers to gain professional experience. Paid and unpaid internships can be an excellent way to gain work experience and build your resume so you can increase your chances of obtaining a full-time, entry-level position after college.
Not all internships are paid, however, many companies do offer paid opportunities. Internship job listings usually outline whether the internship is paid or unpaid. Another thing to remember is that many states have explicit employment laws surrounding paid and unpaid internships, so do your research.
The pros of internships
Experience in a field you're interested in
Networking opportunities that can help you get a job or make career decisions in the future
The potential opportunity to make money if it's a paid internship
A foot in the door in a field that might otherwise be hard to break into
Potential to earn class credit if it's an unpaid internship
The cons of internships
You may have to balance school obligations with work
Your internship work hours may not work well with your class schedule
Unpaid internships can interfere with your ability to earn money from a part-time job
Paid internships might not offer competitive pay in comparison to part-time work
Many internships come with a time limit
Paid internships
A paid internship is a short-term position in a chosen field so you can gain work experience. These opportunities generally occur in the summer (for about three months) or part-time during the school year (usually for a semester). Pay can be hourly, a stipend, or a lump sum for the internship duration.
Unpaid internships
An unpaid internship is generally the same as a paid internship in terms of responsibilities and work expectations, with one obvious difference being that you don't get paid as an unpaid intern. That being said, unpaid internships are generally for class credit. However, it's important to check with your college or university to discuss their rules around internships for class credit and if that's even an option.
Part-time jobs for college students
Beyond internships, many college students also consider part-time jobs. Most part-time jobs that college students qualify for don't require a lot of experience. They tend to be retail or service-oriented jobs.
While they're still valuable for gaining professional experience, they're likely not as tied to your future career plans as internship opportunities. That said, they're a great way to earn money during college and may not come with a time limit like an internship.
Common FAQs about part-time jobs versus internships
What's the difference between a paid intern and an employee?
An internship is considered a trial period for many employers, and because of that, paid interns are often paid differently than full-time employees. For instance, paid interns may be paid hourly or even given a stipend rather than a salary. How a company categorizes an intern is entirely up to their operating procedures and differs from one company to the next. While employers might assign specific tasks to interns, they also may add a learning component to the job.
A full-time employee is usually not paid hourly and likely has a benefits package in addition to their salary. They also likely have very specific responsibilities for which they're held accountable.
Do paid interns get taxed?
Yes, internship income is taxable income. You'll likely need to fill out a W-2 form to provide your tax information to your employer.
Since this income is taxed, it'll appear on your tax returns and could impact your financial aid package. However, a paid internship is unlikely to pay enough to impact financial aid significantly. In any event, you should consider reaching out to a tax professional if you have questions concerning your tax liability from any wages earned at a paid internship.
How should you decide which role — an internship or a part-time role — is a better fit for you?
Many students consider their area of study (or major) when choosing an internship. They might also take into account their future career goals. If you're unsure how to find an internship that's the right fit for your career goals, work with the career office at your college. They likely have access to many opportunities and can point you in the right direction.
Chances are you won't be making a ton of money as an intern. It's important to set your expectations so that you understand your internship is more about the experience than the pay.
For the most part, college students take on part-time jobs explicitly to earn extra money. The key here is finding opportunities that won't interfere with your studies.
Final thoughts
Internships and part-time jobs have plenty of pluses and minuses that must be looked at carefully. Weigh the factors that are most important to you to figure out which option is a better fit.