What's a parent PLUS loan?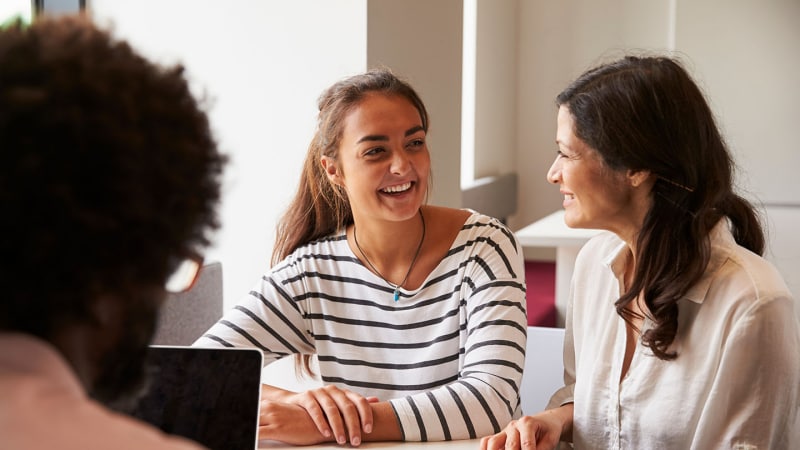 College can be a substantial financial commitment, and if your parents are looking to support you through your journey, they may want to explore all of the options that could be available to them to help pay for your education, including parent PLUS loans issued by the federal government.
Continue reading to learn more about parent PLUS loans and what you and your parents need to know if they're interested in applying for one.
What's a parent PLUS loan?
Parent PLUS loans are officially called Federal Direct PLUS Loans (they're called parent PLUS loans unofficially when issued to parent borrowers). The U.S. Department of Education issues these loans and they can offer advantages for parent borrowers looking to help cover the cost of their child's post-secondary education.
If you're an undergraduate student enrolled in a college or career school at least half-time and satisfy the federal student aid eligibility criteria, your parents can apply for a parent PLUS loan, and if approved, they'll be fully responsible for paying off the loan. The maximum amount your parents can borrow is the cost of attendance at the school you're enrolled in minus the other financial aid you've received.
Parent PLUS loans come with certain advantages over private student loans. These advantages include:
Loans have fixed interest rates that aren't dependent on a borrower's credit
Parent PLUS loans are available to cover the cost of attendance minus other financial aid (meaning borrowers may not need to take out private student loans to fill financial gaps)
Offer flexible repayment terms, including an income-driven repayment plan option
Parents can defer payments on these loans as long as their child is enrolled in school half-time
These loans are eligible for forgiveness programs like the Public Service Loan Forgiveness (PSLF) program
What are parent PLUS loan interest rates?
Parent PLUS loans that were first disbursed on or after July 1, 2023, and before July 1, 2024, have a fixed interest rate of 8.05 percent.
During any period where payment isn't required, interest will accrue on parent PLUS loans. Your parents can pay the accrued interest or allow the interest to be capitalized (added to the loan principal balance) when they must start making payments. Your parent's loan servicer will notify them when their first payment is due.
Who can borrow via the parent PLUS loan program?
The borrower must be your biological or adoptive parent. A stepparent can apply for the loan if married to your biological or adoptive parent.
Grandparents (unless they've legally adopted you) and legal guardians aren't eligible to receive parent PLUS loans, even if they've been the ones to raise you primarily.
How do you apply for a parent PLUS loan?
If your parents are interested in applying for a PLUS loan, they can use the online application on StudentAid.gov. Most schools require them to submit the PLUS loan application online, although some have different application processes. Before your parents apply for a PLUS loan, ensure you've completed your Free Application for Federal Student Aid (FAFSA®).
Common questions about parent PLUS loans
Can you request a deferment on parent PLUS loans?
Your parents won't need to make payments while you're enrolled in school (at least half-time) and will have an additional six months after you graduate, leave school, or drop below half-time enrollment to make payments. Keep in mind that interest will continue to accrue even if you're not required to make payments.
After that grace period, options for requesting a deferment may exist. Depending on the school you attend, your parents may be able to request a deferment as a part of the loan request process. They can also contact their loan servicer to request a deferment. If approved, they can temporarily stop making payments on their PLUS loans.
As a general rule, your parents will be expected to begin making payments after the loan is fully paid out if their loan isn't in a deferment period.
Can parent PLUS loans be forgiven?
Under certain conditions, your parents can have all or part of their loan forgiven (canceled) or discharged. There are specific rules regarding student loan forgiveness, cancellation, and discharge, and it's important to understand what they are to determine if your parents might be eligible.
Are parent PLUS loans eligible for Public Service Loan Forgiveness?
Parent PLUS loans may only be eligible for Public Service Loan Forgiveness (PSLF) if they've been consolidated into a Direct Consolidation Loan and are being repaid under an income-driven repayment plan. The Income-Contingent Repayment Plan is the only income-driven repayment plan available to parent PLUS borrowers. For your parents to repay their parent PLUS loans under the Income-Contingent Repayment Plan, they must first consolidate their loans into a Direct Consolidation Loan.
The government sets quite a few requirements to be eligible for PSLF, so it's important to familiarize yourself with those if you think you might be eligible.
Are parent PLUS loans forgiven if the student or parent dies?
If you or your parent passes away and there's still money owed on the PLUS loan that your parent took out for you, your parent's PLUS loan will be discharged. A family member or another family representative must provide the loan servicer with acceptable documentation of the student or parent's death.
Acceptable documentation includes:
An original or certified copy of the death certificate
A photocopy of the original or certified death certificate
For more information about documentation requirements, contact the loan servicer on your PLUS loan.
Final thoughts
A parent PLUS loan is an opportunity for parents to contribute to their children's pursuit of higher education. Before taking out a parent PLUS loan, sit down with your parents and ensure this loan program will work for both of you.