Chase MyHome Dashboard
Chase MyHome®
Your home journey — simplified
All things home. All in one place.
The key to easier homeownership is right at your fingertips. Sign in above to start your journey.
Your go-to dashboard
Chase MyHome, can help you at every stage of homeownership — from seeing how much you can afford and searching for homes and loans, to managing your mortgage and understanding the value of your home.
Fully digital experience
Enjoy less paperwork and more ease. With Chase MyHome, you can complete applications, sign documents and follow your progress from your desktop or mobile device.
Personalized to you
Simply sign in with your Chase account to use Chase MyHome. Even if you don't have a mortgage with us — if you're a Chase customer, or new to Chase, you can still access home insights and resources.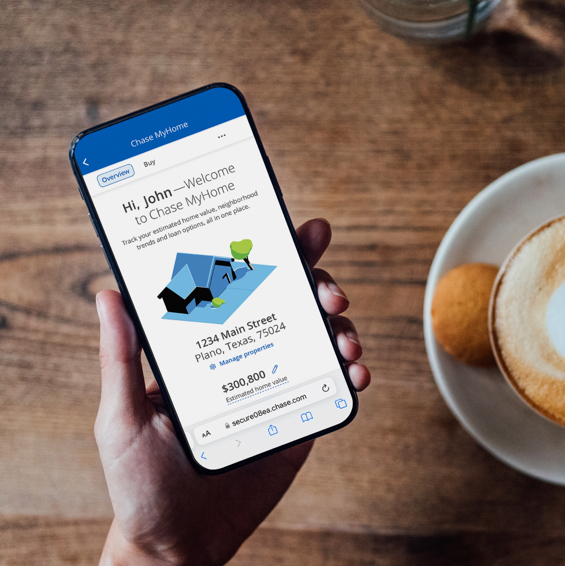 Buy a home
Easily estimate payments and compare rates to choose your home loan.
Affordability calculator
Use our affordability calculator to find out how much you may be able to afford so you can feel confident during your home search.
Compare rates
See current purchase rates in your ZIP code. We update this information daily, so you always have the most current info on hand.
Choose your loan
See the mortgage options available to you, choose the one that fits your goals and apply when you're ready.
Search for properties
Chase MyHome helps you discover homes to match your lifestyle and keep up with market changes.
Browse homes
Quickly search by ZIP code, city or address to browse properties and see need-to-knows, like home value info, sale history and upcoming open houses.
Save your favorites
When you see a home you love, save it to your favorites and we'll help you keep track so you can compare properties and see loan options for each one.
Explore home insights
Learn all about your equity and explore market trends.
Equity summary
See your home's estimated value and explore how you can put your equity to work.
Mortgage details
Review your loan to see how much you've paid, your estimated remaining balance and refinance options.
Neighborhood trends
Explore insights and trends for your ZIP code, like recent sales, listings and the average selling price, to see how your home stacks up.
Refinance
Use our interactive tools to manage your mortgage and see refinancing options.
See what refinancing can do for you, whether that's lowering your monthly payment, paying off your home sooner or tapping into your home's equity.
Chase MyHome will pull the refinance loan options that may work best, so you can choose the right one for you and easily apply.
Start your journey with us
See offers, get your questions answered and start your application all in one place.
Offers
Discover customized lending opportunities chosen for you based on your relationship with Chase.
Apply
Whether you want to buy or refinance, we're here to help you with your mortgage application.
Have questions?
Get the answers and insights for everything home at the Chase MyHome learning center.

Chase MyHome was recently named "Best Use of IT in Lending" at the FinTech Futures 22nd Annual Banking Tech Awards. Try it for yourself and experience what tech pros are raving about.