MEET FINN
YOUR NEW ALL MOBILE BANKSM

Meet Finn by Chase, your new, all mobile bank first available in the St. Louis area. When you download Finn, you can open a checking and savings account right in the app, do all your classic bank stuff, and use some shiny new tools to help you take control of your money. And it's all backed by the safety and security of Chase.
Begin Carousel HAT
Optional Hidden Accessible Text...Any text alternative can go here.
IT'S ALL HERE
Because your bank should also help you handle your money, we've got the classic stuff you expect and some new tools to make it better.
Optional Hidden Accessible Text...Any text alternative can go here.
SAVE THAT MONEY
You decide how to save your money. Create personalized rules to save for the things you want. Like a vacation somewhere hot… anywhere hot.
Optional Hidden Accessible Text...Any text alternative can go here.
GET INVOLVED
Rate your purchases to see how you reeeally feel about the way you spend. And everything you rate shows up in your trends.
Optional Hidden Accessible Text...Any text alternative can go here.
UNDERSTAND YOUR SPENDING
Check out your spending trends to see where your money goes. You choose what's next: spend different, save more, do you.
End Carousel HAT
RATE. SEE. DO.
Finn helps you take charge of your money so you do the things that make you you.

Let's say you're rating some things you bought: a record, a pair of headphones, a ukulele, and a bag of frozen peas…

And you see in your trends that all those purchases on music make you happy and those peas not so much.

So you set an autosave rule to save every time you spend on music. Now, when a show pops up, you're good to go.
Just like that, you used your love of music to get closer to the music you love.
QUESTIONS? WE'VE GOT ANSWERS.
This can be my actual bank, right?
It sure can. Finn is offered by JPMorgan Chase Bank NA, which is an FDIC insured bank. When you sign up, you open a Finn checking and savings account and get a debit card to take cash out at ATMs for all those cash-only places. The difference here: you never have to visit a branch. We're all mobile, because you are. You have everything you need to control your money right on your phone. Check out all the product details here (PDF).
And it's all without monthly service fees, right?
Uh-huh, with your early access, Finn won't charge you monthly service fees.
What if I need help?
We've got you covered with 24/7 help. You can message us right from the app or call our help line. There will always be someone to talk to if you need it.
How do I put money in my account?
You can add money from another bank account by depositing checks in the app or direct deposit.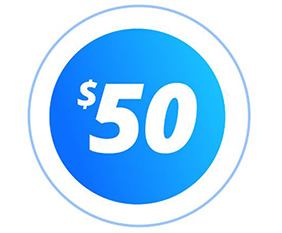 Get $50 when you open up a new Finn checking and savings account with direct deposit.
See below for Bonus/Account and other Important Information.