Understanding the federal TEACH Grant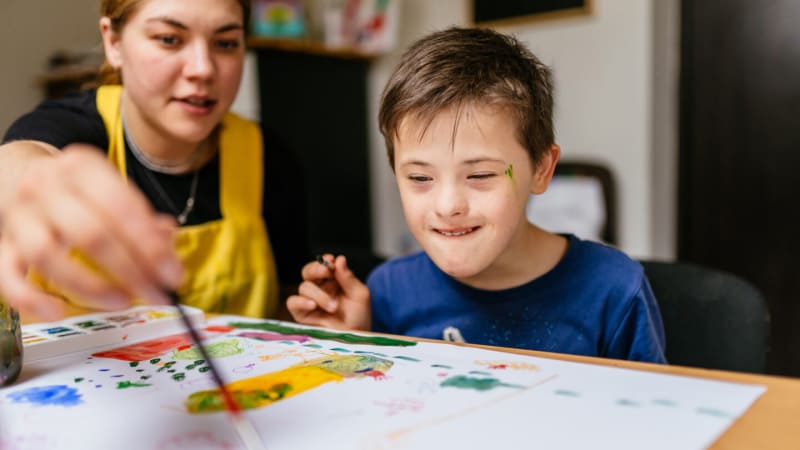 The Teacher Education Assistance for College and Higher Education (TEACH) Grant provides financial assistance for college and graduate school students who want to pursue careers in teaching.
To apply for this grant, you must meet strict eligibility requirements and complete a four-year service obligation after graduation. Find out whether you're eligible, the service requirements, and how you can secure funds to help pay for schooling with this grant.
What's the TEACH Grant?
The TEACH Grant offers non-need-based financial aid to college students pursuing teaching careers. Like most U.S. Department of Education grants, you apply for the TEACH Grant before or during your undergraduate or graduate program enrollment. If your application is approved, your program will receive the funds and use them toward your cost of attendance.
Unlike other federal student financial aid, the TEACH Grant is designed for students with specific professional goals. This grant requires you to meet additional requirements while in college or graduate school and after graduating. Most importantly, to receive a TEACH Grant, you must complete a four-year service obligation teaching full-time in a high-need teaching role at an institution serving low-income students.
If you don't meet the TEACH Grant's requirements, the grant converts into a Direct Unsubsidized Loan.
How much funding does the TEACH Grant provide?
The TEACH Grant Program provides up to $4,000 a year to students receiving the grant who're completing or plan to complete coursework toward a career in teaching. Undergraduate students are eligible to receive up to $16,000 in TEACH Grant funds, while graduate students are eligible for up to $8,000.
According to Studentaid.gov, The Budget Control Act of 2011 requires that any TEACH Grants where the first disbursement is on or after October 1, 2021, and before October 1, 2023, requires a reduction of 5.7% from the award amount for which the student would otherwise have been eligible.
In layperson's terms, through October 1, 2023, those receiving a TEACH Grant will see an adjustment to the funds they receive.
TEACH Grant eligible programs
The TEACH Grant is designed to help students achieve positions as qualified and skilled teachers. They're available to students in bachelor's, master's programs, some post­baccalaureate programs, and two-year programs that can be accepted for full credit toward a bachelor's degree.
Schools in the TEACH Grant Program can designate certain programs they offer to be TEACH ­eligible. The school must be enrolled in the grant program to distribute it, and the student must be enrolled in a TEACH-eligible program to receive the grant. Not all schools participate, and not all programs at participating schools are eligible for the grant. This's why contacting your financial aid office is important to ensure you're enrolled in the appropriate program when it comes to this grant.
Eligibility requirements for the TEACH Grant
According to Studentaid.gov. to be eligible for a TEACH Grant, you need to meet the following requirements:
Meet the basic eligibility criteria for federal student aid programs
Be enrolled at a school that participates in the TEACH Grant program
Be enrolled in a TEACH Grant-eligible program
Meet certain academic achievement requirements (generally, scoring above the 75th percentile on one or more portions of a college admissions test or maintaining a cumulative GPA of at least 3.25). To get specific information about the academic requirements, contact your college's financial aid office
Receive TEACH Grant counseling that explains the terms and conditions of the TEACH Grant service obligation. You must complete counseling each year that you receive a TEACH Grant
Sign a TEACH Grant Agreement to serve or repay (and agree to certain requirements, including teaching in a high-need field after you graduate)
Post-program requirements
Students are required to work in a high-need field after graduation, serve at a school or educational service agency that serves low-income students, and complete four full-time years of teaching within eight years after ceasing enrollment.
These fields include:
Mathematics
Science, including computer science
Foreign language
Reading Specialist
Bilingual education
English language acquisition
Special education
Any other field identified as high-need in the annual Teacher Shortage Area Nationwide Listing
Of note, the high-need field you choose must be included on the Nationwide List and listed for the state where you teaching at the time you begin teaching.
How to apply for the TEACH Grant
To apply for a TEACH Grant, students must complete the FAFSA® before the deadline for the school year they plan to attend.
Additionally, students must be enrolled at a school that participates in the program and in a TEACH Grant-eligible program.
If you complete the FAFSA® and meet all requirements, including academic requirements, you may be awarded a TEACH Grant.
Each year you receive a TEACH Grant, you must sign an agreement to "Serve or Repay." This agreement explains the terms and conditions for receiving a TEACH Grant.
TEACH Grant Deadline
The TEACH Grant deadline depends on your school and the deadline it sets. Contact the financial aid office at your college or university to learn more about when you have to complete all the requirements.
Common FAQs about the TEACH Grant
What's the TEACH Grant disclosure statement?
A TEACH Grant disclosure statement provides information about the TEACH Grant funds that your school credits your account with or pays you directly (or both). You must've signed a TEACH Agreement to Serve (ATS) before your grant money is disbursed. You must also complete all required counseling before receiving a TEACH Grant.
What happens if I don't complete the four-year service obligation?
If you fail to meet the service obligation, the TEACH Grant will be treated as a Direct Unsubsidized loan, and you'll have to repay the funds, with interest accrued from the date of disbursement.
Is it possible to change a TEACH Grant that's been converted to a loan back to a grant?
Yes, but only under limited circumstances. You may request a reconsideration if you can show that you were satisfying the service obligation or that the grant was converted to a loan in error. Students requesting reconsideration will likely need documentation to support their request.
Final thoughts
The TEACH Grant program is a huge help to students who need additional financial help to achieve their goal of becoming a teacher. While it comes with many requirements and responsibilities, even after graduation, it's also a great opportunity for those who want to pursue teaching careers. If you plan to be a teacher after college, applying for a TEACH Grant is something to consider.