Grants and other types of financial aid for single parents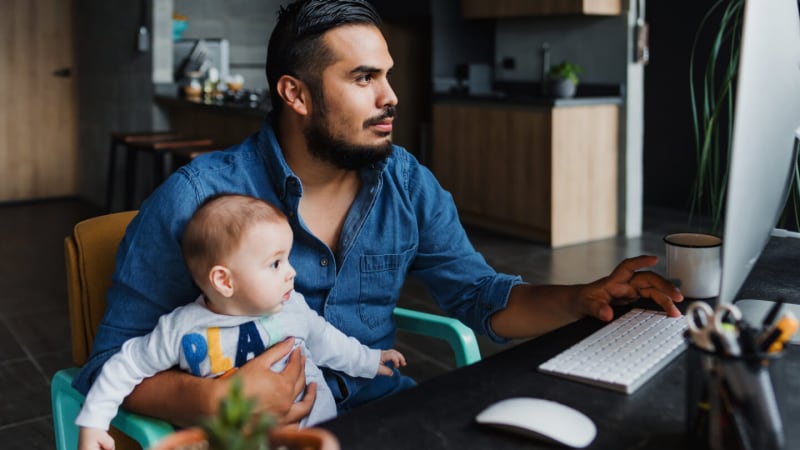 If you're a single parent exploring your financial aid options for college, you might be on the hunt for grants that you're eligible for. Since grants typically don't need to be paid back, it's a form of financial aid that'll help remove future financial hardship.
Of note, in addition to grants, single parents — like other students — also might have access to financial aid opportunities like work-study programs and scholarships they can take advantage of.
Let's look at the various grants, scholarships, and other financial aid opportunities available to single parents.
How can a single parent pay for college?
For any student — including single moms or dads — a good first step to getting financial aid for college is to file the Free Application for Federal Student Aid (FAFSA®). This application helps students qualify for aid like grants, scholarships, work-study programs, and federal student loans.
It's important to remember that the only way to qualify for many types of aid is to file the FAFSA® before the deadline and to ensure you list all the schools you're planning to apply to on the application.
If you're accepted by schools that you've applied to, they'll send you aid award letters after you complete the FAFSA®, which will outline what financial aid, if any, they're making available to you. Aid offerings will vary from school to school.
If you still need more financial assistance after you've received award letters, you can apply for other types of aid to assist with your goal of attending college.
How much can a single parent get from FAFSA®?
How much you receive from FAFSA® depends on your financial situation, including your income and assets, like how much is in your bank account. As a single parent filling out the application, one key thing to note is that you'll likely be able to include your children on the form as dependents, which could impact how much financial aid you're offered.
Financial aid appeal letter for single parents
If you received financial aid award letters and the aid offered to you is not enough to help you afford college, in certain circumstances it might be worth filing an aid appeal. Aid appeal could be beneficial if you've had a substantial change in your financial situation, such as having a baby or unforeseen medical bills since the tax year asked for on the FAFSA®.
Filing for an aid appeal shows your school that your financial situation differs from what they see on the FAFSA® and could help prove your case that you need more financial aid. Each school has a different process for filing for aid appeal, but generally, you need to fill out a form and write a letter stating your financial hardship and why you need more aid.
Schools typically set aside money for students who file aid appeals. If you're going to appeal your aid package, it's best to do it as soon as possible, when those additional funds are more likely to be available.
Filing for an aid appeal doesn't guarantee more aid, but based on your individual situation it might be worth a shot.
Grants for single parents
As we highlighted above, grants are a valuable form of financial aid because, for the most part, they don't need to be paid back. Here's some of the grants that may be available for single parents, including single moms.
Pell Grants
Federal Pell Grants – a need-based grant provided by the federal government – is an option all single parents may be eligible for. The maximum award for the 2023-24 academic year is $7,395, and the U.S. Department of Education announces the amount for the upcoming academic year every February.
Other grants for single parents
Outside of the Pell Grant, many grants are open to single parents nationwide. They're offered at the state and federal levels, as well as through private organizations and companies.
The best way to find grants for single parents is to contact the financial aid office at your school and ask if they know of any specific grant opportunities for students like yourself. They should be able to provide a list of available grants.
State grants for single parents
Many states offer grants and other financial aid programs for single parents. A great way to find grants that fit your needs is to check your state's website, or the state website of the area you're going to school in, and see what's available.
Hardship grants for single parents
If you're going through a financial hardship and need additional help paying for college, contact the financial aid office at your school. They should be able to help point you toward financial aid opportunities to help you.
Being a single parent who's also attending school can be tough, especially if you're already facing financial issues. There may be hardship grants or assistance programs out there to help.
The financial aid office is there to help students access the aid they need to complete their college education. Don't hesitate to utilize this resource if you're in need of help.
Scholarships for single parents
Like grants, scholarships are generally funds you don't have to pay back. Luckily, there're many scholarships available to single parents.
Some scholarships are accessible outside of the FAFSA® and require their own applications and qualifications (although you may be required to also fill out the FAFSA® in addition to their unique applications). It's vital to read through each scholarship application and ensure you meet the qualifications.
The best way to find scholarships is to do an online search through a trustworthy scholarship database, such as the U.S. Department of Labor's scholarship search tool. Beware of scams, and make sure as you search that you're on the lookout for scholarships available in the years you're looking to attend school.
Final thoughts
There're many opportunities for single moms and dads to get financial aid for college. While it often takes research and dedication to secure aid, several resources are available to help you through the process, including your school's financial aid office and other counseling services. As a single parent, don't be afraid to use these resources to help you get the aid you need.