How one IT company got the confidence to go after larger contracts
Ensunet Technology Group secures the funds needed to tackle its next big business goals.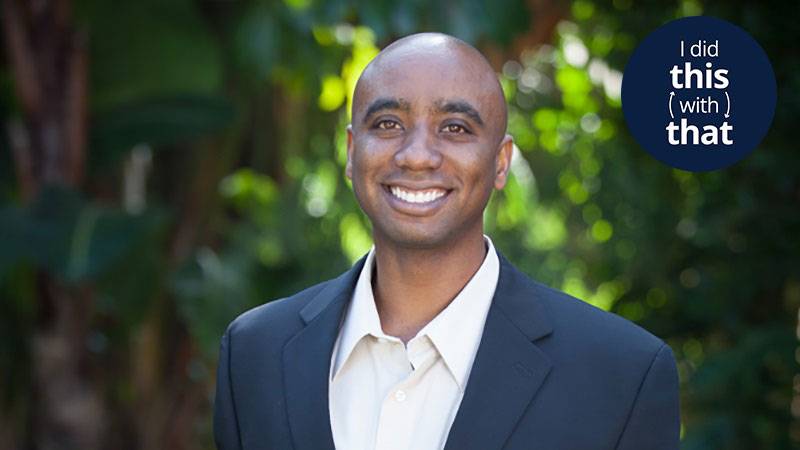 It's always easier to understand the potential of a business resource when you look beyond the benefit statements and hear how a business owner uses a resource to solve a real-world problem.
In this installment of our "I Did This with That" series, we sat down with Paul Robinson, founder and CEO of Ensunet Technology Group, a leader in IT diligence and digital integration for companies in the midst of an M&A transaction. On a gorgeous Friday afternoon from his San Diego office, Robinson spoke with us about his plans for the weekend, his company's early days and one of his favorite tools for growth — a business line of credit from Chase for Business.
What drives Paul Robinson? Our first question for this gracious, down-to-earth CEO revealed that his father was an Olympic gold medalist, his mother had a notable career in higher education academia and his grandparents, aunts and other family members all set the bar extremely high in their own ways. In other words, his family has always led by example. So it's no surprise to learn that's how he lives his life — and runs his company.
Chase: Take us back to when you first had the idea for Ensunet. You were working for another company that was going through a merger. Did a lightbulb go off?
Paul: I cut my teeth in the first eight years of my career doing IT operation support. Interestingly enough, one of the companies I worked for went through a merger with an East Coast company. It was a very large acquisition with two big companies, and they didn't necessarily have what we call the tiger team or the resources to integrate their separate IT environments. However, the entire M&A success was predicated on completing the IT integration successfully.
So, yes, a lightbulb went off. I thought, if this is a challenge with companies of this size that are doing a billion dollars plus in revenue, maybe that problem exists with other companies and in other areas outside of life sciences. That was 2007. Fast-forward to today. Now as a business owner, one of our clients went through the exact same type of M&A event. So it's come full circle.
Chase: IT is a massively competitive field with deep pockets. How did you gain a foothold in the industry as a startup?
Paul: At the end of the day, it comes down to whether clients believe in your track record. Rather than certifications and things like that, it's really about relationships — people being able to pick up the phone, speak with a reference and talk about how you've performed. If you've had success in the past, that gives you a license to go after the bigger opportunities.
Clients know that they can bring in a big-name company. But chances are, if they work with a smaller boutique, they're going to get a much higher level of commitment. We're going to care personally about the outcome. We're not going to bait and switch with our team's resources. Team members who are assigned to a client from the beginning will be with you for the duration of the project.
We regularly compete with companies that are 30 or more times larger, and we do it successfully. It's not an obstacle at all.
Lastly, being a business for purpose can be the difference that makes the difference. We have to remember, customers are people, and people care what problems you're trying to solve outside of the business environment. Ensunet team members regularly volunteer in areas they are passionate about to help build up the community, and our clients want to be part of those stories.
Chase: You mention that your industry is about relationships, which is interesting. Many people don't think of technology as a people-based industry. Can you elaborate?
Paul: Yes, there are zeros and ones, systems and servers and all that, but when it comes right down to it, it's really a people business. Frankly, 90% of what we do surrounds people and communication, which may seem surprising, but now more than ever, clients are looking for a human element.

There's a lot of trust that was lost over the last two years, overwhelmingly, across the industry. So, what we're seeing is a need to build that trust in the first few months. Clients want to shake your hand, get to know who you are and have confidence in your work and that you're the person who's going to be delivering it.
Chase: You started this company out of your living room. To date, you're at $19 billion in transactions supported. When was the moment you knew you'd made it?
Paul: I never let myself feel like we've made it. We have large opportunities where we're scaling. There's revenue growth. Then there's always this temporary moment where we feel like we've arrived. Where we've finally broken through. But I've come to see that as a type of success disease. One that makes you complacent, makes you lose the drive and the hunger that got you there. Celebrating is important. But you have to continue to move the goalposts, or you'll end up losing.
Chase: Walk us through the process. Once you win a contract, are there certain costs you have to foot the bill for up front? Is that where a business line of credit comes in?
Paul: That's exactly right. If we get a contract opportunity — and let's say it's a million dollars — it's one thing to win the contract on paper. You still actually have to fulfill that contract. There could be hardware. There could be software. We have to purchase these things despite not being paid yet. And there's a people element to it. You either have to make hires or bring in contractors. And the cash flow cycles are every two weeks or every 30 days. That's where the line of credit has really helped. We need to be able to float financially as we're fulfilling the project.
Chase: How much was your initial line of credit with Chase for Business?
Paul: There have been several iterations. We initially started off with $30,000, then $90,000 and then progressively it got higher. Now we're just under half a million dollars. That's as a result of our growth. And we use it primarily for payroll.
We'll deploy, say, 10 people at a particular client site. Again, those folks are on biweekly payroll and need to get paid. A lot of our customers are net 45, net 60, extended payment terms. And if there's a hardware component, where we have to make that investment prior to seeing payment, that line of credit becomes critical to our ability to perform on the contract.
Chase: How has having the security of a business line of credit changed the way you operate?
Paul: Directionally, because we secure larger lines of credit, our strategic growth plan looks toward larger opportunities. With the line of credit, I feel confident in our ability to go after anything from half a million up to five-million-dollar contracts. We've progressively become more confident because we have Chase for Business as a partner, and we know we have the capital to draw from when we need it.
Chase: What advice do you have for other entrepreneurs thinking about securing a line of credit?
Paul: I tend to take a conservative approach. When we look at a particular contract, we look at the margins and the investment required to get the contract. What financially will it look like at different phases of the project? Because all this goes back to our ability and capability to repay what we're drawing down. My recommendation is not to overextend yourself. A lot can happen in five years. You don't necessarily need to boil the ocean.

Then there's choosing the right banking partner.
We talk about the importance of relationships. With Chase for Business, there's a continual relationship. My banker, Paul, and the entire Chase for Business team constantly keep me aware of conferences or seminars that could be of value. They put me in touch with other resources if needed — even if they have nothing to do with banking. They go above and beyond to make sure I have what I need to succeed. And that's what I think any business owner should be looking for when deciding who to bank with: a company that leads by example.
For more information on how a business line of credit can provide access to working capital when you need it, speak with a Chase business banker.
The testimonials on this page or provided through linked videos are the sole opinions, findings or experiences of our customer or mentee and not those of JPMorgan Chase Bank, N.A. or any of its affiliates. These opinions, findings or experiences may not be representative of what all customers and mentees may achieve. JPMorgan Chase Bank, N.A. or any of its affiliates are not liable for decisions made or actions taken in reliance on any of the testimonial information provided.
For informational/educational purposes only: The opinions expressed in this article may differ from those of other employees and departments of JPMorgan Chase & Co. Opinions and strategies described may not be appropriate for everyone and are not intended as specific advice/recommendation for any individual. Information has been obtained from sources believed to be reliable, but JPMorgan Chase & Co. or its affiliates and/or subsidiaries do not warrant its completeness or accuracy. You should carefully consider your needs and objectives before making any decisions and consult the appropriate professional(s). Outlooks and past performance are not guarantees of future results.
JPMorgan Chase Bank, N.A. Member FDIC. Equal Opportunity Lender, ©2023 JPMorgan Chase & Co.