The idea of working for someone wasn't in the cards
From building a solid spaghetti tower to a hip design firm, these three millennials are changing the paradigm.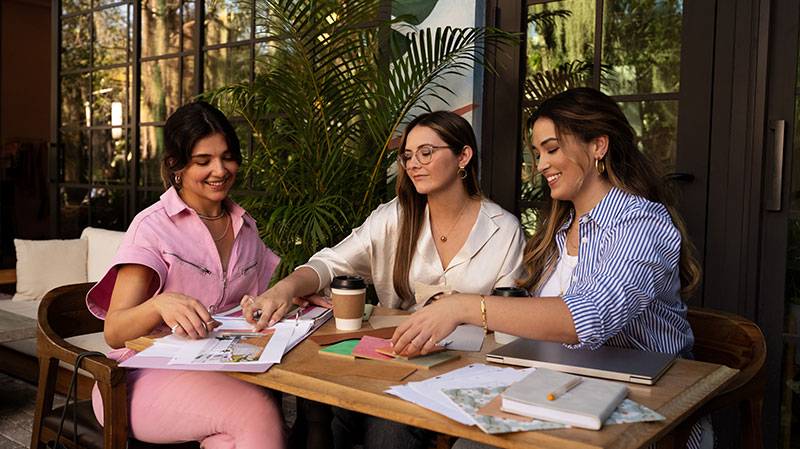 Jennifer Perez, Yaileen Obregon and Daniela Purrinos met in grad school. One of the first projects they worked on together was a team-building challenge in a Master of Architecture class at Florida International University. The task was to build a structure with uncooked spaghetti and the women laughed, had fun and dominated the competition. The experience became the basis for their friendship and, eventually, their growing Miami design business.
Designing a new blueprint for success
"None of us wanted to have a boss," Perez says. This common goal and drive to become entrepreneurs was something that quickly bonded the trio.
Nowhere along the way were they taught how to start or operate their own business. The school's standard curriculum was geared toward helping graduates succeed at working for a firm, not starting one. But that didn't stop these young entrepreneurs.
From day one, they agreed that they didn't want to follow the typical route the university designed for its grad students: an internship followed by employment at a studio or firm and perhaps eventually starting your own firm.
"Starting our own business just three years into our master's program raised a lot of eyebrows because we were going against the norm and the comfortable path our university designed for us," Purrinos says. "But we had such big goals and dreams. It just seemed so far away if we took the traditional path."
"The idea of turning down internships and job offers that secure an income and benefits in order to invest our time in our studio was the biggest risk of all. Trusting each other and taking that leap of faith will outdo all the fear. With great risks come greater returns."
– Yaileen Obregon
Becoming social (and business) influencers
They searched online for examples of designers who gave a behind-the-scenes look at finishing design school and starting a business, but couldn't seem to find any they could relate to.
"Most designers had already 'made it' and were showcasing their life as established designers," Obregon says. After six months of working together on projects until 5 in the morning, she had a thought: "What if we start videotaping everything we're doing? We could post it on Instagram. Students would love to see what it takes to be an interior designer. We would have loved something like that when we were students."
The Instagram feed started flowing with a series of videos showing the life of the young designers. The grit, the grind, the late nights, the pain of creativity. It was all there on display.
The initial goal had been to be seen as influencers, not to gain clients right away. They began helping family and friends renovate parts of their homes. But inquiries from potential clients soon started coming in. A real estate friend asked Obregon whether they were taking clients. While that wasn't the plan, the answer was unanimous: Why not?
It was the push they needed. Almost immediately after that call they applied for an LLC, opened a business bank account and went from "the girls," as they were known affectionately around campus, to business owners. Inspired by their nickname and a desire to keep it simple, Girls Who Do Interiors was launched in July 2020 — offering a full range of interior design, renovation and project management services.
Creating building blocks
That first client fell through. Without having the experience of interning for another firm, they knew they had to figure things out on their own.
"There's never going to be a right time to start. It's always going to be scary, and there will always be things that you don't know. But the only way to learn is by jumping in and taking the risk. Sure, you'll have questions and doubts. It's natural," Perez says. Her advice to all entrepreneurs looking for answer is to go online, ask friends and family and talk to their local community of professionals.
"As a business owner, you have to have the drive to find answers on your own."
They started their first renovation while still in design school. It was a complete restoration of a 1930s home in nearby Coral Gables, and the client's trust boosted their confidence. However, they admit it was a huge learning curve.
"When we first stepped onto construction sites, no one took us seriously," says Perez. "But we kept at it. Soon contractors realized that it was our designs that clients were buying off on, and if they didn't do it right the first time, we would make them redo it. So they started to clear everything with us first. Slowly but surely we earned their trust, which is really exciting."
Sharing their passion
In addition to earning the trust of their colleagues, contractors and vendors, the designers are quickly gaining the respect of their clients.
"I feel like we get really attached to the projects and the clients, and I don't think that's necessarily a bad thing," says Purrinos. "We really care about what we're doing, and that's also why we go out of scope sometimes. Our chemistry and positive energy draws clients in, and our atypical European-inspired design sense stands out from typical Miami designs."

The women never lose sight of the fact that interior design projects can be a massive investment, so they spend their clients' money as thoughtfully as they would spend our own. They believe the most important things are doing right by people and building deep relationships. Then the referrals and business will come.
For them, their relationships are never one-sided. That's why Chase for Business is the perfect partner. "We all had personal bank accounts with Chase, so the decision was easy," says Purrinos. "Plus, having the accessibility of a bank that has locations everywhere and still having personal customer service — it's unmatched."
Because they're always on the go, the designers appreciate being able to take payments on their phone using their Chase Business Complete Checking account, "If we're having a conversation with a client at their home, we can collect the payment right then and there instead of having to go back and send an invoice and wait to get paid.," says Obregon. "The same is true with contractors on construction sites."
Looking ahead
In the spring of 2022, Obregon, Perez and Purrinos officially earned their graduate degrees from Florida International University with two years of hands-on experience already under their (designer) belts. The next thing they want to build, aside from beautiful interiors? Their business credit with their Chase Ink® business credit card.
There's no doubt these designing women will continue to break down walls in the industry — both literally and figuratively.
If you're looking for financial tools to help build your business, speak with a Chase business banker today.
Chase Business Complete Checking has a $15 Monthly Service Fee unless you fulfill at least one of the following qualifying activities: 1) Maintain a minimum daily balance of at least $2,000 in your account as of the beginning of each day of the statement period, 2) Spend at least $2,000 in purchases (minus returns or refunds) using your Chase Ink® Business Card(s) that shares a business legal name with the Chase Business Complete Checking account, using the most recently completed monthly card billing period(s), 3) Deposit at least $2,000 into your Chase Business Complete Checking account from Chase QuickAccept℠ transactions and/or transactions from eligible Chase Merchant Services products (net of chargebacks, refunds, or other adjustments) at least one business day prior to the last day of your Chase Business Complete Checking account statement period, or 4) Maintain a linked Chase Private Client Checking℠ account. Product terms are subject to change. QuickAccept is only available within the Chase Mobile® app on select mobile devices and is not available in U.S. territories or outside the U.S. Usage of QuickAccept is subject to eligibility, terms of service, monitoring and further review. Deposits are subject to limits, verification, fraud monitoring, and other restrictions. Message and data rates may apply. Eligible Chase Merchant Services products include only those where he transaction history can be viewed through Chase Business Online, Chase Connect®, or J.P. Morgan Access®.
The testimonials on this page or provided via linked videos are the sole opinions, findings or experiences of our customer or mentee and not those of JPMorgan Chase Bank, N.A. or any of its affiliates. These opinions, findings or experiences may not be representative of what all customers and mentees may achieve. JPMorgan Chase Bank, N.A. or any of its affiliates are not liable for decisions made or actions taken in reliance on any of the testimonial information provided.
Business owners compensated for their participation.
For informational/educational purposes only: The views expressed in this article may differ from those of other employees and departments of JPMorgan Chase & Co. Views and strategies described may not be appropriate for everyone and are not intended as specific advice/recommendation for any individual. Information has been obtained from sources believed to be reliable, but JPMorgan Chase & Co. or its affiliates and/or subsidiaries do not warrant its completeness or accuracy. You should carefully consider your needs and objectives before making any decisions and consult the appropriate professional(s). Outlooks and past performance are not guarantees of future results.
JPMorgan Chase Bank, N.A. Member FDIC. Equal Opportunity Lender, ©2023 JPMorgan Chase & Co.