How to retain employees by ditching the 9-to-5
As employee burnout increases, flexibility around where and when your staff works can boost retention and recruiting.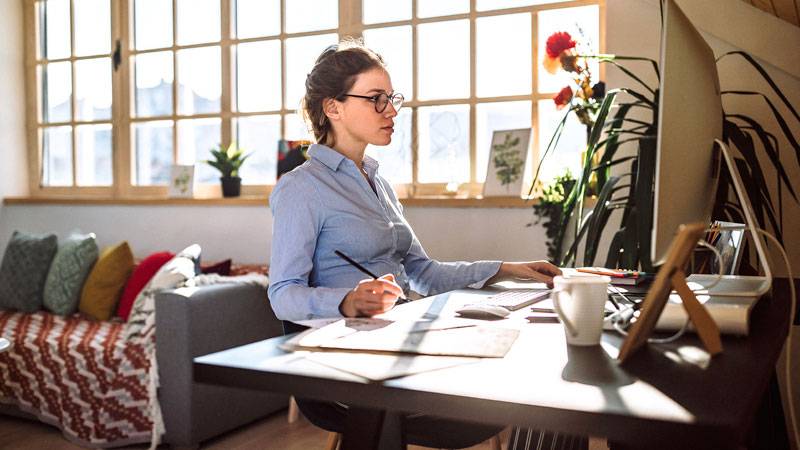 Whether businesses are on the frontlines battling the "Great Resignation" or looking for ways to make employees' work lives more balanced, new data shows that flexible scheduling is becoming a go-to method for making work better for more people.
According to Chase's 2022 Business Leaders Outlook survey, 40% of business owners are letting their employees say goodbye to the traditional 9-to-5 workday in favor of schedules tailored around individual needs. In fact, flexible scheduling is the most popular retention and recruiting strategy among business leaders in 2022, followed by higher wages (38%).
The trend toward flexibility has many reasons, but perhaps the biggest is avoiding burnout. Almost half of business leaders (44%) say they're increasing their full-time staff because their current workforce is overworked. Add a protracted pandemic to the mix and it's no wonder workers are feeling stretched. Business owners who are trying to optimize production and employee happiness should know that "full-time" doesn't have to mean a specific time.
"The percentage of responders who are "extremely concerned" about the limited supply of job candidates (23%) continues to tick upward. Offering flexible hours is viewed as the best change for retaining or hiring staff. "
– Chase's 2022 Business Leaders Outlook
What is flexible scheduling?
Flexible scheduling can take shape in a number of ways. But the core idea is to maximize freedom while maintaining productivity. For some businesses, this might mean giving employees a bank of flex hours they can use for work-life accommodations. For others, it may mean letting employees decide when their workday starts and ends so long as the work gets done and their teammates can rely on them. And for weekend enthusiasts, it could look like "Flexible Fridays," a day when there are no meetings, emails or chats and employees can choose to work — or not.
Imagine an employee who needs to provide childcare in the mornings but is free to work later into the evenings. Or another employee who needs a few Fridays off a month to take care of their aging parent or just to recuperate after a long week. With flexible scheduling, these employees can keep their current jobs, their work schedules can adapt and you don't have to lose your valued employees.
What's the right level of flexibility for your business?
Not every business can offer the same level of flexibility for all employees. For instance, if your business depends on workers to be on-site to serve customers at 10:00 a.m. every day, a flex request to come in at 6:00 a.m. might not be practical. But perhaps a compressed schedule of four 10-hour days with an extra day off makes more sense.
On the other hand, maybe your business can operate remotely with complete flexibility and all employees clocking in and out as they please. But what are the implications for team culture and collaboration? Perhaps creating set in-office days that are reserved for strategic work, meetings and team bonding can bring your flexible work scheduling into balance. You wouldn't be the first to try it. More than half of businesses (57%) have moved to some form of hybrid remote/on-site model since the beginning of the pandemic.
What are best practices for adopting flex scheduling?
Flexible schedules can be a powerful retention and recruiting tool — if done right. Here are some ways to maximize their benefits:
Focus on fairness. Flexible scheduling can be a game-changer, but it can also raise new questions around equity. Who has access to flexible work? Are you making accommodations for frontline staff that are commensurate with the benefits you're offering your remote workforce?
Work with employees on their schedules. Creating a flexible schedule with your employees is an opportunity to show that you're invested in their careers and their personal lives. The more collaborative the negotiation process, the more likely that your employees will appreciate the result.
Communicate. Highlight for your staff why flexible work schedules are important and how your business is invested in its people. Set up regular touchpoints or weekly meetings for your team to share their schedules and work through any potential roadblocks.
Keep their team members in the loop. You want to strike a balance between prioritizing the team and giving your employees the autonomy to construct a schedule that works best for them. If an employee's schedule changes, they should notify managers and other co-workers so that everyone affected can coordinate accordingly and allow time for shift trading and picking up open shifts.
Document your policy. Make sure your parameters are clear and that everyone understands the new policy. Then highlight your flex policy in recruitment ads to signal that you're a progressive employer aligned with your employees' needs.
The future is flexible
In a labor market defined by turnover, giving employees the freedom to choose how, where and when to work can be a compelling reason to join and stay with your business. The workplace is evolving faster now than it has in generations. Employers that can evolve with it stand to benefit the most.
For more peer insights on how businesses are approaching the future of work, check out the 2022 Business Leaders Outlook survey.
About the 2022 Business Leaders Outlook survey
This survey was conducted by Chase Insights from November 11 to November 29, 2021. It features data from 1,005 business leaders across the professional services, retail, technology, health care and other key industries. The results of this online survey are within statistical parameters for validity, and the error rate is plus or minus 3.1% for the findings, at a 95% confidence level.
You can also explore trends from JPMorgan Chase's Business Leaders Outlook survey conducted for midsize businesses.
For informational/educational purposes only: The views expressed in this article may differ from those of other employees and departments of JPMorgan Chase & Co. Views and strategies described may not be appropriate for everyone and are not intended as specific advice/recommendation for any individual. Information has been obtained from sources believed to be reliable, but JPMorgan Chase & Co. or its affiliates and/or subsidiaries do not warrant its completeness or accuracy. You should carefully consider your needs and objectives before making any decisions and consult the appropriate professional(s). Outlooks and past performance are not guarantees of future results.
JPMorgan Chase Bank, N.A. Member FDIC. Equal Opportunity Lender, ©2023 JPMorgan Chase & Co