Weekend Home Improvement Projects
Home Improvement Tips: Project Ideas for Weekend Warriors
If you've been itching to tackle a fun home improvement project during an upcoming weekend, you're not alone. Thirty-eight percent of homeowners recently completed a project on their own, with another 13 percent contributing some DIY labor, notes the National Association of REALTORS' (NAR) 2015 Remodeling Impact Report.
While saving money is a priority for many, this should also be considered when looking for the best way to fund home improvement projects. For instance, using the equity in your home with a Home Equity Line of Credit can be a smart option, in the sense that home equity rates can be lower than credit card or other loan rates.
"It empowers them a lot," says Danny Lipford, host of "Today's Homeowner with Danny Lipford" and a council member.
These eight popular two-day weekend project ideas, however, would be perfect to consider for your DIY bucket list: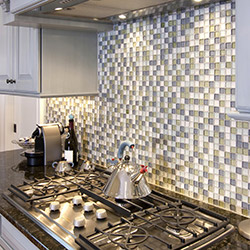 1. Small-Space Tiling
Beginners should remember the two s's: small and simple. Rather than a bathroom floor that requires cutting around the toilet, look instead to a small foyer or a backsplash for over the sink or stove. Homeowners and experienced weekend warriors, Dan and Sandy Grise of Stratford, Connecticut, were more ambitious: two full adjoining walls. While Sandy was new to tiling, Dan had assisted others. His advice: Research drying times, gather materials in advance, and "send the kids to Grandma's."
HPC survey fact: 52 percent view backsplash tiling as DIY-suitable.

2. Ceiling Fan Refresh

These fixtures don't take long to look dated and worn. Try taking an obsolete ceiling fan and refurbishing it. Lipford explains that this DIY project includes cleaning the blades and metal components with denatured alcohol, rubbing metal surfaces with steel wool and spraying those metal pieces with a nickel-look or other spray paint before rehanging.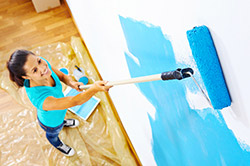 3. Wall Makeovers (two weekends)
This project would be best split into two weekends. "You never know how long it's going to take," says Dan Grise, who has tackled several rooms, using solutions to release before scraping wallpaper off and prepping the walls.
Weekend 1: Removing wallpaper. Weekend 2: Paint.
4. Flooring Refinish (or Replacement)
Lipford suggests vinyl plank flooring, which requires no glue and cuts with a razor.
NAR research fact: Hardwood floor refinishing costs should be recovered in full when selling.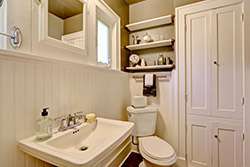 5. Bathroom Refresh
Install a new showerhead, a bowed shower curtain and "some fantastic-looking grab bars" for safety and aesthetics, advises Lipford.
Tip: A trim kit can make replacing the outer part of a faucet easy.
6. Closet Organization
Add any number of readily available shelving and rollout pieces. "A lot of people really enjoy this type of DIY project," says Lipford. This budget-friendly project can bring order and more time to your day.

Tip: Purge closet first. If you haven't worn it in the last year, it may be time to say bye-bye.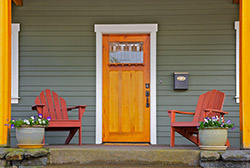 7. Curb Appeal
Think fresh mulch, flowers, fertilizer and a new mailbox. And don't ignore the front door. The Grise family prioritized getting rid of their pink door upon move-in. It took them about 10 hours, since there was lots of detailing to be sanded and prepped.
HPC survey facts: 86 percent view building and installing a mailbox as a DIY project; 77 percent can see themselves landscaping on their own.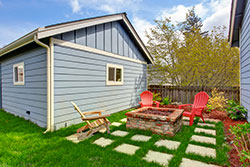 8. Backyard Boost
Building a small patio or a firepit is a manageable weekend project for many. A 5-foot-by-5-foot concrete patio, for example, can be built using concrete forms and a firepit kit with interlocking pieces.
Weekend project jitters? Maybe a professional can assist. Search for local weekend warrior programs for "DIY'ers". These allow you to work under a licensed contractor's wing.
Master Craftsman Robert Botway of Suffolk County, New York runs a program that allows many homeowners to watch how it is done. He says, "I make sure they at least try some of the tasks." Next time perhaps they'll take on a challenge on their own.
Whether you're hiring a licensed contractor or challenging yourself with a DIY project, Chase offers a home equity line of credit which you can use to fund your dream renovations.
If your property is located in Colorado, Florida, Ohio, Oregon, New Jersey or Washington