United MileagePlus Awards benefits and rewards
United MileagePlus® Awards Card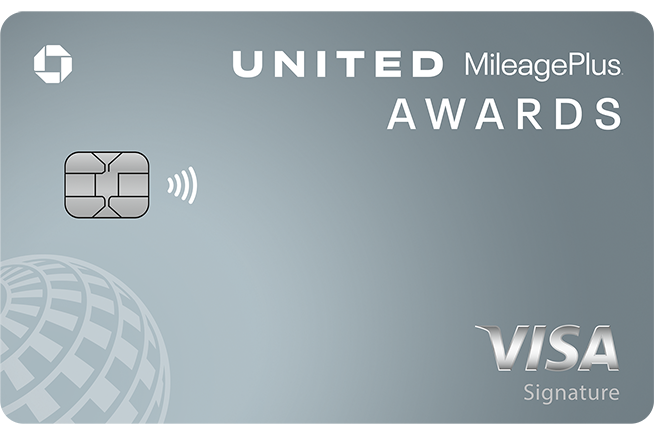 This card product is no longer available to new Cardmembers.
Benefits & rewards
Get away faster — use your MileagePlus Awards Card for gas, groceries and more to get you closer to your next destination.
Priority boarding
The primary Cardmember and companions on the same reservation will be invited to board United-operated flights prior to general boarding. To receive priority boarding, just add your MileagePlus number to your reservation and refer to your United boarding pass for your boarding group number.
25% Back on United Inflight and InClub
Purchases Pay with your United Card and get 25% back as a statement credit on purchases of food, beverages and Wi-Fi onboard United-operated flights and on purchases of premium drinks in United Club locations.
Earn award miles
Earn 1 mile per $1 spent on purchases you make with your card.
Award travel on Star Alliance™
Use your miles to connect with more of the world. You can earn and use MileagePlus miles on United and on any of the other member airlines in the Star Alliance network. With over 18,000 daily departures serving more than 1,300 worldwide destinations, your award travel opportunities are virtually endless.
Car and hotel awards
Your MileagePlus miles now take you even further. You can use your miles for car rentals at Cars.MileagePlus.com, as well as for hotel stays at thousands of properties around the world at HotelAwards.MileagePlus.com.
Merchandise awards
Enjoy shopping when you use your miles for electronics, home goods, accessories, jewelry and more from your favorite brands. Visit MileagePlusAwards.com to shop.
Concierge service
As a Cardmember, enjoy personalized assistance with all your travel needs, from arranging gifts and business services, to obtaining restaurant recommendations and reservations, and much more. For Concierge Services, call 1-800-953-7392, 24 hours a day, 7 days a week.