Chase Debit Cards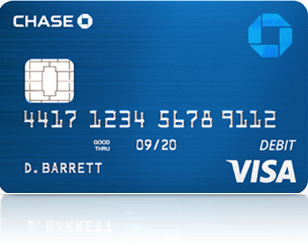 Chase Debit Card
It's the better way to make all of your everyday purchases. The Chase Debit Card offers control, security and convenience—you may never write another check again!
Want a Chase checking account with a Chase Debit Card?

Control
Stay in control of your finances.


Review each debit card purchase in detail and check your monthly statement using Chase Online Banking.

Start your day knowing how much money is in your account with a Daily Account summary by email

Footnote

(Opens Overlay)

. Sign up at Chase.com/alerts.
Check your account virtually anytime, anywhere by downloading our Chase Mobile® app

Footnote

(Opens Overlay)

. When you send us a text request, we'll text your balance right back

Footnote

(Opens Overlay)

.
Security
Built-in security and safety features.
Real-time fraud monitoring:
If a debit card transaction is out of character from your normal spending habits, we may contact you to make sure it's actually yours.

Account Alerts:
Sign up and we'll call, text or e-mail you if a debit card purchase or ATM withdrawal exceeds a limit you've specified.

Zero-Liability Protection:
You don't pay for any unauthorized debit card transactions when you notify us promptly Footnote (Opens Overlay).

Guaranteed Reimbursement:
Unauthorized purchases and withdrawals are back in your account by the end of the next business day Footnote (Opens Overlay). You don't have to wait while we investigate.

Added Security:
A chip adds another layer of security to cards when used at a chip card reader. During the chip transaction, the chip produces a single-use code to validate the transaction — further protecting cards from unauthorized use. Learn more at chase.com/chip

Convenience
Faster than checks. Safer than cash.


Speed through checkout lanes by paying for all your everyday purchases with your Chase Debit Card.

Use your Chase Debit Card instead of cash or checks. Your card is accepted for payment at millions of merchant locations worldwide.

Pay your monthly bills over the phone or online using your Chase Debit Card, including utilities, health club dues, insurance, internet access, movie club, satellite TV and more.