$3 million Chase grant helps military-connected entrepreneur nonprofit complete its mission
When military grit meets business, great things happen. Find out how Chase helps power this military-connected entrepreneur nonprofit.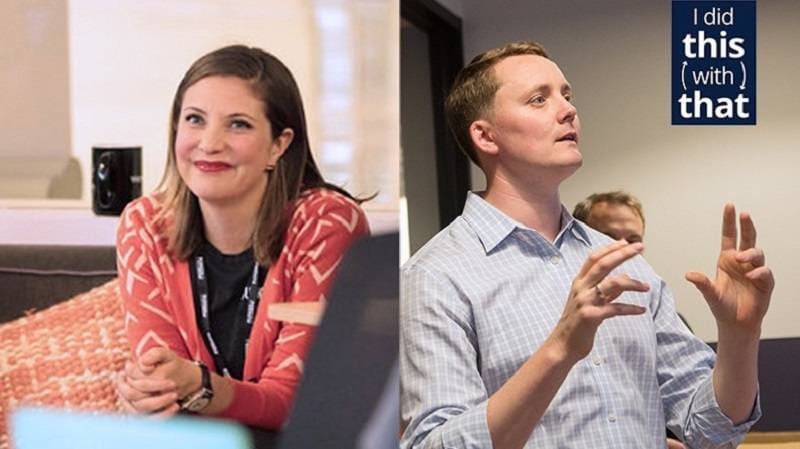 It's always easier to understand the potential of a business resource when you look beyond the benefit statements and hear how a business owner uses a resource to solve a real-world problem.
In this installment of our "I Did This with That" series, we sat down with Blake Hogan, CEO, and Becca Keaty, Chief Development Officer, of Bunker Labs, an incubator that supports military-connected entrepreneurs. Between playful jabs about which military branch is better, Blake and Becca discussed how Bunker Labs used a $3 million grant from Chase for Business.
Blake joined us from a sleek, glass-lined office in Nashville that looked like it could have been one of the music city's many recording studios. Becca joined us from her cozy home in Chicago, where her dog made a few cameo appearances. Military veterans understand serious missions. But these two veterans and Bunker Labs executives were all smiles when talking about their current mission: connecting the military community to the resources that help grow their businesses.
Chase: Tell us a little about how Bunker Labs got started and what you're trying to accomplish.
Blake: It started in 2014 in downtown Chicago with our founder, Todd Connor. Todd is a Navy veteran and was working with 1871, an incubator hub in the city that was looking for ways to continue to grow and be even more diverse and inclusive. Todd suggested, "What about the veteran community?"
So Todd came to a group of us and said, "We're going to launch the next Greatest Generation. Are you in? Are you out?'"
Immediately, we all said, "We're in!" The Marines, we asked zero clarifying questions. It was, "Yes, let's do this."
Then, when he announced the venture was going to be a nonprofit, I thought, "That's a terrible idea." It was hard for me to wrap my head around at first. "We're going to help people start businesses, but we're going to do it as a nonprofit?"
Actually, though, it makes total sense. It allows us to be a neutral, nonbiased partner that is invested in their success. So we made the decision early on not to take an equity stake in the companies that we serve.
Becca: I'll jump in to say that the reason why Blake did not get it is because he was in the Marines. Those of us that served in the Army, we got it. And just so you know, this wouldn't be a military-themed interview if we didn't take digs at each other for what service branch we were in.
Chase: Blake, what turned you around and made you realize this idea had potential?
Blake: Well, I realized that Todd's personal story was unique. He was from Chicago, he'd gone to school there, so his network was still there. When he was building his first consulting companies, he was able to get somebody on the other end of the line. He was able to get a bank. He was able to get a good partner. He was able to get access to things.
It occurred to me that he was the anomaly in the military space. What could we do to recreate the experience veterans had after World War II? You had 16 million veterans come home. Almost half of them went on to own or operate businesses. That was the inspiration. Bunker Labs was born.
Chase: Everything was going well, then 2020 happened. What impact did COVID have?
Blake: The lows were significantly lower, and the highs were just blips on our radar. 2020 could have been the year that Bunker became nothing but an idea. We were able to pay it forward and help thousands of companies launch, grow and scale during the pandemic, during one of the more difficult times there's ever been to start a business. Our country and the world need something to rally around right now. What's better than a group of military-connected entrepreneurs who are doing their damnedest to launch and grow their dreams?
Chase: In 2019, Chase came through with a $3 million grant. This was part of Chase's Small Business Forward initiative that supports women-, minority- and veteran-owned businesses. How did you deploy those resources?
Blake: The grant has allowed us to scale from 10 locations to over 40 communities across the country. They've been an invaluable partner from the beginning. One of the things we are so thankful for with Chase is the ability to have this much larger megaphone to share our story.
Our mission is to empower the veteran and military community, and military-connected communities. We run a number of cohort-based programs to help people throughout their journey as an entrepreneur.
Our Veterans in Residence is a six-month incubator program. Think of it like a small unit where you've got 10 other entrepreneurs that are in the mission right alongside you but connected to a total of 24 cohorts around the country.
Then there's our later-stage cohort program, CEOcircle, a 12-month program. It's a forum for later-stage companies, typically with half a million dollars or more in revenue. We are growing and refining a cohort program for our ambassadors, to help local community leaders who adopt our entrepreneurs. It helps them learn how to build better networks and do it in a cohesive way.
And then we've got all kinds of supporting efforts that help funnel people into Bunker: an online virtual community called Bunker Online anybody can join and a tool called Launch Lab Online, which is a series of modules and short videos to help identify whether you've got an idea worth pursuing and whether or not entrepreneurship is something that's a good fit. As well as our workshop series, which serves early-stage and underrepresented founders.
Chase: This isn't the first time you've made good use of Chase as a resource. Chase delivered some grants through its Office of Military and Veterans Affairs, which has awarded a total of $8 million over the last 10 years. Can you take us back a few years to the first time you partnered with Chase?
Blake: In 2017, we put on what we called the Muster Across America Tour. We had these local matching grants from Chase that we presented at the stops on the tour. So, for example, we were able to present checks here in Nashville with Governor Haslam. It was a big deal! We had these great partners like Jamie Dimon, chairman and CEO of JPMorgan Chase, and Doug Petno, CEO of Commercial Banking at JPMorgan Chase, who have been there for us at really key moments in our trajectory as an organization.
Becca: I was actually brought on right after we got our first substantial grant from Chase to launch the Muster Across America Tour. Essentially, it was a way for us to bring our mission to life in all the communities that we served.
Our three mission words are "inspire," "equip" and "connect." So, a typical muster event would always inspire with a keynote speaker, equip with educational panels and breakout groups, and connect by matching them with funders and partners. And we would always end it with drinks and fun and a happy hour to make meaningful connections. It put us on the map in all of the cities we were operating in. It was this catalyst moment for us to really make Bunker Labs a national organization.
Blake: The whole purpose of that was to be able to bring together entrepreneurs and military co-entrepreneurs and have them be the stars of the show.
Jamie Dimon spent so much time with those entrepreneurs. You have this young person who could be a military spouse or just fresh out of the military, trying to test this idea, and Jamie made himself available to them. It was such a special moment. And those moments will stay with these entrepreneurs for a really, really long time.
As part of our ongoing commitment to support small business growth and entrepreneurship, Chase's Office of Military and Veteran Affairs is excited to continue to partner with Bunker Labs to help military veteran- and military spouse-entrepreneurs transition from initial start-ups to growing, thriving businesses.
Thank you to Blake, Becca and everyone at Bunker Labs. The mission of your company is to bring people together. In our interview, you did that across four corners of the country. Mission accomplished.
The testimonials on this page or provided via linked videos are the sole opinions, findings or experiences of our customer and not those of JPMorgan Chase Bank, N.A. or any of its affiliates. These opinions, findings, or experiences may not be representative of what all customers may achieve. JPMorgan Chase Bank, N.A. or any of its affiliates are not liable for decisions made or actions taken in reliance on any of the testimonial information provided.
For informational/educational purposes only: The views expressed in this article may differ from those of other employees and departments of JPMorgan Chase & Co. Views and strategies described may not be appropriate for everyone and are not intended as specific advice/recommendation for any individual. Information has been obtained from sources believed to be reliable, but JPMorgan Chase & Co. or its affiliates and/or subsidiaries do not warrant its completeness or accuracy. You should carefully consider your needs and objectives before making any decisions and consult the appropriate professional(s). Outlooks and past performance are not guarantees of future results.
You should carefully consider your needs and objectives before making any decisions, and consult the appropriate professional(s).
JPMorgan Chase Bank, N.A. Member FDIC. Equal Opportunity Lender, ©2022 JPMorgan Chase & Co.