Merging cultures one scoop at a time
How does this LA-based ice cream brand provide a connection and an escape with every scoop? Read their sweet story.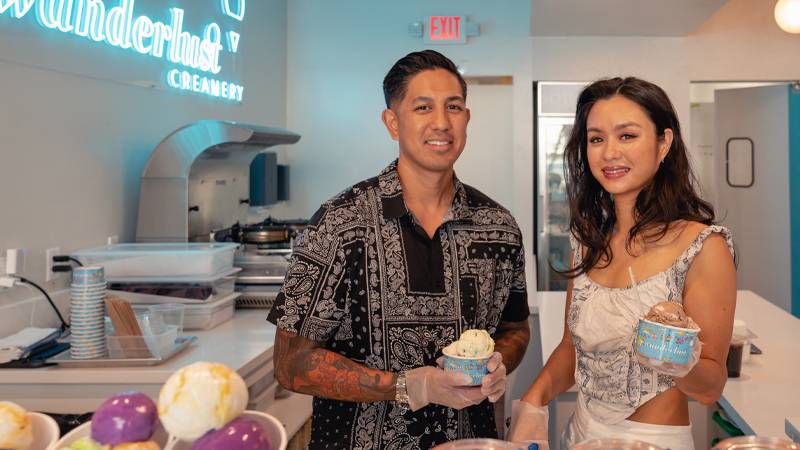 Ice cream can be an out-of-body experience. Especially for customers of Wanderlust Creamery, a set of trendy, artisanal ice cream shops in Los Angeles.
Owners Adrienne Borlongan and Jon-Patrick "JP" Lopez take customers on a journey through their tastebuds. Their secret recipe? Fusing together ingredients inspired by their own Filipino heritage, their childhoods, other cultures, places they've been, places they want to go.
The owners of Wanderlust Creamery found the sweetest success when they trusted their instincts and each other.
"When I first started making ice cream, a friend asked how I came up with my esoteric flavors, and I told her I was inspired by my wanderlust."
Adrienne Borlongan, Co-founder, Wanderlust Creamery
It's just ice cream. Or is it?
When the couple opened their first shop in 2015 with nothing more than their life savings and a dream, they played it safe — casting a bigger net to try to entice more customers with menu options that were a bit more, well, vanilla. They didn't want people to walk in, see flavors they didn't recognize and walk out, so they focused on familiar Eurocentric flavors, with a few exotic choices sprinkled in. And while the shop did well, it wasn't until Borlongan and Lopez threw caution to the wind and trusted their instincts that Wanderlust really took off.
"So my assumption at the beginning was wrong. Me being cautious was actually hindering our growth," Borlongan recalls. "It wasn't until I was like, OK, let's just put the unexpected flavors out there and started throwing little hints of my own culture in there that we really gained a following."
To their surprise, people wanted to experience new things. "It's weird. It's just ice cream, but at the same time, I'm realizing it's a very emotional product," Borlongan says. "Almost every day, we get emails with suggestions. People want us to recreate a taste they remembered from childhood or from their homeland or a trip they took. When we make flavors that speak to their culture, they get excited. By celebrating cultures and flavors from all parts of the world and not just ours, we're able to capture a much broader audience."
It's personal
Today, they are no longer afraid to lean in to their roots. "We have a Filipino flavor on our signature menu, Ube Malted Crunch, which is offered year-round and is our top seller by far," says Lopez. "We have 22 flavors in our case, and this one consistently makes up 15%–20% of total sales."
To celebrate Filipino American History Month, the pair dedicate October's menu to all the stuff they loved growing up as Filipino Americans. "A lot of our Filipino flavors in October aren't native Filipino flavors but ones that speak to Filipinos that grew up here in the states," says Borlongan. "I'll take American or Hispanic flavors I remember growing up in Los Angeles, like tres leches cake, and put a Filipino twist on it. We make a halo-halo without beans. In the Philippines that wouldn't fly, but if you grew up as a Filipino in the U.S. that's what you'd remember. I think we found a specific niche, and it's people who grew up here. But also a lot of their palette is influenced by their parents' culture."
Sweet escape
The pair didn't have much growing up and believe they owe their drive and resilience to their modest backgrounds. "It's made us very scrappy, forcing us to work with whatever we have, being resourceful and being creative — not just with flavors and ingredients and branding but with ideas," says Borlongan.
"If our backs are up against a wall, we suck it up and make changes and make it happen," adds Lopez.
This scrappiness was especially handy during the pandemic. Changing their business model to add a heavy online presence was like starting a whole new company. It was a huge undertaking, but it paid off. Online ordering coupled with the offer of a virtual escape during a time when physical travel was limited helped the couple not only survive but thrive.
"We were six years in, and we knew what we were doing, so there was no reason to try something new," Borlongan says. "But the pandemic gave us a reason. If we didn't step out of our comfort zone, we weren't going to survive. It was a catalyst that led us to pursue new ways of doing business. I think the pandemic actually fueled a big part of our growth."
"If we didn't step out of our comfort zone, we weren't going to survive."
Cool combinations
As partners in life and in business, Borlongan and Lopez know that the perfect ingredients can come together to create something magical, and so can the right people. He is the analytical numbers guy, and she is all about the ingredients, flavors and design.
Lopez jokes, "I run the numbers and make sure the flavors she wants to make don't put us under, which has happened a few times. We got really lucky in that her strengths are my weaknesses, and my strengths are her weaknesses. It works out really well, and we stay out of each other's lane."
Another relationship that works well for the pair is the one with Chase for Business and their relationship manager, Lois Klavir. "She gets what we're doing and was able to see the bigger picture to help us get where we want to go," says Lopez. "With the first three stores, we figured no one would give us a loan, so we never asked. Then as we were planning to open more locations, we worked with Lois and were able to get the financing we needed. It really did a lot to help speed up our growth from three stores to six. Now we have plans to expand to Orange County later this year and hopefully outside of California in the near future."
In addition to securing Chase small business financing and a Paycheck Protection Program loan sponsored by the Small Business Administration, the pair also worked with Klavir to open several Chase business accounts — including Chase Premier Savings℠, Chase Platinum Business Checking℠ and a Chase Ink business credit card — all managed through Chase Business Online.
Cherry on top
When Borlongan and Lopez dig deep and tap into their own backgrounds, they now realize they're also appealing to others who are just like them and feel like they do.
"Something I've learned through this business is that I have a lot of shared experiences with people, and not just Asian people," says Borlongan. "Whether it be Hispanic or Middle Eastern immigrants, there's always this feeling of being on the outside. By creating a business that includes all these people, people that traditionally don't get included, it opens up opportunities to engage a much broader audience than if we'd stuck with what's expected of an ice cream shop."
The testimonials on this page or provided via linked videos are the sole opinions, findings or experiences of our customer or mentee and not those of JPMorgan Chase Bank, N.A. or any of its affiliates. These opinions, findings or experiences may not be representative of what all customers and mentees may achieve. JPMorgan Chase Bank, N.A. or any of its affiliates are not liable for decisions made or actions taken in reliance on any of the testimonial information provided.
For informational/educational purposes only: The views expressed in this article may differ from those of other employees and departments of JPMorgan Chase & Co. Views and strategies described may not be appropriate for everyone and are not intended as specific advice/recommendation for any individual. Information has been obtained from sources believed to be reliable, but JPMorgan Chase & Co. or its affiliates and/or subsidiaries do not warrant its completeness or accuracy. You should carefully consider your needs and objectives before making any decisions and consult the appropriate professional(s). Outlooks and past performance are not guarantees of future results.
JPMorgan Chase Bank, N.A. Member FDIC. ©2023 JPMorgan Chase & Co.