Asian American business owners look ahead — and see promise
Chase survey reveals the Asian American and Pacific Islander business owner experience as they navigate recovery.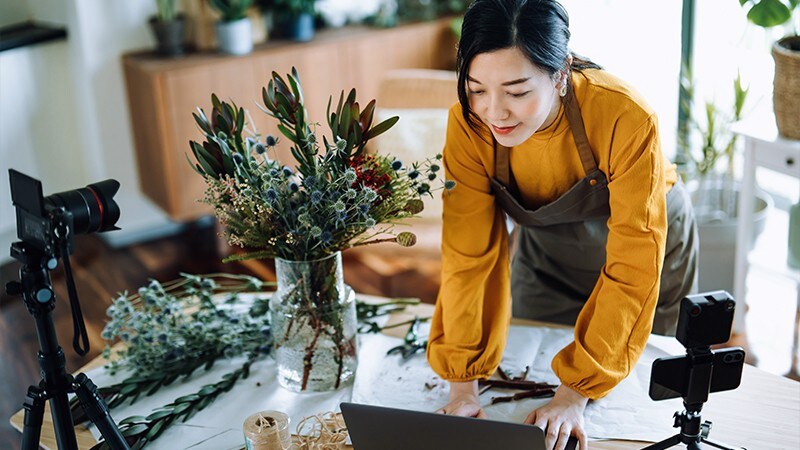 Asian American and Pacific Islander business owners are no monolith. Diverse and vibrant, the AAPI community is made up of over 40 ethnic subgroups and is one of the fastest-growing demographics in the United States, according to the U.S. Census Bureau. So when the pandemic hit, no single data point could capture the challenges all AAPI business owners faced. Three years later, a clear story of optimism emerges.
To shed light on the AAPI business owner experience and to better understand how they are navigating the protracted economic recovery, Chase surveyed over 100 AAPI business owners in the U.S. with revenues up to $20 million. Of the different ethnicities represented in the survey, those with the highest percentage of respondents were Chinese (22%), Native Hawaiian or Pacific Islander (20%), Indian (19%), and Korean (19%).
Like all types of business owners worldwide, AAPI business owners have felt the pains of the COVID-19 pandemic, with many reporting lost revenue, staffing shortages and supply chain snags. However, 2 in 5 Asian American business owners have seen 51% or more business growth in last two years, compared with only 8% who say they've lost substantial business over that same period. What's more, most (65%) expect to grow over the next five years and are feeling confident about their futures.
That level of business excellence is reason to celebrate. But it comes during a complicated moment for the Asian American community. It's now well understood that during the early days of the pandemic, Asian Americans were more likely than other people of color to be harassed because of their race. Unfortunately, that trend has continued. According to recently released numbers from the FBI on hate-crime statistics for 2021, there were 746 attacks across the country targeting people of Asian descent, up from 249 a year earlier. The spikes in hate targeting AAPI individuals and businesses not only affect those who own or work at these businesses but also tend to radiate out to their communities.
JPMorgan Chase is more committed than ever to advancing equity and inclusion for AAPI customers and delivering culturally responsive recovery strategies developed with — and for — the AAPI community.
Seeking advice and support close to home
Even as institutions like JPMorgan Chase offer more financial education, coaching and key resources, AAPI business owners report turning to their closest community for help with business-related challenges. To navigate a world changed by public health risks, technology acceleration and supply chain chaos, a full 95% of respondents say they've needed business help and guidance.
Go-to sources of guidance for business challenges
40%
Co-owners or other employees
39%
Friends
35%
General internet searches
32%
Family
32%
Local/community resources
Working capital wanted, institutional borrowing needed
With lockdowns and unanticipated ripple effects radiating out for years, working capital has been painfully stretched for many Asian-owned businesses. As one respondent who owns a law firm that makes its fees from court appearances notes:
"During COVID, all the trial dates got postponed for two to three years. So, originally our time-to-money from filing a case was six to 18 months. That has turned into three to five years, which has made it very, very difficult for us."
Inflation has compounded the time value of money, too, with purchasing power decreasing as prices on essential goods and services have risen. During the height of the pandemic, nearly a third (28%) of the AAPI survey respondents were able to survive and rebound their businesses with help from the Paycheck Protection Program.
According to our survey, 2 in 5 AAPI business owners have turned to their local bank for a loan, with another 2 in 5 capitalizing their businesses using peer-to-peer or friends-and-family loans.
Shifting focus from safety to sales
When asked about their greatest business challenges now, the most common response was a pivot from safety to sales as the operational focus. That's welcome news because it suggests that AAPI business owners are ready to turn the page and refocus on growth. Marketing, which was at the bottom of the list of challenges during the pandemic, is now the top anticipated need for AAPI business owners. Credit assistance and legal assistance ranked second and third, respectively, for future focus areas.
Compared with their counterparts with $1 million to $4.9 million in annual revenue, AAPI-run businesses with $5 million to $9.9 million in revenue were more likely to say marketing, credit assistance and legal assistance would be helpful. When asked to consider their needs over the next two years:
68% of larger businesses say marketing would help, compared with 52% of smaller businesses
62% of larger businesses say credit assistance would help, compared with 47% of smaller businesses
62% of larger businesses say legal assistance would help, compared with 43% of smaller businesses
"I definitely see a bright future. We are looking more into advertising in Manhattan, and I think that might help our business grow even more."
— Marketing business owner, $5M–$9.9M
Chase for Business is there
One important finding from the survey is that AAPI business owners encountered extraordinary difficulties with their businesses during the pandemic and turned to their immediate community for help or guidance. But they also have institutional partners committed to their success.
To drive real progress, JPMorgan Chase is investing resources to become a go-to source of business support and advice for AAPI entrepreneurs. Our Office of Asian & Pacific Islander Affairs, the group that commissioned this research, is dedicated to driving opportunity for AAPI business owners and their communities.
"We are committed to creating opportunity, driving progress and enabling economic growth for Asian Americans," says Vivian Young, global head of Asian & Pacific Islander Affairs. "Working together with our communities, we can help grow, scale and transition businesses that bring us closer to the more equitable and inclusive future we all deserve."
About the AAPI Outlook survey
This survey was conducted by Chase Insights from August 29 to September 20, 2022. It features data from 111 AAPI business owners across the professional services, retail, technology, health care and other key industries.
For informational/educational purposes only: The views expressed in this article may differ from those of other employees and departments of JPMorgan Chase & Co. Views and strategies described may not be appropriate for everyone and are not intended as specific advice/recommendation for any individual. Information has been obtained from sources believed to be reliable, but JPMorgan Chase & Co. or its affiliates and/or subsidiaries do not warrant its completeness or accuracy. You should carefully consider your needs and objectives before making any decisions and consult the appropriate professional(s). Outlooks and past performance are not guarantees of future results.
JPMorgan Chase Bank, N.A. Member FDIC. ©2023 JPMorgan Chase & Co.