Powershift Grant helps Harlem restaurateur expand her thinking — and her space
Discover how this Harlem restaurateur used a grant to keep food on the table for her workers — and her community.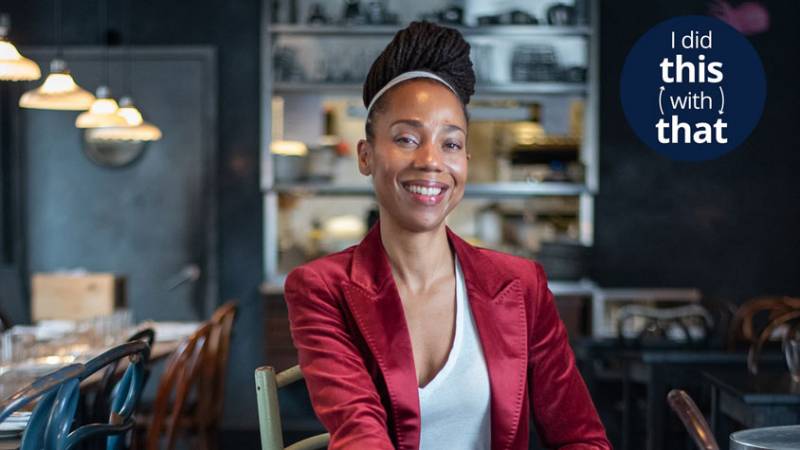 It's always easier to understand the potential of a business resource when you look beyond the benefit statements and hear how a business owner uses a resource to solve a real-world problem.
As part of our "I Did This with That" series, we spoke with Yvette Leeper-Bueno, owner of Vinatería, a neighborhood restaurant and wine bar in Harlem, about how she took advantage of the $25,000 NAACP Powershift Entrepreneur Grant presented by Chase for Business.
Chase: Tell us a little about how your business got started and what you're trying to accomplish.
Yvette: I used to do fundraising parties for both of my sons' schools. I threw the parties in my townhouse here in Harlem. They were so much fun. Year after year, I enjoyed preparing for them, pulling together the wines and the food. It was truly a passion of mine.
When those guests suggested I open a wine bar, my husband was like, "You know what, you really come alive with this. There's really something to this." The idea was planted.
Having been an entrepreneur for more than 10 years, and having just shut the chapter on my previous business, I began to look for spaces. I knew I wanted it to be in Harlem. When you stay in the same place all your life and you love where you live, you naturally want to contribute to that place. You want to see it thrive. And I can't figure out a better way to bring people together than over food and wine and a shared meal.
It was also important to me that Vinatería be approachable for everyone. We have wine journeys we can take you on and food that's very comforting yet also evokes a trip to Italy or to Spain. We like to give people a sense of discovery, a journey.
I'm so thankful to be a part of Harlem, and because it's so enveloping, I feel the people here truly want me to succeed. You know what that does for you when people want you to succeed? It really spurs you on.
Chase: What challenges were you facing that led you to find creative solutions and seek help?
Yvette: In the height of the pandemic, almost all the restaurants closed, all the businesses closed. It was dark in those first days of March and April 2020, when the lockdown came. It was scary. But I spoke with my general manager and asked, "What would it look like for us to continue opening?" He said, "I'm game. Let's do it. The community needs us."
And so there was my little restaurant, still open, a little beacon of light.
People don't realize how safe it makes people feel when your lights are on. Restaurants provide a sense of calm in the storm. Even though people couldn't come inside, we still set every table. We put candles on all the tables. People paused to look in, and it gave them joy, gave them a sense of normalcy in a world that'd been turned around.
When winter hit, businesses scrambled to figure out how to keep diners comfortable longer outdoors. I saw that coming from way back and asked myself how we could plan for this. Delivery/pickup isn't really a substantive model to build our business on. We needed a plan.
Chase: Walk us through your experience with the $25,000 NAACP Powershift Entrepreneur Grant.
Yvette: I found out about the grant very much on the late side. It was an email from Harlem Business Alliance. There were only a couple days left to apply. I figured I'd go for it, do a little video and see if it resonated with anyone. Twenty minutes later I sent it off. I didn't think that it would get me anywhere.
Boy, was I wrong.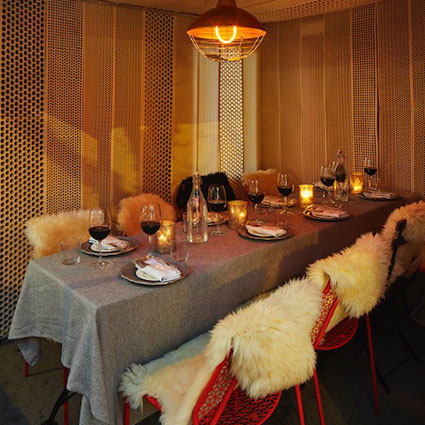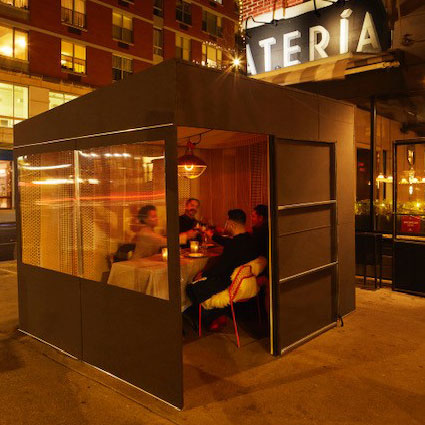 Chase: Take us deeper into the story. What did the grant allow you to do that you couldn't do before?
Yvette: It meant so much. And it came at a moment that was critical, because the winter was very difficult to navigate with all the challenges. I used the grant to invest in my outdoor space, to put tables and chairs farther out into the street.
I was able to create these amazing dining structures to keep people warm in the winter. I worked with designers to come up with a unique look that was reflective of our brand. That kept people socially distant and safe but also felt cozy and interesting to look at. And I found these heaters — they're super cute. It was a large undertaking.
It really helped to grow my outside business and stay above water during winter. And I have Chase for Business to thank for it.
Part of the award included a mentorship with Daymond John, who of course wrote the book "Powershift." He's been wonderful and really generous with his time, advice and resources. In a time of uncertainty, it was deeply comforting to have this guidance.
I cannot tell you how much time he spent with me and the other entrepreneurs on our call. He's just giving. It felt so wonderful to get his guidance and to see how engaged he was with all of us. He seemed to really want us to succeed. Having that baseline of his support and guidance, that's enough to spur you on for a while. It's really nice to see how down-to-earth he is. He doesn't have to be, but he is.
Chase: What advice do you have for other businesses?
Yvette: Right now, it's important to be nimble and look to different ideas. It's a delight and a real opportunity to lead a team right now and to be collaborative and to try new things.
These structures that I invested in are modular. So I can take away some of the walls, and maybe we just have the roof sometimes. I think that was part of the whole ingenious quality of them. They can be totally contained. You can take away pieces. We build them with versatility in mind. I think that as spring approaches, it will look a bit different but also be substantive and cute. In the dead of summer, we may take them away and store the panels until the next cold season. We'll try it all.
Chase: What's next for Vinatería?
Yvette: I'm committed to being here for Harlem. To be the place that when you're depleted, it brings you back to a sense of wholeness. That's what I'm here for. And that gives me so much joy. When I see someone draggy or having a tough day, we peel back the flower, make sure they have a good time and leave on a high note. And they often make a point of telling us what it meant to them. These are the things that will always keep me going. I think neighborhood restaurants are our gems.
Beyond this, we're super excited to now have expanded seating year-round with our dining pods and for that to be a new aspect of our business. The additional seating definitely piques our interest in further expansion of Vinatería.
Photo credit: Jaclyn Warren
The testimonials on this page or provided via linked videos are the sole opinions, findings or experiences of our customer and not those of JPMorgan Chase Bank, N.A. or any of its affiliates. These opinions, findings or experiences may not be representative of what all customers may achieve. JPMorgan Chase Bank, N.A. or any of its affiliates are not liable for decisions made or actions taken in reliance on any of the testimonial information provided.
For informational/educational purposes only: The views expressed in this article may differ from those of other employees and departments of JPMorgan Chase & Co. Views and strategies described may not be appropriate for everyone and are not intended as specific advice/recommendation for any individual. Information has been obtained from sources believed to be reliable, but JPMorgan Chase & Co. or its affiliates and/or subsidiaries do not warrant its completeness or accuracy. You should carefully consider your needs and objectives before making any decisions and consult the appropriate professional(s). Outlooks and past performance are not guarantees of future results.
You should carefully consider your needs and objectives before making any decisions, and consult the appropriate professional(s).
JPMorgan Chase Bank, N.A. Member FDIC. Equal Opportunity Lender, ©2022 JPMorgan Chase & Co.