Manage Your Smart Terminal Device
Learn how to get the most value from your Smart Terminal by adding users, linking bank accounts and more.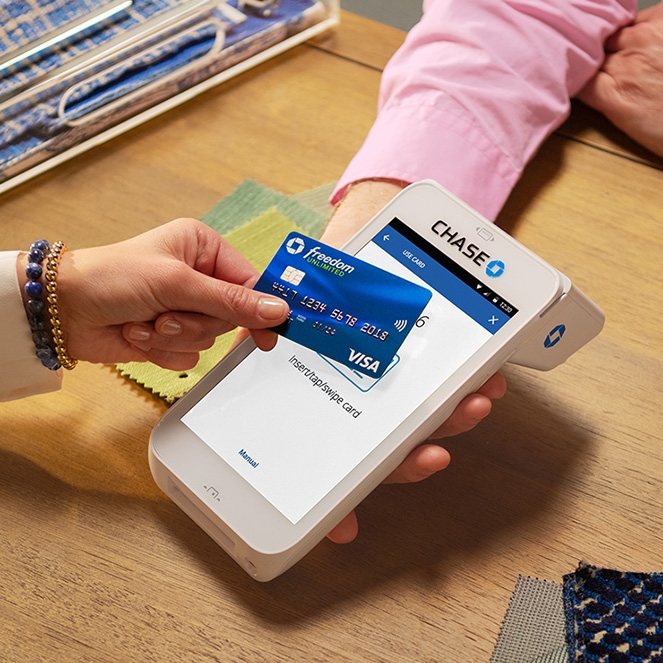 Activation support topics
Get answers to the questions most frequently asked by business owners like you.
Your Smart Terminal can only be used with 1 Chase Business Complete Banking or 1 Chase Payment Solutions deposit account. You'll be asked to choose this account when you sign in to your Smart Terminal for the first time.
Your Smart Terminal is optimized for POS-related functions and as such is a closed environment. Therefore, you can't download generic Android apps to your Smart Terminal.
Additional users can be added to the Smart Terminal by adding Authorized Users to your account in the Chase.com Access and Security Manager.
You can remove or update user access at any time through the Access and Security Manager for all your Smart Terminal user accounts.
In the Chase Mobile app, tap the profile icon on the top of the screen, then select the Settings tab, and Security settings.
Under Access and Security Manager, select add user or assign rights to add profiles and/or manage access
Select add authorized user

Confirm the activation code
Provide details of the authorized user. Ensure mobile access is selected; failure to do so will not allow access to QuickAccept.
Confirm authorized user details. The authorized user will receive an email to set up their profile
Smart Terminal is a feature of your Chase Business Complete Banking or Chase Payment Solutions account. The Smart Terminal will no longer be available for use if you close this account. If you wish to no longer use the Smart Terminal, you can stop processing transactions on the Smart Terminal at any time. You'll only incur fees when you process debit or credit card transactions.
Any Smart Terminal that is no longer in use should be deactivated. Please contact the Chase Smart Terminal support team at 1-888-659-4961 to have them deactivate your terminal. The support team can re-enable the terminal if you again want to start processing again.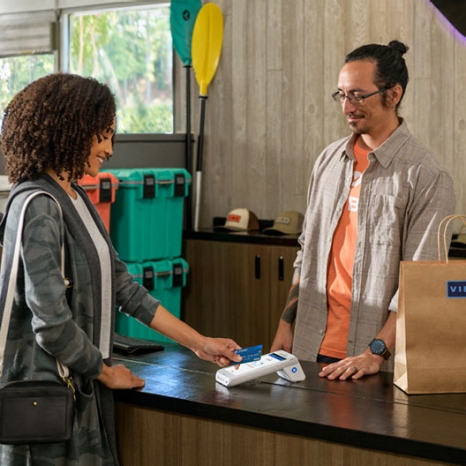 In the Systems Administrator view, select the Chase Business Complete account then the access level of "transact only" or "See activity and transact."
Select QuickAccept and indicate the channel for which you are trying to grant access – Accept payments Chase Smart Terminal and/or See & refund transactions on Chase Smart Terminal.
Select Next to complete the addition. The sub-user will receive email instructions on how to create their Chase profile and can begin accepting payments through your QuickAccept account.
Deposit Limits
Limits are set at the account level and differ by a variety of factors. Funds may be held when the deposit amount exceeds a deposit limit set by Chase. Deposit limits cover potential chargebacks, returns, unshipped merchandise, refunds, and/or unfulfilled services and act as a buffer between the time payments are processed and the time you can access these funds, in order to mitigate the risk of making funds accessible immediately.
If you experience a funds hold and have a question, go into your Chase Online Business portal transaction history, choose the transaction and view details. Under view details choose "Report a Problem" and complete the form. Be sure to use the email address used to open your Chase checking account.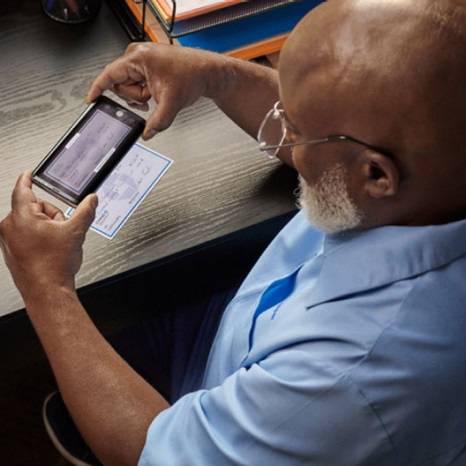 If you settle into a Chase Business Banking account:
Smart Terminal payments completed before 8 PM Eastern Time Sunday through Friday will be deposited into your Chase Business Checking account by 12 AM Eastern Time.
Smart Terminal payments completed before 8 PM Eastern Time on Saturdays will be deposited into your Chase Business Checking account by 7:30 AM Eastern Time Sunday morning.
Any Smart Terminal payments completed after the daily cut off time will be deposited the next day.
If you settle into a 3rd Party account:
All Smart Terminal payments will be deposited the next day.
Yes. The deposit limit is evaluated on a regular basis, and may be raised or lowered at any time, based on your payment history.
If you would like the deposit limit adjusted outside of the normal monthly evaluation, you can submit a request by following the link and filling out the form.
Enter email address
Choose General Account Questions
Fill in any additional details
Chase will notify you of the dispute via email. You can also view the dispute on the Chase Merchant Dashboard.
When a customer disputes a charge made on their card, the bank that issued the card credits the cardholder, and the payment brand credits the issuing bank. The disputed amount is temporarily deducted from your next settlement while the claim is being reviewed. If there are not enough funds in your next settlement, the amount is deducted from your settlement bank account.
View the status of your dispute on Chase Merchant Dashboard in your online account. You'll receive an initial email notification informing you of the dispute details. Carefully review the information contained in the notification email, particularly the dispute type. You may be given the option to contest or concede the dispute. If you accept responsibility for the dispute, choose Concede. The funds will not be returned to your settlement bank account
No, currently Smart Terminal is only available to clients with a social security number.
If you used an ITIN to open your CBCB account, you won't be able to use QuickAccept at this time. If you have already processed a transaction, please open a Support Ticket for assistance.
The Smart Terminal is to be used for U.S.-processed transactions, and is not supported outside of the United States.
At this time, merchants using Smart Terminal can process international credit cards using the Swipe, Dip, or Tap methods of entry on the Smart Terminal. For manual entry transactions, only cards with a U.S.-based billing address can be used.
To protect against fraud, some transactions may require additional validation.
Chase may hold funds and request documentation from you to ensure the transaction is legitimate. If additional documentation is required you'll receive an email from Chase Payment Solutions with the subject line "Additional information needed to resume payouts for your account". Once the documents have been reviewed and the transaction is approved. Chase will deposit the funds into your account.