"We know who our customers are. We are them."
Mabel Frías and Shaira Frías of Luna Magic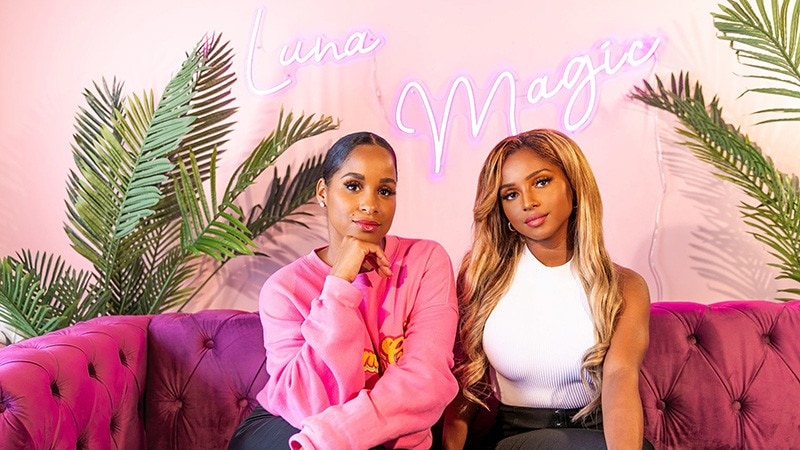 What Entrepreneurs Are Really Made Of
What drives entrepreneurs to carve their own path? We're interested in getting beyond the stereotypes and meeting the real faces of entrepreneurship in America. Each story in this series explores what it is that makes entrepreneurs different — and how that difference translates into success.
Mabel and Shaira Frías didn't come from a long line of entrepreneurs. In fact, they were the first women in their family to go to college or work in the corporate world, let alone get a master's degree. Yet their heritage played a large role in catapulting Luna Magic, their indie beauty and lifestyle brand to success.

While other beauty brands struggled to survive the pandemic, Luna Magic was just getting started, rolling out a regional program with Walmart and attracting fans everywhere.
It was late on a Friday afternoon when the two sisters entered our Zoom session. Despite having finished a marathon day of meetings, they were full of smiles and contagious energy. For anyone who knows the dynamic pair, this is the norm, not the exception. Throughout the interview, they playfully bantered back and forth the way only siblings can.
"Our grandparents imprinted on us that the glass is always half full. Every time we show up in a meeting, everyone's like, 'Oh my God, you girls are so happy and always smiling.' I'm like, 'If we're not, what are we doing?'"
– Sharia Frías
How it all started
Q: You both decided to leave successful careers behind to start a business together. Tell us a little about the moment you first knew you wanted to be entrepreneurs.
Shaira: Our grandma started her own shop in the Virgin Islands. Seeing her as this woman who wanted to create something for herself because she didn't want to be a housewife was impactful for us. We used to go there every day after school to help her out, and she used to pay us a dollar a day. She used to say, "Ladies, depend on yourselves. Don't depend on a man. When you want to start a business, you have to have that drive, that hustle, that energy — the good energy — to start your own thing."
"Who knew that we could be successful creating makeup? I don't complain when I wake up. There are no complaints that come out of my mouth."
– Mabel Frías
Q: Luna Magic was born to fill a need in the marketplace. But how does it also fill a need in your own lives and the lives of other women?
Shaira: The business was born because we didn't feel represented in the beauty world authentically. All these other brands, they would hire influencers, celebrities to give the "Latin wink," but it was only temporary — during Hispanic Heritage Month or Día de los Muertos. Growing up, we didn't see women like us on TV or in the beauty world. With my love of makeup, my love of journalism and my sister's online and retail experience, we decided to do something. We realized that people want to connect to people from their background, who speak their language. So in everything we do — packaging, messaging, product names — we always give the Latin wink.
Q: You understood the media and the corporate world. But this was different. What was the biggest surprise when you started your own business?
Mabel: I was unaware of the personal side of what we were doing. I thought it was all about the products. But it turns out people look at us as this story of possibility. They learned we come from very humble beginnings — the children of immigrant parents — and we navigated all these firsts, and they feel inspired. There are people out there looking at us and saying, "Wow, that could be me."
Facing challenges
Q: Being in business or starting a business isn't easy, especially for women of color. What hurdles have you overcome? How did you turn negatives into positives?
Shaira: We're from a culture of figuring it out by whatever means necessary. Our ancestors took risks coming to this country. We believe anything is possible.
Mabel: Yeah, my sister and I aren't afraid to ask for introductions. People wonder how we got a deal with Walmart. The answer is: I sent an email. I found an email address for the Walmart president, and I took a shot. People don't realize that these things are within reach. Sometimes, I think we overcomplicate and overthink. You can't be afraid. You just got to do it. More doing, less thinking.
Q: There had to be more to it. I mean, we're talking Walmart, the biggest, big-box store. What was it about the two of you and your brand that sealed the deal?
Mabel: In hindsight, I think they felt the magic. When we started, experts advised us to position ourselves for higher-end beauty shops. But we were adamant. Our customer doesn't shop those stores, and she deserves quality cosmetics at great prices. We know who our customers are. We are them. So we had a vision and a presentation that aligned with our goals. We talked about how our customer is their customer. They were honest and admitted they don't even know how to talk to "her." And we were like, "Well, this is why we're here. We can help." We first launched as a Latina brand, but we're actually Afro-Latina so now we're part of Walmart's Black History Month campaign. It's been a great relationship.
Q: You launched in 2019. Then came 2020 and the start of the pandemic. Many luxury beauty brands struggled while you flourished. Why do you think that is?
Shaira: For our Latina customers, there could be a hurricane outside. It could be a midlife crisis. It doesn't matter. We want to look good. We want to feel good. Because in our culture, if you put on a red lipstick, you automatically feel a little better.
Mabel: And, honestly, the value of being a pandemic brand is that we were born in the middle of all this. We didn't have to undo a lot. We were reacting as we lived it versus companies who may have been in existence for a hundred years and were trying to get everyone aligned on how to move forward. We were like, "Put the gas to the pedal and let's go, go, go!" It's a very exciting time to be a young company.
Q: There was an extremely high number of minority businesses born during the pandemic. Do you think culture and resiliency helped play a role in this?
Mabel: One hundred percent. For many in our culture, half the battle was just getting to this country. We all grew up hearing those stories. I think our culture has taken a different approach. Because before this it was something else, and before that another thing. So I feel like when the pandemic hit, we were ready. We didn't panic. It was, "How are we going to get through this?"
"In our culture, we grew up hearing what our parents had to go through to get to this country. So we feel so much privilege that we even get to be here. We call it 'Latin charisma.'"
– Sharia Frías
Q: As many businesses grow, they lose a part of themselves. What keeps you grounded?
Mabel: You have to have a North Star, a concept succinct enough for all to understand. For us, it's people, process and partnerships. Our three P's drive everything we do. And they're measurable.
With people, we make sure they stay incentivized, motivated, excited to come to work. That as they go through personal challenges, we extend as much grace as possible and give them a road map to their future. What does a promotion look like? What does success look like?
Process goes back to my corporate training. You need a plan. You need to measure it. It's important to understand the 80% of our job that is predictable and stay agile for the 20% that comes out of nowhere.
Partnerships are a lot like the people part, but on the outside. We make sure that we have partners that understand our mission and share our values — that amplify why we're here.
Q: What are some of the values that you look for in your partnerships?
Mabel: Actually, we just rolled out our company values. There are many. One that I'm really excited about focuses on investing in our communities. In the short term, we're looking for not-for-profit partnerships that have a footprint in our local community of Washington Heights and the Bronx and seeing how we can help by tapping into what they're already doing. And then there's a new program we're starting called Mentor Magic. This is a program that Lisa Stevens, our Chase senior business consultant, is helping us put together. It's basically a mentorship program that allows us to first share our journey and answer questions for other aspiring entrepreneurs, and then bring in bigger businesses like Chase to offer insights and provide resources.
Q: How does Chase check those values boxes for you?
Mabel: Transparency. Ties to the community.
Shaira: And mentorship. That's big. When we walked into our local Chase bank, we were dealing with a gentleman, and he was like, "Hey, I know you come here all the time. Do you have a business?" We told him about Luna Magic, and he offered a wealth of knowledge to help us manage our business side.
Mabel: Then we got connected to an account manager and to Lisa Stevens. They opened up a whole world. I thought Chase was just a bank with tellers. Who knew that financial institutions have a vested interest in storytelling, marketing and supporting local communities?
Q: What's next for Luna Magic?
Shaira: Retail expansion for sure. We started as a beauty brand. Now we're morphing into a lifestyle brand. We look forward to continue growing our brand presence nationwide within our current retail partners to reach even more customers like ourselves.
Mabel: Yeah, category expansion. Retailer expansion. And expanding reach into our community, our customers. We're more than a cosmetics company. Our vision is to provide beauty to the world, as well as hope and possibility. It could be through makeup. It could be through a seminar you come to or through an organization we partner with. There are so many ways to bring more optimism to the world.
Fun facts
1. You called each other "sister" during our conversation. What do you call each other while at work?
Mabel: We're trying to do this new thing where we call each other brand founders, not sisters. We are sisters. And we're growing up together as we build the company, which is exciting.
Shaira: Sometimes we have to remind ourselves, "OK, we're not having this argument as our 5- and 6-year-old selves." This is a business decision. Let's take our little girls out of the equation.
2. Your tagline is "Beauty with a vibe." What's that vibe?
Mabel: The vibe is about where we come from. If you ever go down to Washington Heights, everything is vibrant — the colors, people, music, food. Our vibe is us in living color, being authentic.
Shaira: Yeah, we like to say we're having a party and the door is open. If you like the music, the vibe, come on in. Everyone is welcome.
3. What are some examples of the "Latin winks" you mentioned?
Shaira: Our lash names are all about telenovela soap operas. Our eyeshadow colors are about different Spanish music genres. We also reference fortunes and astrology, because we know that our culture believes in astrology. Our customers see our products and say, "Oh my God, I remember this soap opera."
The testimonials on this page or provided via linked videos are the sole opinions, findings or experiences of our customer or mentee and not those of JPMorgan Chase Bank, N.A. or any of its affiliates. These opinions, findings or experiences may not be representative of what all customers and mentees may achieve. JPMorgan Chase Bank, N.A. or any of its affiliates are not liable for decisions made or actions taken in reliance on any of the testimonial information provided.<
For informational/educational purposes only: The views expressed in this article may differ from those of other employees and departments of JPMorgan Chase & Co. Views and strategies described may not be appropriate for everyone and are not intended as specific advice/recommendation for any individual. Information has been obtained from sources believed to be reliable, but JPMorgan Chase & Co. or its affiliates and/or subsidiaries do not warrant its completeness or accuracy. You should carefully consider your needs and objectives before making any decisions and consult the appropriate professional(s). Outlooks and past performance are not guarantees of future results.
JPMorgan Chase Bank, N.A. Member FDIC. Equal Opportunity Lender, ©2023 JPMorgan Chase & Co.