Living a name.
Meet a brewery that puts relationships at the center of everything. Including its brand.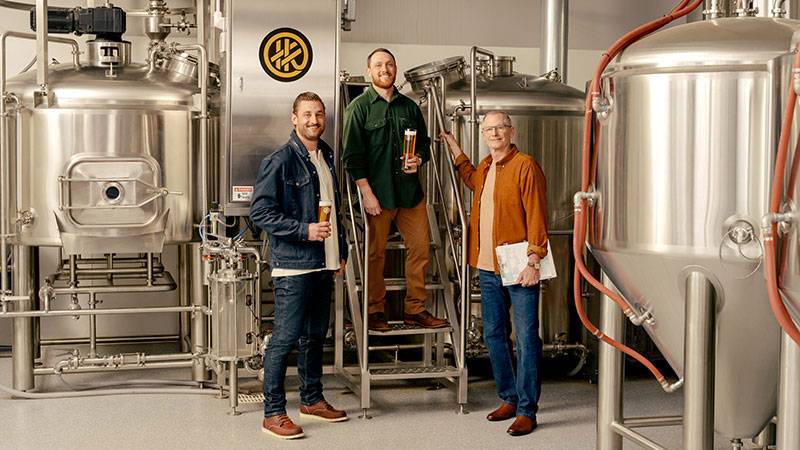 Real customers compensated.

One afternoon Tommy Dyer, a graphic artist living in Greeley, Colorado, stood before the sign on the front of Brix Brew & Tap, a local taproom. After a pause, he walked inside, found the owner and said, "I like your logo. I think I can make it better."
It turned out the owners wanted more than a logo. They wanted a buyer for their business. This triggered Dyer's entrepreneurial spirit. The opportunity to combine his passion for beer, branding and community was too good to pass up.
He loved Greeley and the connection between residents and local businesses. He knew the brewery could be a place for not only serving beer but building relationships.
Making it a family affair
Dyer reached out to his father-in-law, Phil Jorgenson, who had managed several businesses in his career, to see if he was interested. In May 2018, the two family members became business partners.
After the sale, Dyer dove into operations, hiring a master brewer and building a brand — his own brand. He and Jorgenson put together an amazing team that shared their core values of focusing on people and the community and serving quality products. They were more like family. It seemed everything was falling into place.
"Retail business is by far the toughest in which to succeed, but it holds the biggest potential for reward. Your efforts will be worth it, as you'll impact the lives of your staff, your community and your patrons."
— Tommy Dyer
Leaning on each other
In March 2020, the pandemic hit, and people began sheltering at home. The normally busy taproom was quiet. Customers pitched in by tipping more and buying gift cards to help with cash flow. But it wasn't enough. Dyer and Jorgenson had to rethink operations, not only to boost sales on slower days but to continue serving the community that had been there for them.
Outside sales would allow them to do both. So they set out to find a new space where they could brew larger batches, package their product and expand beyond retail. They didn't have to look far.
In 2021, the pair found a new location in Evans, just 10 minutes south of their existing location. With 2,900 square feet, 18-foot ceilings, barrels for special brews and cold storage for all the finished products, they could triple their production and distribute products to more local businesses. By taking advantage of the economies of scale and new equipment for milling their own grain, they were able to keep prices down for patrons at a time when the cost of everything else was going up.
Along with business benefits, the space provides another location to do something that is close to their hearts — sponsor charity nights and donate a percentage of the proceeds to many organizations, especially those helping children.
"Retail requires you to reinvent yourselves and reinvigorate your customer base often. The only way we've been able to overcome the challenges is to be nimble like only small businesses can."
— Phil Jorgenson
Building more than a brewery
Dyer and Jorgenson consider their taproom to be a communal space. They know their customers by name and share stories about their families and what's new in their lives. And they try to use the services of customers who are also business owners whenever they can. It's all about building a community of mutual trust and respect.

The owners are fully involved. Whether it's mopping floors, tapping kegs or stacking chairs at the end of the night, the pair isn't above rolling up their sleeves and helping in any way they can. Their philosophy is simple: They'll never ask their employees to do anything they wouldn't do themselves.
"Our staff is number one in our success and has stood by us in good times and tough ones," Dyer says. "We have their back with scheduling, complaints and even personal problems. If we get a great review, we share it. If it's bad, we talk about it privately."
As an added incentive, employees can receive a stake in the company's success. "We don't just tell them we care, which we do often. We prove it," Jorgenson says. "We made two key members partners in our off-campus brewing facility."
"A great staff can make up for almost any shortcoming we experience."
— Tommy Dyer
Becoming TightKnit
After taking over the business, Dyer and Jorgenson made slight modifications to the brand, but they still felt something was missing. Then it hit them: the name. It didn't reflect their passion and purpose for the business.
In the summer of 2022, Dyer led the charge to rebrand Brix Brew & Tap to TightKnit Brewing Company, a name that reflects the relationships they have with their team, customers, community and industry.
As with everything else, they couldn't have done it alone. The staff was integral in helping them decide on their new name and was involved throughout the rebranding process.
For Jorgenson, Dyer, their staff, fellow brewers and the Greeley community, life is good.
Jorgenson puts it perfectly: "I think despite all the bad in the world today, all remains good in the beer and spirits industry. Maybe even better."
"A dividend to owning any small business is the friendships you build with customers and community leaders."
— Phil Jorgenson
Innovating by collaborating
The help of their community has been essential to the brewery's growth. And, surprisingly enough, a large part of their go-to community has been other breweries.
"For the most part, we could call on any brewery near us, and they would lend a hand with advice or a forklift," Dyer says. "Our master brewer, R.W., talks to other breweries all the time about technology, things they tried that worked, things that didn't work."
Camaraderie among competitors is a boon to everyone in their brewing circle. "Collaboration is how our industry innovates. Everyone is pulling for each other. It's yet another tightknit group we're part of," he adds.
Another important partnership they've built is with their bankers. Chase for Business has been a crucial part of the TightKnit business story since 2018, when Dyer and Jorgenson opened their first account. Today, they use Chase products for deposits and bill pay. Most recently, they added Chase Business Complete BankingSM, a business account with built-in card acceptance.
"We do a lot of graduation parties, as well as events and fundraisers where we sell tickets and merchandise in addition to our beer," Jorgenson says. "This account lets us accept payments that aren't toggled to our taproom POS system when we're on the go or if we need an additional terminal on a busy night."
The relationship with Chase goes beyond banking products. "The great thing about Chase in downtown Greeley is that they run their branch like a small business," Jorgenson says. "Shane, Vivian and Garret have provided referrals and solutions to banking issues I've had. They're more than bankers. They're friends and patrons of our business."
This productive banking relationship is one more way that a strong community is helping TightKnit Brewing Company weave together a successful business.
"Who would have thought that, despite a very saturated and competitive industry, a shared love of beer would break down all barriers?"
— Tommy Dyer
There is a $15 Monthly Service Fee (MSF) that we'll waive if you meet any of the below qualifying activities for each Chase Business Complete Checking℠ account in a monthly statement period. Qualifying activities for how to avoid the MSF: (A) Maintain a linked Chase Private Client Checking℠ account, (B) Meet Chase Military Banking requirements, or (C) Fulfill at least one of the following qualifying activities: (1) Maintain a Minimum Daily Ending Balance of at least $2,000 in the Chase Business Complete Checking account each business day during the monthly statement period, excluding the last business day of the statement period; (2) Have at least $2,000 of aggregate eligible deposits (net of chargebacks, refunds, or other adjustments) into the Chase Business Complete Checking account, at least one day before the end of the monthly statement period, using one or more of the following: Chase QuickAccept℠ including Chase Smart Terminal℠, InstaMed Patient Payments and InstaMed Patient Portal and/or other eligible Chase Payment Solutions℠ products. Eligible Chase Payment Solutions products have a transaction history that is viewable on Chase Business Online, Chase Connect®, or J.P. Morgan Access®. Eligible deposits must be made from Chase Payment Solutions associated with the same business as your Chase Business Complete Checking account, as reflected in Chase records. The cutoff time for eligible deposits is 11:59 p.m. Eastern Time one day prior to the last day of your Chase Business Complete Checking monthly statement period; or (3) Spend at least $2,000 on eligible Chase Ink® Business card purchases in the most recent monthly Ink card billing cycle, which may be different than your Chase Business Complete Checking monthly statement period. Eligible purchases must be made using Ink Business Card(s) associated with the same business as your Chase Business Complete Checking account, as reflected in Chase records, and must earn Chase Ultimate Rewards® points. Certain purchases and transactions are excluded from earning Ultimate Rewards points, as described in your Rewards Program Agreement available on chase.com/ultimateRewards. For complete details, please review the Additional Banking Services and Fees for Business Accounts at chase.com/business/disclosures or visit a Chase branch. This information is subject to change.
Deposits are subject to limits, verification, fraud monitoring, and other restrictions. QuickAccept is not available in U.S. territories or outside the U.S. QuickAccept usage subject to eligibility, terms of service, monitoring and further review. Message and data rates may apply.
The testimonials on this page or provided via linked videos are the sole opinions, findings or experiences of our customer or mentee and not those of JPMorgan Chase Bank, N.A. or any of its affiliates. These opinions, findings or experiences may not be representative of what all customers and mentees may achieve. JPMorgan Chase Bank, N.A. or any of its affiliates are not liable for decisions made or actions taken in reliance on any of the testimonial information provided.
For informational/educational purposes only: The views expressed in this article may differ from those of other employees and departments of JPMorgan Chase & Co. Views and strategies described may not be appropriate for everyone and are not intended as specific advice/recommendation for any individual. Information has been obtained from sources believed to be reliable, but JPMorgan Chase & Co. or its affiliates and/or subsidiaries do not warrant its completeness or accuracy. You should carefully consider your needs and objectives before making any decisions and consult the appropriate professional(s). Outlooks and past performance are not guarantees of future results.
JPMorgan Chase Bank, N.A. Member FDIC. ©2023 JPMorgan Chase & Co.