He thought it was a prank
A three-day trade show, twin brothers and one surprising phone call that changed everything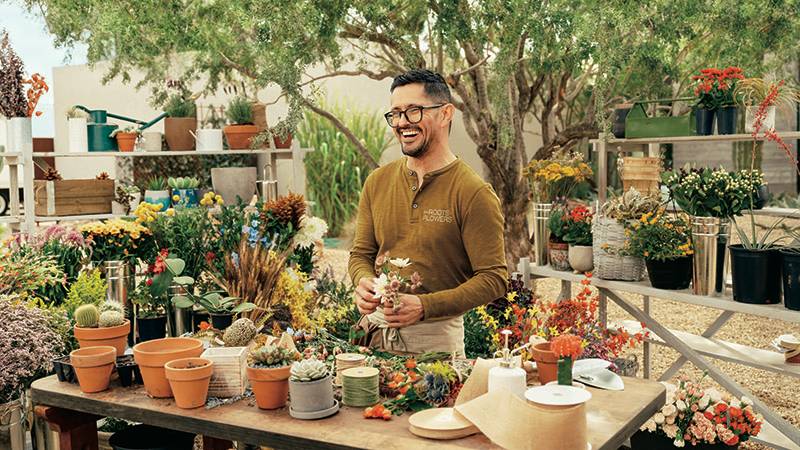 Real customers compensated.

Even as a kid, Armando Soto wanted to be a business owner. Which type of business? He wasn't sure. But he had time to figure that out. As he grew older, he began cultivating a love for plants. It was a hobby. Something he gave to his family and friends. He never thought it would turn into anything more.
One day the phone rang. It was someone from the Maricopa County Home Show. In fact, it was the manager of the show.
"She told me her name was Susan, and she asked if I wanted to be a vendor at the show," Armando recalls. "I didn't even know what a vendor was. Honestly, I thought it was a prank. Luckily, she convinced me otherwise."
After three days of sourcing materials, getting all the paperwork in order and prepping his plants, Armando headed off for the show. Naturally, he caught the attention of the other participants. Who was this new kid, this rookie? The organizers even invited him to be in a commercial for the show. As he reveled in his first taste of success, Armando realized this was the catalyst he needed to turn his childhood dream into a reality.
Taking it from booth to business
In the two months leading up to the show, Armando started to network and collaborate with other business owners. They showed him the ropes and helped him with local business requirements. In less than two months, he had his business license, insurance and social media accounts. And his business, like his plants, grew from there. But Armando admits it was no walk in the park.
"I've had to sacrifice a lot," he says. "I gave up a steady paycheck, time with family and friends. There have been a lot of ups and downs. But my passion keeps me going because I love what I do."
Saying "I do"
Armando took his business across Arizona and helped get a few markets started from the ground up. Along the way, he learned valuable lessons.
"Markets are tougher than people think," Armando says. "There's a lot of networking involved and collaboration with other businesses. You can have the best product, but if you don't have the right people selling, connecting, throwing themselves out there, then no matter how good your product is, you're not going to make it. And with these markets, a lot of vendors don't get invited back."
Armando's plant business was doing well. After a few years, his twin brother, Ramon, approached him with an idea. He wanted to bring his expertise with flowers to the plant business. Armando was hesitant at first. He wanted to work with his brother but worried about the cost and shorter shelf life of flowers. But just as with that initial call from Susan, something told him to go for it. He eventually agreed, and From Roots to Flowers was born.
The brothers introduced their newly expanded offering at the Maricopa County Home Show that year to a receptive audience and opened a shop at the Gilbert Farmers Market.
From Roots to Flowers was named top five of 120 vendors at the time and sold out every weekend. One day, the mother of a soon-to-be bride approached the brothers and asked if they did weddings. Although they never had before, Ramon didn't hesitate in saying "We do."
Expanding his thinking and his business
That first wedding allowed them to reach a new clientele. Today they are doing large weddings, events and deliveries throughout the Valley.
The brothers attribute much of their success to the fact that they nurture not only their plants and flowers but also their customer relationships. They teach customers how and when to water their new plants and educate them on the best places to grow plants in their homes, based on each variety's lighting needs. They even make house calls to consult with customers and take the time to answer questions via text and social media. Recently they've added classes for plant moms and dads at various venues or right in their homes.
"I love hearing from husbands who tell me the only plants their wives can't kill are mine," Armando laughs.
Finding the perfect arrangement
The plant and flower business in Arizona slows down during the summer. So, like many entrepreneurs, Armando and Ramon have learned to adapt. Their relationships with other local businesses have really helped. For example, they've set up weekly and monthly plans with some of the restaurants and coffee shops in town to display their plants and flower arrangements. And they've sold merchandise from other businesses in their shop.
One of their main business partners is State Forty Eight — the biggest apparel company in Arizona. From Roots to Flowers carries its own branded and Arizona-themed shirts from State Forty Eight.
"They buy all their plants from us, and we buy 90% of our shirts from them," Armando says. "They're a really well-known brand. It's been an awesome partnership."
The duo agrees that another great partnership that's helped their business grow is the one they have with Chase. Whether in their shop or at a farmers market, trade show, wedding or corporate event, the brothers know they can quickly and securely accept payments right from their phones with the Chase Business Complete Banking℠ product.
"It's been super convenient to take payments and make same-day deposits," Armando says. "It just makes everything easier for our day-to-day operations."
Answering his calling
Armando can't imagine what path his life would have taken if he hadn't answered that first call from a woman he didn't know, but he's eternally grateful that he did. His childhood dream is now a reality because he believed in himself.
"My advice for other entrepreneurs is trust yourself," he says. "And surround yourself with people who will support, guide and motivate you, but also keep you accountable."
There is a $15 Monthly Service Fee (MSF) that we'll waive if you meet any of the below qualifying activities for each Chase Business Complete Checking℠ account in a monthly statement period. Qualifying activities for how to avoid the MSF: (A) Maintain a linked Chase Private Client Checking℠ account, (B) Meet Chase Military Banking requirements, or (C) Fulfill at least one of the following qualifying activities: (1) Maintain a Minimum Daily Ending Balance of at least $2,000 in the Chase Business Complete Checking account each business day during the monthly statement period, excluding the last business day of the statement period; (2) Have at least $2,000 of aggregate eligible deposits (net of chargebacks, refunds, or other adjustments) into the Chase Business Complete Checking account, at least one day before the end of the monthly statement period, using one or more of the following: Chase QuickAccept℠ including Chase Smart Terminal℠, InstaMed Patient Payments and InstaMed Patient Portal and/or other eligible Chase Payment Solutions℠ products. Eligible Chase Payment Solutions products have a transaction history that is viewable on Chase Business Online, Chase Connect®, or J.P. Morgan Access®. Eligible deposits must be made from Chase Payment Solutions associated with the same business as your Chase Business Complete Checking account, as reflected in Chase records. The cutoff time for eligible deposits is 11:59 p.m. Eastern Time one day prior to the last day of your Chase Business Complete Checking monthly statement period; or (3) Spend at least $2,000 on eligible Chase Ink® Business card purchases in the most recent monthly Ink card billing cycle, which may be different than your Chase Business Complete Checking monthly statement period. Eligible purchases must be made using Ink Business Card(s) associated with the same business as your Chase Business Complete Checking account, as reflected in Chase records, and must earn Chase Ultimate Rewards® points. Certain purchases and transactions are excluded from earning Ultimate Rewards points, as described in your Rewards Program Agreement available on chase.com/ultimateRewards. For complete details, please review the Additional Banking Services and Fees for Business Accounts at chase.com/business/disclosures or visit a Chase branch. This information is subject to change.
Deposits are subject to limits, verification, fraud monitoring, and other restrictions. QuickAccept is not available in U.S. territories or outside the U.S. QuickAccept usage subject to eligibility, terms of service, monitoring and further review. Message and data rates may apply.
The testimonials on this page or provided via linked videos are the sole opinions, findings or experiences of our customer or mentee and not those of JPMorgan Chase Bank, N.A. or any of its affiliates. These opinions, findings or experiences may not be representative of what all customers and mentees may achieve. JPMorgan Chase Bank, N.A. or any of its affiliates are not liable for decisions made or actions taken in reliance on any of the testimonial information provided.
For informational/educational purposes only: The views expressed in this article may differ from those of other employees and departments of JPMorgan Chase & Co. Views and strategies described may not be appropriate for everyone and are not intended as specific advice/recommendation for any individual. Information has been obtained from sources believed to be reliable, but JPMorgan Chase & Co. or its affiliates and/or subsidiaries do not warrant its completeness or accuracy. You should carefully consider your needs and objectives before making any decisions and consult the appropriate professional(s). Outlooks and past performance are not guarantees of future results.
JPMorgan Chase Bank, N.A. Member FDIC. ©2023 JPMorgan Chase & Co.