How a POS system can help your business work smarter
Find out how to turn your POS system into a strategic hub for your business.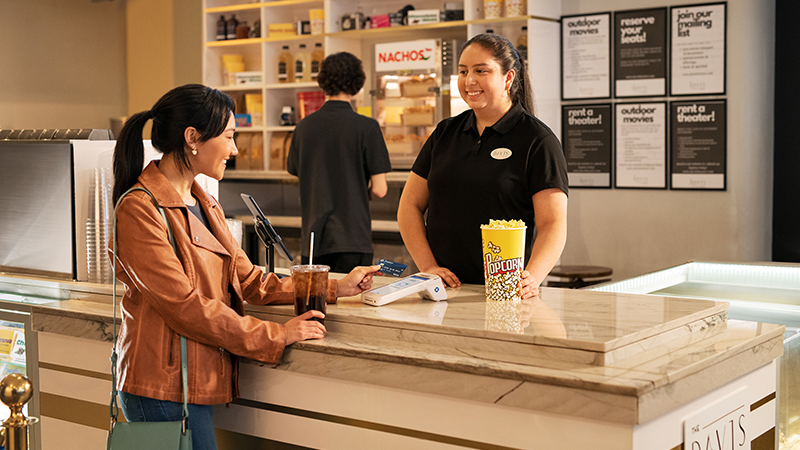 Not so long ago, a point of sale system (POS) system was a cash register whose "bells and whistles" included an actual bell. Today, business owners can expect a lot more.
What's a POS system in a digital world? It's the front line of your business. It's not just where you can process credit cards and digital payments. It's also how you can connect to your bank account, track sales and inventory, and provide fast and convenient service. Many business owners now run their businesses through their POS.
Traditional POS systems operate specific point of sale software on a computer and save data to a hard drive. Or you might consider a smart POS system, which works like a smartphone and has apps that enable you to access additional tools and information.
With so many potential features, there's a lot to consider when choosing a POS system. Get started by answering these five questions.
Do you need to make sales on the go?
Traditional POS systems often require a wired connection, although some work with wireless card readers that allow you to move around your space or process transactions off-site.
On the other hand, smart POS systems often connect through Wi-Fi or a cellular network for secure credit card processing across the street or the country. You can also remotely access business data that's stored in the cloud through your smart POS.
If your merchant services provider offers a smart POS, chances are it has a mobile app that enables you to take payments on the go.
What kinds of payments do you need to take?
Many traditional POS systems and all smart POS systems integrate digital payment options and allow customers to swipe, dip, tap or scan their payment of choice.
When considering merchant services providers, look for fair and transparent pricing for each form of payment. Some payment methods might have higher transaction fees, and the payment structure could be confusing. Ask providers to explain their pricing in a way that you can understand. If they can't, consider a different option.
Do you want to integrate your POS with other systems?
Integrations can be challenging for traditional POS systems but are usually possible. Many software providers offer built-in integrations. And if an integration isn't already set up, technicians can implement new code and map your data to connect accounting, inventory or other systems.
A smart POS uses apps, which allow it to easily pass data back and forth between systems. With these integrations, many businesses are able to see sales data in their accounting software, get real-time adjustments to their inventory or quickly deposit funds into their bank accounts.
Fast, straightforward integrations also can help you analyze your sales figures and collect customer data in your CRM system so that you can develop new or more effective sales strategies. You can even track the success of your marketing campaigns by syncing data to identify which customers opened your promotional email and then came to your business to make a purchase.
How can your POS system help you offer better service?
A POS system can do more than process payments. Many now include features that customers love and that can help you run your business more effectively.
For example, a POS system can store customer data, allowing you to offer loyalty rewards based on dollars spent or points earned. With all that data, you also can look up past purchases and suggest new products that fit the customer's interests. The ability to collect customer data through your POS system allows you to send targeted emails or text messages with new product release information, coupons or bonus content that can help customers maximize the value of your products.
In addition, many POS systems can help you respond quickly to customer needs by verifying whether a particular product is in stock and then holding that product for a customer who's on their way. Once they've completed their purchase, customers can choose whether they want their receipt emailed, texted or printed.
Do you have a reliable connection?
The big advantage of a traditional POS is the speed and reliability of a wired connection. When your POS is plugged into the wall through an ethernet port it can maximize processing speed. With a wireless POS system, a slow internet connection or a location with spotty cell service can leave customers and staff waiting impatiently for a sale to go through.
Some traditional systems offer the best of both — the ability to connect wirelessly plus dial-up internet as a backup connection. They may also enable you to take payment information and store it offline and then process payments once you have access to a phone line, Wi-Fi or wired internet connection.
One more advantage of a wired connection is the ability to network with an on-site hard drive. Storing your data on your own servers means that if the internet's down, you can still access sales, customer and inventory information.
Get started
It's an exciting time to consider a new POS system. Whether you're focused on the reliability of a traditional POS or the flexibility of a cloud-based system, it's easy to sign up and get started. Go to Chase Payment Solutions℠ to learn more about your options or to connect with a Payments Advisor.
For informational/educational purposes only: The views expressed in this article may differ from those of other employees and departments of JPMorgan Chase & Co. Views and strategies described may not be appropriate for everyone and are not intended as specific advice/recommendation for any individual. Information has been obtained from sources believed to be reliable, but JPMorgan Chase & Co. or its affiliates and/or subsidiaries do not warrant its completeness or accuracy. You should carefully consider your needs and objectives before making any decisions and consult the appropriate professional(s). Outlooks and past performance are not guarantees of future results.
JPMorgan Chase Bank, N.A. Member FDIC. ©2023 JPMorgan Chase & Co.