Go digital with business payments
Want to take your business payments digital? Discover some of the most popular options.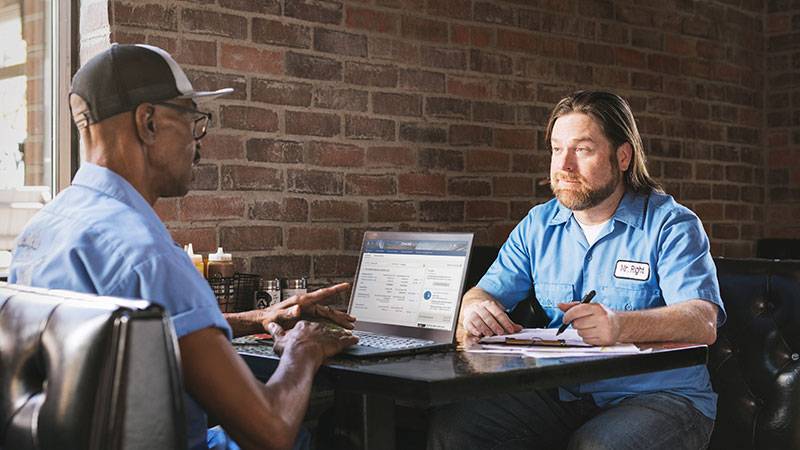 As a business owner, you're constantly making payments: to employees, credit card companies, vendors and suppliers, utility and cable companies and others as part of everyday business operations.
Traditionally, businesses would write checks using their business checking accounts. But, today many are taking advantage of modern technology and going digital.
If you're ready to simplify your process, explore these popular ways businesses across every industry are making and receiving digital payments.
Chase for Business offers a number of online solutions that allow you to manage your cash flow — and your business.
ACH and Real-time Payments
Automated clearing house (ACH) payment services offer a fast way to pay your vendors and employees by sending one-time or recurring payments electronically. This option allows you to set up a single payee or an entire group for easy scheduling — saving you the time and money of writing and mailing checks. With the Real-time Payments option, your payment will arrive in moments. Keep in mind, many banks, including Chase, may charge a fee to send ACH payments, with incremental fees for faster payment options like real-time payments.
Online bill pay
As a consumer, you may be familiar with online bill pay services. But did you know this same option is available for businesses? Online bill pay allows you to pay your fixed expenses or to schedule automatic payments to ensure bills are paid on time without the cost or hassle of writing and mailing checks. Plus, with many online bill pay services, customers and clients can also pay you the same way. Chase for Business lets you add your business to our Bill Pay Directory, where Chase customers can find your business and pay you electronically.
Make payments with Zelle
Many mobile apps let you send or receive payments. Zelle® is a way to send money that's offered by many banks, including Chase. You can access it directly from the bank's mobile app or website with just a phone number or an email address without the need to share your account or routing number. So, by using separate emails and phone numbers, you can keep your business and personal transactions separate. With this option, both parties only need a US mobile number and/or email address and an eligible bank account in the U.S. enrolled with Zelle through their financial institution.
Wires & global transfers
Wire transfer services have been around for a long time. And as businesses become more and more globalized and transactions can happen from anywhere at any time, they are regaining popularity among business owners — especially for international payments. Chase for Business offers global transfers in local currency to more than 140 countries, and wire funds can be originated domestically and internationally using the Chase Mobile® app.
Payments in a digital world
Everything about business today is moving fast, including sending and receiving payments. The Chase for Business Payment Center is your one-stop for making and tracking payments. Learn more about the digital payment options for your business.
For informational/educational purposes only: The views expressed in this article may differ from those of other employees and departments of JPMorgan Chase & Co. Views and strategies described may not be appropriate for everyone and are not intended as specific advice/recommendation for any individual. Information has been obtained from sources believed to be reliable, but JPMorgan Chase & Co. or its affiliates and/or subsidiaries do not warrant its completeness or accuracy. You should carefully consider your needs and objectives before making any decisions and consult the appropriate professional(s). Outlooks and past performance are not guarantees of future results.
Chase may in its discretion temporarily or permanently remove the local currency option or the ability to send a wire to a specific country or in a particular currency, without limitation, due to, but not limited, to, changes in law, regulation, and requirements of the recipient bank.
Zelle®: Enrollment in Zelle® is required. To send money to or receive money from a small business, both the sender and recipient must be enrolled with Zelle directly through their financial institution. Both parties need a U.S. checking account enrolled with Zelle; only one needs an eligible Chase account. Small businesses are not able to enroll in the Zelle app with a debit card and cannot receive payments from consumers enrolled in the Zelle app. Funds are typically made available in minutes when the recipient's email address or U.S. mobile number is already enrolled with Zelle. Select transactions could take up to 3 business days. Enroll on the Chase Mobile® app or Chase Online℠. Limitations may apply. Message and data rates may apply.
Zelle and the Zelle related marks are wholly owned by Early Warning Services, LLC and are used herein under license.
Make sure you only send money to people and businesses you know and trust to help avoid scams and protect your account.
Online Bill Payment: You must be enrolled in Chase Online™ to activate and use Online Bill Payment. Online Bill Payment service is free of charge when you designate a qualified account as your Primary Account for Online Bill Payment. A qualified account includes any Chase business checking account.
Real-time payments: Your payment generally arrives moments after you send it. We review all payments before we process them, and we may require additional information which could cause some delay. If you use Dual Control, we will not review or process your payment until your designated user approves it.
Enrollment in ACH Payment Services is required to activate real-time payments, fees will apply. There is an additional fee of 1% of the payment amount, up to $25 per transaction for a real-time payment.
Real-time payments are unavailable from 2-6 AM ET on business days and cannot be cancelled or reversed, once processing begins. Not all payees' banks support real-time payments.
Standard ACH and real-time payment transactions each count toward your total daily limits. Real-time payments use the RTP© network from the Clearing House and are not subject to NACHA rules and are not ACH transactions.
Chase Mobile® app is available for select mobile devices. Enroll in Chase Online℠ or on the Chase Mobile app. Message and data rates may apply.
https://www.chase.com/content/dam/chase-ux/documents/personal/checking/biz-how-your-transaction-will-work.pdf (PDF)
JPMorgan Chase Bank, N.A. Member FDIC. ©2023 JPMorgan Chase & Co.