Disaster response: Business break-ins
You're likely processing a lot of emotions. And your mind is racing, thinking of all you need to do. Pause.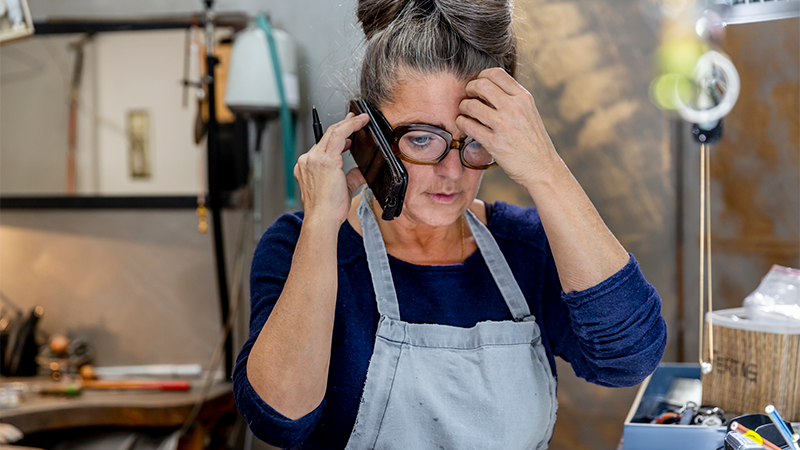 Take a deep breath and make a plan to prioritize safety and communication. Then get your business back into operation. The following steps can help you cover your bases.
1. Stay safe.
Your safety and that of your team come first.
Get somewhere safe.
Resist the urge to investigate until the authorities have confirmed that your building is risk-free.
If it's safe, try to prevent others from entering.
Give yourself a moment to calm down.
2. Call the authorities.
Police should inspect and clear the building to ensure it's safe to enter. When you call, expect to provide some preliminary information.
Start with the basics: your name, phone number and contact information for the building's owner.
What were the date and time you (or someone else) discovered the break-in?
Was any damage initially obvious?
Could you identify a point of entry like a broken window or door?
Did you see anyone inside? How many people? Note their age, appearance and stature.
Did you see a vehicle speed away? Do you remember the model, color and license plate? Do you recall which way it went?
Do you have security footage that you can share with the authorities?
3. Talk to your team.
While you may feel inclined to wait to inform your staff until after you've created a clear plan of action, crises can present unique opportunities to demonstrate leadership. Transparent communication is often the first step — both to combat misinformation and to reinforce team trust.
Tell scheduled employees not to come in.
Be honest as you let your staff know what happened and how you plan to address it, even if you don't yet have specifics.
Reiterate that you will follow up with an updated response plan.
4. Document any property damage and inventory loss.
You likely have damages to repair and assets to replace. What is the first step to ensuring you receive sufficient compensation? Record as many details as possible.
File an incident report, and note the report number so that you can provide it to your insurance company.
Don't disturb critical evidence before it's documented.
Before you move anything, ask yourself what's missing, what's damaged and what needs to be repaired or replaced.
Take photos and videos of the damage.
Make copies of security footage.
Take detailed notes documenting the losses, including information like serial or model numbers, receipts to confirm item prices, and distinguishing marks or features (like cracks or stickers). If you don't have this information readily available, take the opportunity to spruce up your inventory management in case you're ever in this situation again.
5. File necessary claims with your insurance.
Contact your insurance company to let them know about any damage. Try to hold off on making any repairs yourself until you file a claim, when possible. This is why you pay your monthly premium — so that when you're tasked with rebuilding, you don't need to go it alone.
Call your insurance company as soon as you can. Some policies require you to get in touch within a certain amount of time after an incident.
Send your insurance agent the police report reference number.
Expect to provide them with detailed information about the incident, much of which will overlap with the police report. The more you've documented already, the less you'll have to rely on your memory.
Be sure to get your insurance contact's name and email address so you can follow up.
This process may take a while, so stay the course and know you're on the right track.
6. Notify your bank.
Even if your business checkbook or company credit cards aren't missing, you'll want to take every precaution. The intruders may have gained access to your cards, accounts or other valuable financial information. Don't panic.
Report the incident to your financial institution right away.
If any of your accounts have been compromised, follow your banker's directions to rectify the breach.
As a cautionary measure, it may be a good idea to immediately:

Change passwords
Freeze accounts
Cancel cards
Install any pending security updates
Be sure to read our other tips on how to protect your company against cyberattacks.
7. Review and enhance security measures.
Take this opportunity to reevaluate and improve your current security protocols and systems. What safety measures can you take to prevent another break-in? If you know how the intruders gained access, consider how you can heighten security.
Change your locks and keep track of keys or codes.
Install or update your security system, including alarms and surveillance cameras.
Evaluate outdoor features, such as gates and lighting, for nighttime accessibility and visibility.
Make regular deposits so that you don't leave cash on the premises overnight.
Use deterrent signage that states your security measures.
Perform background checks on employees and contractors.
Train employees on new safety protocols.
8. Follow up with your team.
Once you've assembled your employees, share updated security procedures. Be sure to continue to ease their concerns and maintain open channels of communication. When you lead with integrity, navigating moments of discouragement can be just as powerful as celebrating the wins.
We're here to help
When disaster strikes, you may have more questions than answers. You're not alone. Our Disaster Response Series was designed to help you plan for the unexpected and provide the tips and resources you may need — right at your fingertips. Explore the rest of the series below:
For more ways to help your business survive during challenging times, speak with a Chase business banker. Chase team members are available to answer your questions about financial assistance following a disaster, including help with loans to get you back on your feet.