Disaster response: Reopening your business
The dust has settled and you're ready to reopen your doors. Take the time to consider these strategies.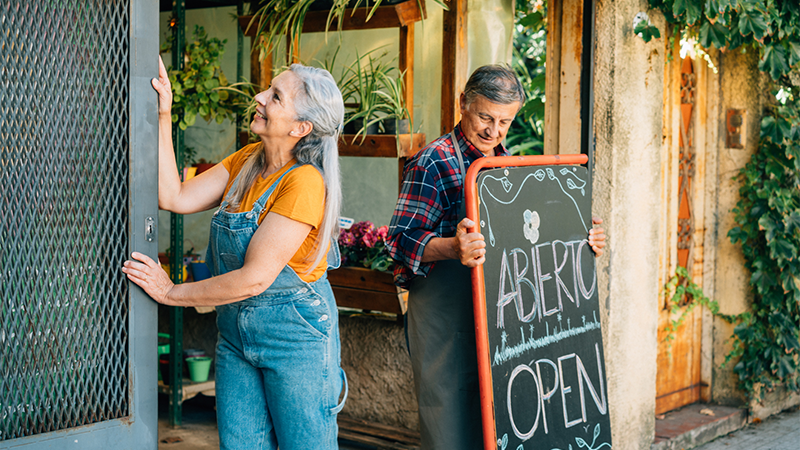 Disasters can force even the most stable businesses to shut down without warning, sometimes for an extended period. Before you reopen, take time to reflect on key issues and create a plan to safeguard against the effects of future disasters.
1. Notify your employees.
As soon as you firm up reopening plans, contact your employees to make sure they're available to work their normal schedules — or to work at all. They may have found other temporary or full-time employment, or their childcare or other responsibilities may have changed.
Set up a meeting before opening day to go over any changes to your business hours, operations, prices or offerings so that everyone is on the same page.
Ask your employees to help brainstorm grand-reopening promotions or events to get them excited about coming back to work and make them feel included in the process.
2. Get the word out.
A solid marketing and communications plan is key to generating interest in your reopened business among past customers and clients as well as new ones. Think about:
What channels will you use to advertise to customers that your business has reopened?
Has your competition changed? How about your primary customer base?
What items and practices should be added to your existing marketing strategy?
Should your reopening come with a refresh of your logo, business name or other marketing materials?
Would it be appropriate to do a giveaway or a grand reopening?
How will you reward loyal employees, clients and customers for coming back?
3. Take stock of lessons learned.
Don't miss the opportunity to learn from the past. Before you reopen, answer some key questions to better prepare your business for another disaster:
What can you implement to help prevent your business from closing in the future?
Is your insurance coverage adequate? Are there gaps?
Does your current business model need to be altered to reflect market demands? How about your distribution channels?
What new services or products are you able to offer?
Do you need to adjust your prices?
Do you have access to business banking products to help manage cash flow and reap rewards?
4. Prepare for the "new normal" of your business.
Your business may be different today than it was before you closed. It's important to stay flexible to align with the needs of current customers, clients and employees. Ask yourself:
What new kinds of technology will help your business thrive?
Should you require employees to be fully on-site, remote or some combination of the two? How will that affect the hiring process and relationships with customers and clients?
Do employees need additional benefits or a pay increase to cover cost-of-living increases?
What are new customer needs, and how can you meet them?
Are customers willing or able to pay more for your products or services?
What safety procedures can you implement to make everyone feel safe after the disaster?
5. Create a business continuity plan.
A business continuity plan is a great way to ensure that your critical business operations will stay up and running if you face an unplanned disruption in the future. Creating a plan can be a simple process with the right tools.
Conduct a business impact analysis to decide which processes are critical and should be prioritized to enable your business to stay afloat.
Create a business continuity team responsible for implementing your plan to manage the business during a disaster.
Train the continuity team to test the strategies of the plan to make sure it's ready when a crisis hits.
6. Design an exit strategy.
Part of reopening your business in a smart way is accepting that you may need to close again someday. Whether it's one year from now or 20, having an exit strategy is one way to ensure you're prepared.
Draft a timeline of how the business will close and what actions you'll need to take.
Speak with a tax professional or accountant to make sure you're set to submit final payroll forms and taxes and to determine how you'll distribute remaining cash and assets.
Evaluate all legal and regulatory issues on the local, state and federal levels.
Decide how you will notify creditors, landlords, bankers, employees and customers that the business is closing.
Figure out what you'll do with remaining inventory or how to handle services in progress.
Choose how you will store your business records for the future, should you decide to reopen.
Explore all your options
Before reopening your business, check out the Chamber of Commerce Directory to discover ways to get the word out, or connect with your local U.S. Small Business Administration office for more tips and resources.
We're here to help
When disaster strikes, you may have more questions than answers. You're not alone. Our Disaster Response Series was designed to help you plan for the unexpected and provide the tips and resources you may need — right at your fingertips. Explore the rest of the series below:
For more ways to help your business survive during challenging times, speak with a Chase business banker. Chase team members are available to answer your questions about financial assistance following a disaster, including help with loans to get you back on your feet.