How Chase for Business fuels the need for speed for two businesses
Businesses need fast speeds and best-in-class digital tools to reliably and easily manage sales, payments and profits.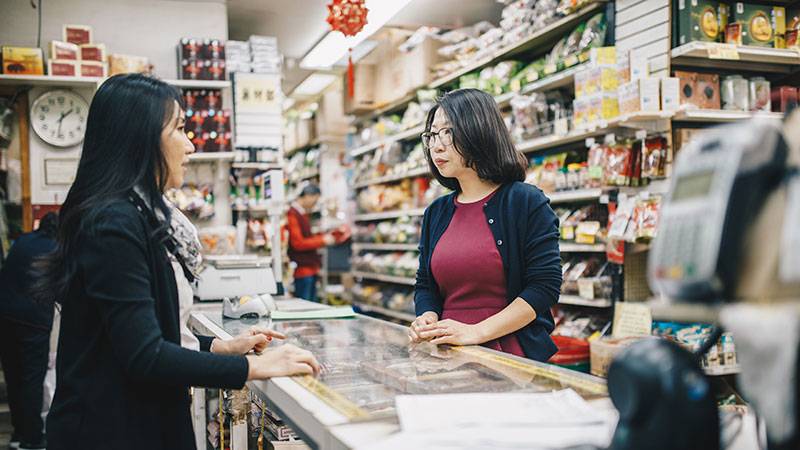 When customers want to process payments online or in person, any delay could mean the difference between getting the sale and losing it to a competitor. Two established businesses understand this well. New York-based Po Wing Hong Food Market and ECOBAGS® are fast-paced, high-volume businesses with a determination to succeed and make a difference in their communities. Keeping both of them up and running smoothly are Chase Merchant Services payment-processing technologies. The speed, reliability and transparency ensure that each owner can focus on what counts: making smart decisions to grow their business.
"We need to be able to take credit card transactions from anywhere in the world, securely and efficiently. We use Chase Merchant Services on the back end for processing all of our credit cards."
— Andrew Dyer, Vice President of Operations, ECOBAGS
High-speed transactions to meet high customer demands
"We're an extremely busy store," says Sophia Tsao, co-owner of Po Wing Hong Food Market in Manhattan's Chinatown. "We love the energy. I think it's just what our community is used to back in China."
When Tsao's mother, Nancy, first opened Po Wing in 1980, she never imagined the sales volume the business sees today. Over the decades, the family's knowledge of Chinese seafood and their connection with a global network of suppliers helped them grow their small store into a large and vibrant market. Po Wing now brings delicacies to New York from oceans around the world as well as Chinese medicine, herbs and specialty products.
It's a growing and fast-moving business, but it's more than that. People call Tsao's mother the "Mayor of Po Wing," and her warm-hearted father is known as a jokester. Go on a Saturday, and you'll find customers talking in the aisles, taking time to connect. It's a social gathering spot for New Yorkers, "an extension of what my grandparents built in China," as Tsao describes it.
Po Wing conducts hundreds of transactions a day. Quietly keeping the whole operation going, both online and in the store, is fast and reliable payment processing from Chase. "The transaction speeds are extremely fast," says Tsao.
Customers don't have to think about the technology, and that's a good thing. Years ago, before working with Chase Merchant Services, Po Wing's credit card systems would frequently go offline, and customers would leave without buying a single item. That no longer happens. "If there are any issues, we can correct them quickly, either on the terminal or online," says Tsao.
Behind the scenes, Tsao can pull easy-to-read reports and information on sales, which she uses to make business decisions, including price setting and product mix. "That's really important so we can price ourselves for profitability," she says.
Fast transaction times and fast funding are in the bag
Like Tsao, Sharon Rowe knows well the complexity that arises when a business finds success and the importance of having reliable and powerful payment-processing technology in place.
Rowe founded ECOBAGS in 1989 with $2,000 and an idea ahead of its time: to protect the planet by convincing people to stop using single-use plastic bags. She offered her first reusable bags for sale at the 1990 Earth Day celebration in New York City. They sold out in four hours.
Over the last 30 years, she's witnessed a dramatic shift in shoppers' habits. People increasingly have an environmental mindset, and they're turning to companies like ECOBAGS for durable bags that look good, perform well and don't create unnecessary waste. Her company is global. That means it needs fast, reliable credit card processing.
"We're selling 24/7," says Andrew Dyer, vice president of operations at ECOBAGS. "We need to be able to take transactions from anywhere in the world, at any time, securely and efficiently."
Initially, ECOBAGS worked with a different payment provider, but Rowe moved to Chase Merchant Services because of the card acceptance features, lower fees and faster transaction times. For a business that is 100% online, it was a no-brainer to switch.
"The turnaround time gives us much better cash flow management," says Rowe. That increased speed, along with visibility into their cash flow, also gives Rowe and Dyer confidence that ECOBAGS' products are being sold and changing the world even while they sleep. "It gives us peace of mind," Dyer says.
Learn more about Chase Merchant Services
As an industry leader in merchant services, Chase delivers simple and reliable payment solutions. Find out how we can help you grow your business.
For informational/educational purposes only: The views expressed in this article may differ from those of other employees and departments of JPMorgan Chase & Co. Views and strategies described may not be appropriate for everyone and are not intended as specific advice/recommendation for any individual. Information has been obtained from sources believed to be reliable, but JPMorgan Chase & Co. or its affiliates and/or subsidiaries do not warrant its completeness or accuracy. You should carefully consider your needs and objectives before making any decisions and consult the appropriate professional(s). Outlooks and past performance are not guarantees of future results.
The testimonials on this page or provided via linked videos are the sole opinions, findings or experiences of our customer and not those of JPMorgan Chase Bank, N.A. or any of its affiliates. These opinions, findings, or experiences may not be representative of what all customers may achieve. JPMorgan Chase Bank, N.A. or any of its affiliates are not liable for decisions made or actions taken in reliance on any of the testimonial information provided.
You should carefully consider your needs and objectives before making any decisions, and consult the appropriate professional(s).
JPMorgan Chase Bank, N.A. Member FDIC. Equal Opportunity Lender, ©2023 JPMorgan Chase & Co.