Accept payments on-the-go
Chase Mobile Checkout
Accept credit cards on the move, right from your smartphone using the Chase Mobile Checkout app and contactless mobile card reader. Plus, get fast access to cash with next business day funding.
Call Sales at 1-877-843-5690 or
Take card payments on the go
Chase Mobile Checkout is easy to set up and great for sellers at outdoor markets, home contractors, taxi drivers and more.

Let customers pay the way they want
Your customers can pay with a dip, tap or swipe. They can even use mobile wallets like Apple Pay® and Google Pay.
Automatically add up the totals for your customers. Even offer suggested tip amounts.
Fast access to funds at no additional cost
Get next business day funding at no additional costs when you deposit into a Chase Business checking account.
Payment solutions that are safer, smarter and simpler
Streamlined checkout
Create an image-based product catalog for faster, more accurate checkout. Plus, email receipts directly to customers.
Security and fraud protection
We secure your transactions, leaving you less susceptible to a breach.
No Wi-Fi? No problem.
Our credit card processing app works with cellular connections, and the card reader uses Bluetooth.
24/7/365 U.S.-based merchant support
Expert guidance is ready when you need it.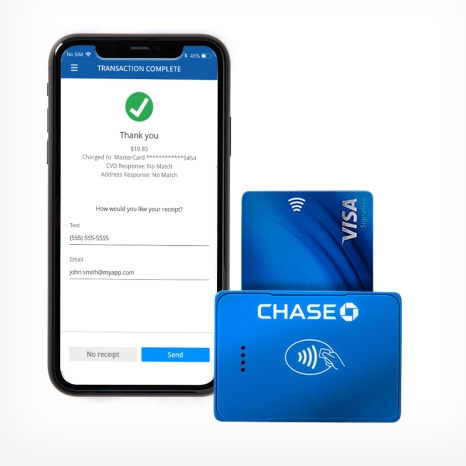 Fair and transparent pricing
No hidden or monthly fees
Hardware
Contactless mobile card reader: $49.95


Competitive credit card processing rates
2.6% + 10 cents per tap, dip or swipe transaction

3.5% + 10 cents per keyed in transaction
Custom pricing available
Pairings to help your business thrive
Countertop and mobile terminals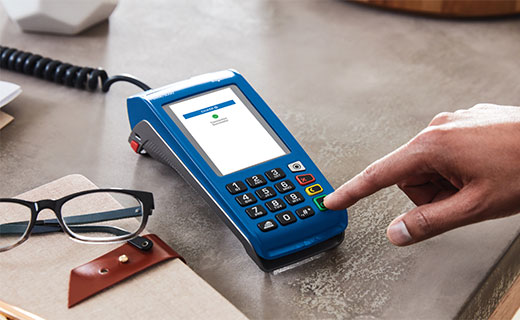 Let customers pay at the register, or use our handheld device to quickly accept payments while customers shop or at curbside pickup. Plus, get fast access to cash with next business day funding.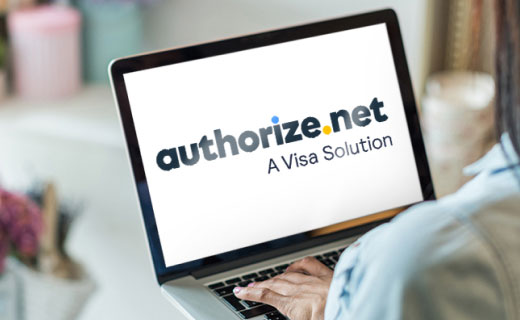 Count on this payment gateway to seamlessly accept credit cards on your website and by phone, so getting paid is simple.