Sometimes all you need is a pinch
How one entrepreneur followed his passion for food and design to create an entirely new industry.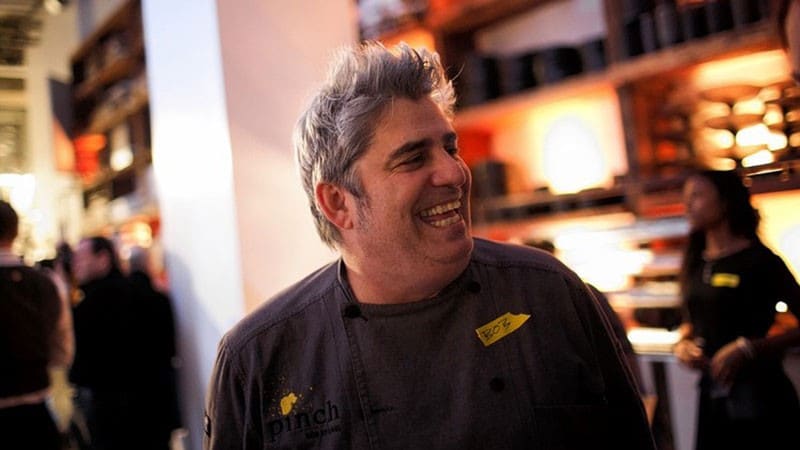 Monkey-shaped shortbread cookies dangling from monkey bars. Four-bite desserts hanging from giant umbrellas. Broccoli steam buns rolling on a 24-foot looping wooden structure. Guests doing limbo under suspended flatbreads.
Those lucky enough to be invited to an event catered by one of today's most provocative catering companies have to pinch themselves to know they're not dreaming. And that's exactly what Bob Spiegel was hoping for when he launched Pinch Food Design in 2011.
And so it began. Again.
Pinch wasn't Spiegel's first go at entrepreneurship. After learning the art of classic catering as a sous chef in New York City and honing his culinary skills in kitchens all over the world, he opened his own catering company in 1989.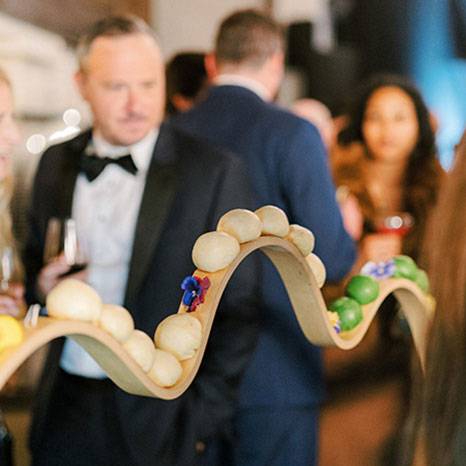 Inspired by the European food design movement that was coming to U.S. restaurants, Spiegel had a vision to bring this fusion of food and design to the catering world — something that had never been done before. But it wasn't so easy to change direction with his current business, a brand he had cultivated over 20 years. So he relied on the one thing that had helped propel his success all along: his willingness to take a risk.
"I've never been afraid to make mistakes or try something new," Spiegel says. "As an entrepreneur, you have to tinker and you have to love to tinker, because anything is possible if you just throw your passion into it and make adjustments as you go."
He closed one door and opened another, literally and figuratively. And Pinch Food Design was launched with a clear vision of food and design working together.
A furniture designer walks into a kitchen …
Spiegel's fearlessness came in handy as he and his team learned to navigate uncharted territory.
"When there are two chefs collaborating together, we could always figure out how to make a dish better. There are tricks that have been established. You could add some crunch or a bit of acid," Spiegel says. "With food and design creating together, there is no recipe out there. There's no standard. We're the ones pushing the envelope, and we don't really know how far we could push it."
The Pinch team has spent a lot of time figuring out how food and design work together, building unique pieces of "food furniture" to house their culinary masterpieces. Imagine little pieces of food that get to sit in tiny nooks that are customized for them. If the food has a rounded bottom, the vessel does as well, allowing it to be comfortable in its own furniture. For Spiegel, finding ways to bring food and design together is only the first step. Then the show begins.
A round of applause, please
The servers embody the spirit of Pinch and play a starring role in how this food-design combo is served and experienced. Every interaction is choreographed and rehearsed like a Broadway show. With the company located just blocks from New York's Theater District, it has no shortage of talent to draw from.
"There are so many actors and models and dancers and singers looking for full- or part-time work and possibly giving up their dreams and becoming a caterer, and luckily many of them work at Pinch" Spiegel says. "They love the reaction guests give them at our events. They're proud of what they're serving. They're proud of how they're serving it. They're getting a tremendous amount of positive reaction, and they just go into their element."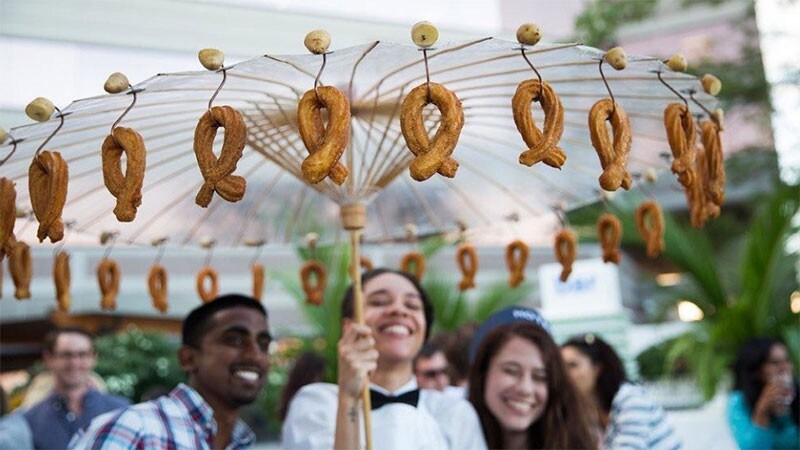 Keeping friends close and vendors closer
The talented staff isn't the only thing native to the area. Pinch works with local businesses for everything from sourcing design materials to growing ingredients.
"We have a local person who sews the individual covers and padding for all of our 250 or so pieces of food furniture. Another local vendor makes these uniforms that look like black jumpsuits an airline worker would wear for our servers. We buy our cheese from a farm that only makes four wheels of cheese a month," Spiegel says. "It's just a nice local community. They know how New York operates, and they understand the need for quality and quick turnarounds."
It's important for Spiegel and his team to partner with others who share their core values: integrity and sustainability being two at the top.
Making an impression, not a footprint
6-foot serving pieces designed from recycled plastic bottles recovered from the ocean. Byproducts of corn husks turned into material for displays. Spiegel invents new ways of serving with creative director and designer Marjorie Artieres. With every decision, the Pinch team is committed to ensuring that no guest goes hungry and no landfill gets full.
"It feels so good to be responsible and to have everybody understand the mission. And I think it inspires people," Spiegel says. "After the pandemic, there seems to be more of a connection to the planet and what we need to do to be kinder to it. And we've been doing it for a while. It's hard, but worth it."
Any food left over from event is packaged and brought to a few different food banks and missions. As food comes back from each interaction, staff members pack it up and make beautiful meals for people experiencing food insecurity. Spiegel says it really is a group effort and something that's ingrained in the culture of giving back.
It's all about the experience
For Spiegel, providing an exceptional experience is everything. And receiving one from the businesses he deals with is equally as important. When he switched his business banking account to Chase for Business, it wasn't only the big things that mattered. For him, the little ones meant just as much.
Things like getting questions answered quickly, having his banker stop by to ask how he's doing, minor tasks being handled without jumping through hoops.
"They made me feel like a celebrity when I walked in the door," Spiegel says. "There's an honesty that I feel working with Chase that I never thought I'd get from such a large company. When I ask for something, they don't send me to a website to figure it out. They just do it for me. So I don't even have to think about it."
And for their next act …
So what's next? Spiegel admits growth is important. But it's not as much about growing in size or volume as it is about growing new ideas or finding the next big creation that excites the team. Sometimes just a pinch can change everything.
The testimonials on this page or provided via linked videos are the sole opinions, findings or experiences of our customer or mentee and not those of JPMorgan Chase Bank, N.A. or any of its affiliates. These opinions, findings or experiences may not be representative of what all customers and mentees may achieve. JPMorgan Chase Bank, N.A. or any of its affiliates are not liable for decisions made or actions taken in reliance on any of the testimonial information provided.
For informational/educational purposes only: The views expressed in this article may differ from those of other employees and departments of JPMorgan Chase & Co. Views and strategies described may not be appropriate for everyone and are not intended as specific advice/recommendation for any individual. Information has been obtained from sources believed to be reliable, but JPMorgan Chase & Co. or its affiliates and/or subsidiaries do not warrant its completeness or accuracy. You should carefully consider your needs and objectives before making any decisions and consult the appropriate professional(s). Outlooks and past performance are not guarantees of future results.
JPMorgan Chase Bank, N.A. Member FDIC. ©2023 JPMorgan Chase & Co.