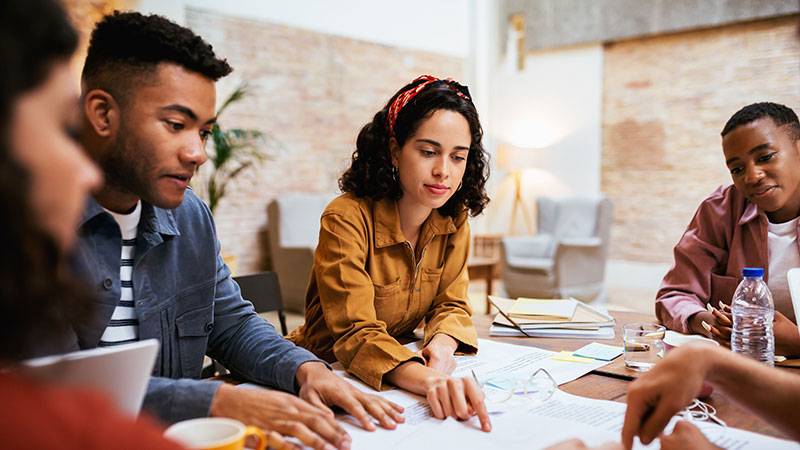 Entrepreneurs looking to start, grow or manage any size or type of business all need one thing to accomplish their goal: money. While traditional loans are one way to secure capital, there are many alternative financing options to consider, especially if you have a new business with little or no established credit or collateral.
So where do you find these options? We've outlined seven popular ways to fund the next stage of your business, whatever it is.
Be sure to discuss any options with an accountant, financial advisor or banking specialist to understand the risks and rewards.
Venture capitalists
Venture capitalists (VCs) are large, established companies that are willing to provide business capital in exchange for ownership, shares or an active role in a company. Because these investors focus on high-growth opportunities, they will want to see a detailed growth strategy in your business plan. Venture capital business investments are distributed in rounds once you meet outlined objectives or milestones.
An added value with VCs is that they have a personal stake in the success of your business. They often provide mentoring, connections and access to professional resources. With so many VCs out there, it's important to choose one who understands your industry and business model.
While this is a great way to get large amounts of capital at once, you have to be comfortable with giving up part of the control or equity in your business.
Angel investors
Unlike VCs, angel investors can be wealthy individuals, not companies, who are looking to make smaller investments in growing businesses. Most are not looking for any shares or equity in your business, which allows you to keep complete control. However, if you need a large amount of capital, this may not be your best option.
Crowdfunding
Crowdfunding has gained popularity in recent years. In fact, it has become so popular that businesses have to stand out to get the funds they're looking for.
Here's how it works. Entrepreneurs post descriptions of their businesses or offerings on one of the many crowdfunding platforms. Individuals searching these sites can preorder products or provide funds. So instead of having one or two investors or companies providing larger amounts of money, you end up with more people who are contributing smaller amounts that add up.
If done right, you get free publicity from your new followers. What do they want in return? There are three ways to repay crowdfunding investors:
Rewards — With rewards-based crowdfunding, supporters receive things such as access to an exclusive event or launch party, free products or branded merchandise.
Equity — With equity-based crowdfunding, supporters receive equity in your company.
Interest — Debt-based crowdfunding is most like a traditional loan, except you're paying interest to supporters instead of a bank.
Grants
Many people think that small business grants are predominantly available for education, research and development or only for businesses that offer groundbreaking technologies or health care innovations.
However, many grants are available from large companies and nonprofits to help entrepreneurs start or grow their businesses. And the best parts are, You don't have to repay grants or relinquish any control of your business.
While it takes a bit of effort and time to research and apply for various grants, if you qualify for a grant and have it awarded, it's time well spent.
Partner financing
This type of funding typically comes from a larger business within the same industry that shares your customers and is looking to tap into your talent, marketing, operations or distribution rights — and vice versa.
The goal is to have a relationship that is beneficial to both companies. With this type of deal, the partner is often so busy with their own company that you are able to retain control and autonomy. However, keep in mind that many times, the end goal is ultimately the purchase of your company.
Business credit cards
A business credit card is a great way to secure the funds you need to grow your business without tapping into your operating funds. Some business credit cards offer introductory rates with 0% interest for a specified period, which means you can use the money you have on hand to pay off any higher-interest debt. Rewards are another benefit that comes with many business credit cards. With these programs, you earn cash back or points on purchases you would make anyway and invest it back into your business.
Plus, if you have a young business, business credit cards are a good way to establish credit and build up your business credit score.
Invoice factoring
With invoice factoring, also known as invoice financing or simply factoring, your vendor fronts the payment of outstanding accounts receivable with them, and you pay them back after your customers pay you. Oftentimes, your vendor will have different net payment terms than you do.
Let's say their terms are net 20 or net 30, which means you have to pay your invoice within 20 or 30 days. If your payment terms with your customers are net 60, there is a gap between the time you get paid for your products or services and the time you have to pay your vendors. With invoice factoring, you can close the gap so that you are not tapping into your working capital. This is a great option that allows you to retain your operating cash.
The bottom line
Small business loans are a great way to get the funding you need and to build business credit. However, there are a number of alternative ways to get the funding you need to start, grow or manage your business. There is no one-size-fits-all solution, so it's important to consider your business goals today and into the future when deciding on funding options. Need help? Speak with a business banker to discuss both traditional and nontraditional ways to get the capital you need.
For informational/educational purposes only: The views expressed in this article may differ from those of other employees and departments of JPMorgan Chase & Co. Views and strategies described may not be appropriate for everyone and are not intended as specific advice/recommendation for any individual. Information has been obtained from sources believed to be reliable, but JPMorgan Chase & Co. or its affiliates and/or subsidiaries do not warrant its completeness or accuracy. You should carefully consider your needs and objectives before making any decisions and consult the appropriate professional(s). Outlooks and past performance are not guarantees of future results.
JPMorgan Chase Bank, N.A. Member FDIC. ©2022 JPMorgan Chase & Co.