5 things to look for in a business credit card
Learn the benefits of business credit cards and what options to weigh before choosing. Presented by Chase for Business.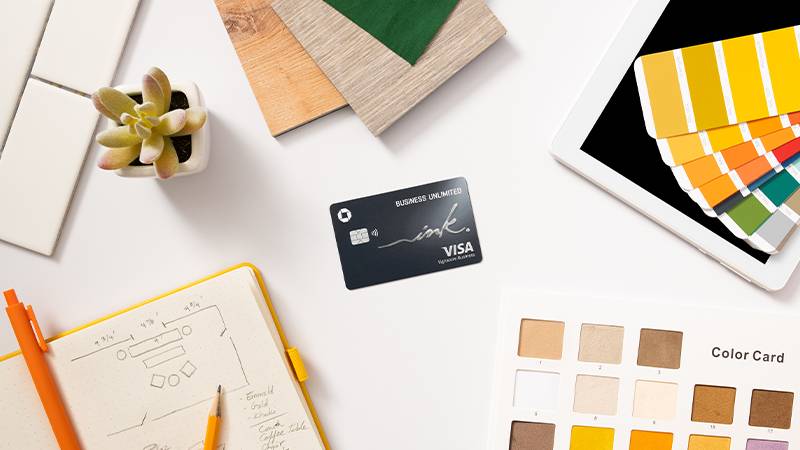 During the scrappy bootstrapping days, it's common to see business owners put business expenses on their personal credit cards. But when you're mixing up internet bills come tax season or reimbursing employees for business expenses made with personal cards, it may be time to explore other options.
Used responsibly, business credit cards can be a smart way to separate and simplify business expenses, add flexibility and earn rewards like redeemable points, cash back and airline miles on many business purchases. Credit cards tailored for business owners may provide the purchasing power needed to run their businesses. The more you use them and pay off your balance, the stronger your profile as a borrower becomes.
Aside from being a resource to help manage cash flow, business credit cards can be especially handy for your books. They often come with tools to view recurring transactions and quarterly reports that integrate with popular bookkeeping software. So you can track spending and keep things tidy as your business grows.
What are business credit cards?
Business credit cards are a form of debt financing. As with other forms of debt financing, you'll be charged interest for borrowing if the balance is not repaid in full each billing cycle. There are exceptions, like no-interest offers for new cardmembers for up to a year. But, in general, you should try to pay back what you can on time and at regular intervals to avoid potential penalties.
The upside of business credit cards is that, unlike taking on investors or equity financing, you don't have to give up any control over your business. You have the option of managing your account online as well as overseeing employee spending and setting limits for greater control. You can also assign an authorized officer to manage your account on your behalf. As your business needs evolve, you can look for alternative solutions for your business such as increasing your purchasing power credit limit increase requests, applying for additional business credit cards and getting rewarded in the categories you spend the most in. That flexibility is why many business owners find this type of financing attractive, especially in the earlier stages of company development.
What to look for in a business credit card
When comparing business credit cards, you'll want to explore different options and find the card you can qualify for that has the features with the most benefits for your business. Choosing the right card for your business is a personal and practical decision. Here are some important features to look for.
1. Interest-free introductory period
To finance major purchases when starting out or taking your business to the next level, look for a card that offers interest-free financing. Many cards offer 0% APR on purchases for the first 12 months before going up to higher interest rates based on your creditworthiness. This allows you to roll over your credit card debt each month at no added interest for the first year — something that could give you the runway needed to scale up operations to the point where you can cover your costs.
2. Is cash back king?
Depending on your spending habits, cash back credit cards for business purchases provide, in effect, a 1% to 5% earning on categories like internet, phone and cable, office supplies and travel. Review your business spending to spot any trends among the retailers and service providers you use. What are your bigger cost drivers? Then investigate cash back rewards programs to see whether their eligible categories cover your basic purchases. You might find that your spending is broad and varied. In that case, check out a flat-rate card so that you can earn rewards with every purchase, or look at cards with other perks.
3. Annual fees — or not
Every card comes with its share of benefits and trade-offs. One that lacks perks and rewards may have something else that's enticing, such as no annual fee. Most premium cards come with an annual fee, some much higher than others. It comes down to what makes the most sense for your business.
4. Intro bonuses and warm welcomes
In addition to things like interest-free introductory periods, many business credit cards offer a bonus for new cardmembers. For example, the Chase Ink Business Preferred® Credit Card offers $1,000 bonus cash back after you spend $15,000 on purchases in the first three months after account opening. If you're looking to make a big purchase right away, this credit card may be worth exploring. Always double-check how much you need to spend to access the welcome bonus offer.
5. Credit limits
The amount of available credit is crucial to your purchasing power. In general, your credit limit will depend on your business's income and credit score. Higher credit limits can let you maintain a low debt-to-credit ratio. That's good because a higher ratio can mean a lower credit score. Keep your debt-to-credit ratio low, and try not to push it to the limit. It'll pay off in access to higher credit limits down the line and, hopefully, sustainable growth for your business.
When in doubt, seek guidance
The right business credit card comes down to the needs of your business. Check out the full list of credit card options available through Chase, and speak with a Chase business banker to help you sort out the features that best suit your unique business and situation.
For informational/educational purposes only: The views expressed in this article may differ from those of other employees and departments of JPMorgan Chase & Co. Views and strategies described may not be appropriate for everyone and are not intended as specific advice/recommendation for any individual. Information has been obtained from sources believed to be reliable, but JPMorgan Chase & Co. or its affiliates and/or subsidiaries do not warrant its completeness or accuracy. You should carefully consider your needs and objectives before making any decisions and consult the appropriate professional(s). Outlooks and past performance are not guarantees of future results.
JPMorgan Chase Bank, N.A. Member FDIC. ©2023 JPMorgan Chase & Co.