How to apply for business equipment financing
Learn about business equipment financing and some things to consider when buying new equipment. Presented by Chase for Business.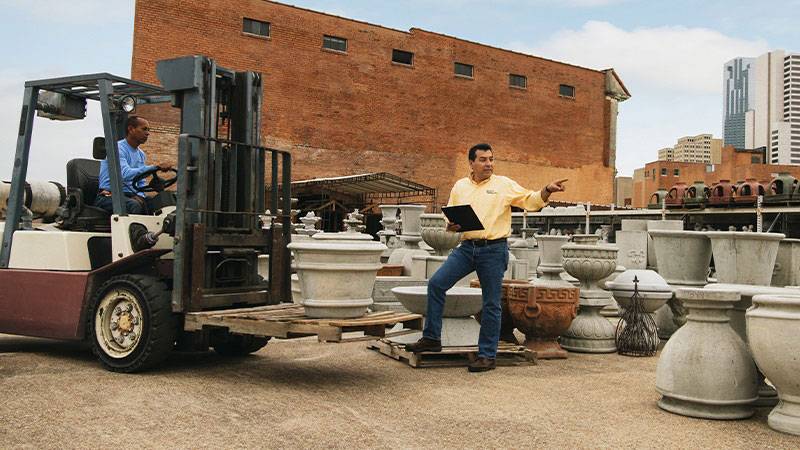 Whether you're a startup or an established business looking to expand your operations, you need the right equipment to serve your customers. Buying new equipment is a necessary and expensive part of doing business. Equipment loans are specialized to help finance these needs.
While you can take out a general business loan, most banks have equipment financing designed for small business owners hoping to improve their operations.
Common equipment upgrades
For construction contractors, equipment needs range from new tools, to safety equipment, to new vehicles and machinery.
Doctors, dentists and ophthalmologists with private practices all require expensive equipment in order to get their businesses off the ground and to stay up to date with the latest industry trends.
Equipment needs could include:
Computers and software
Mobile devices
Printers, copiers and fax machines
Industry-specific manufacturing equipment
Construction tools
Vehicles
Medical equipment
Determining your equipment costs
If you've already identified what equipment your small business needs in order to operate, the next step is to project the cost. This step requires some footwork on your part, including detailing the costs and quantities of your projected purchases.
To estimate the full costs, consider:
Price of each unit of equipment
Costs of warranty
Costs of supplies and software
Once you've done this analysis, you're ready to apply for small business equipment financing.
Applying for an equipment loan
Securing a small business equipment loan can be similar to obtaining other types of loans. Your banking institution will most likely analyze your credit history and consider the length of time your business has been operating.
Beyond that, the lender could ask for a business plan that integrates the desired equipment and its effect on productivity and revenue.
Benefits of equipment financing
When it comes to financing new equipment, you generally have three options available:
While lines of credit and term loans are an option, equipment loan rates and terms may have greater flexibility. Some advantages of equipment financing may include:
Purchased equipment could be used as the loan collateral
May have a smaller impact on your business's credit score
Flexible repayment schedule

Some things to consider
In considering and applying for small business equipment loans, you should keep a few things in mind.
Most equipment has a lifespan and will only be in use for a period of time before it needs to be replaced. You should account for functional details (such as upkeep costs) when determining the amount you borrow and the overall terms of your equipment loan. When applying for financing, be sure to consider:
Equipment lifespan: How long does the piece of equipment you're looking to purchase usually last? The answer will impact how much you should borrow and what your repayment plan should look like.
Loan repayment: If your equipment's lifespan is five years, your repayment schedule should be for no more than five years to avoid paying for outdated equipment.
Running a business requires the right tools. If you're interested in small business equipment financing, meet with your local business banker to determine what's available for you.
For informational/educational purposes only: The views expressed in this article may differ from those of other employees and departments of JPMorgan Chase & Co. Views and strategies described may not be appropriate for everyone and are not intended as specific advice/recommendation for any individual. Information has been obtained from sources believed to be reliable, but JPMorgan Chase & Co. or its affiliates and/or subsidiaries do not warrant its completeness or accuracy. You should carefully consider your needs and objectives before making any decisions and consult the appropriate professional(s). Outlooks and past performance are not guarantees of future results.
JPMorgan Chase Bank, N.A. Member FDIC. Equal Opportunity Lender, ©2023 JPMorgan Chase & Co.