Giving veterans a creative outlet to heal
More than 900 veterans have used music, painting and photography to talk about their experiences through CreatiVets.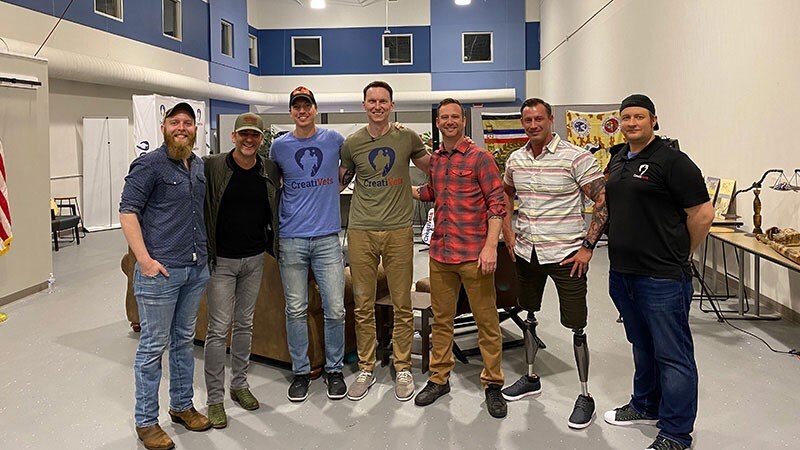 Not all wounded veterans go to hospitals and rehabilitation centers to heal. For a growing number of those returning to civilian life, their biggest breakthroughs are being realized in classrooms, art galleries and recording studios.
That's the mission behind CreatiVets, a nonprofit organization started by Richard Casper: to help empower veterans to heal and reconnect through creative arts.
Casper always knew he wanted to serve his country. But after watching the events of September 11, 2001, unfold, the high school junior went to his local recruiting office, ready to take the next step. As a minor, Casper needed his parents to sign off. They hesitated on the timing but agreed to let him get a year of training before enlisting. Two weeks after high school graduation, Casper boarded a plane for United States Marine Corp boot camp, and his life would never be the same.
"It's been awesome knowing that Chase is always looking to give back to organizations like ours."
– Richard Casper, founder and CEO, CreatiVets
A call to duty
The plan was to complete the School of Infantry, then go to Iraq to fight for his country. That's how it worked for most of the other recruits. But Casper wasn't just any recruit. Instead, he was selected for a special assignment — to serve as presidential guard for President George W. Bush at Camp David.
After this mission was complete, Casper joined his fellow recruiting class on the front lines. He was ready to fight for his country. And fight he did. Between 2006 and 2007, Casper survived four IED attacks and saw his friend Lance Cpl. Luke Yepsen shot and killed in front of him during combat. After the last attack and being honorably discharged, he returned to civilian life. But the Richard Casper who got off the plane in the U.S. wasn't the same one who had left for boot camp years earlier.
"For the first six months, I was on this really steep decline," Casper says. "I didn't know how bad my injuries were. I had severe anxiety and depression. So I ended up going to the VA hospital and was diagnosed with left traumatic brain injury and post-traumatic stress."
The art of confidence
Knowing what was wrong allowed Casper to move forward with a plan. He was told his brain injury would prevent him from learning new technical skills, so he focused on something he always enjoyed. He decided to go to a community college and get an art degree. He would work hard for two years, transfer to a state college to continue his education, and then use his experience from guarding the president to work for the CIA or FBI so he could continue to serve his country. Things were going as planned. But, as with many great missions, somewhere along the way, that plan changed.
After earning an art degree from Heartland Community College, he was accepted to what he believes is the best art school in the country, the School of the Art Institute of Chicago.
"I started noticing I was doing things again. I was going out in public and meeting with people without anxiety. I was sharing part of myself and my story through art. I started writing music, too. I even wrote a song about my buddy Luke and had it produced in Nashville," says Casper.
The process was very cathartic for Casper. "My buddy was killed. I wanted people to know that he lived, but it was too hard for me to talk about. So I taught myself how to write songs for about a year before I found a songwriter who was willing to help me finish it," he says. "All of this was helping me heal. If this could help me, I knew it could potentially help other veterans, but how?"
Art imitates life
Casper graduated from the School of the Art Institute of Chicago in December 2012. Seven months later, CreatiVets was born out of two things: a mission to provide veterans with a way to use art, music and creative writing as an outlet for their pain and a way to honor his fallen friend, Luke, who was the inspiration for much of Casper's own art and songwriting.
"You have these veterans who have done and seen things during combat that they can't share with their spouses, friends or family," says Casper. "So we have them write down their thoughts, and that's the fruit for the words to the song. So they don't have to talk about their story. They can talk about their song. The same with art."
Participants leave the programs with much more than a piece of art or a digital copy of their song. The CreatiVets programs help bridge the gap between the military-civil divide, as well as the military-spouse divide.
The tie that binds
Since his return from Iraq, Casper has grown close to Luke's family, including his brother Kyle Yepsen.
"The first time I heard the song Richard wrote about my brother, I cried," Yepsen says. "You can tell stories about somebody without saying a word. You just sit there in silence and listen. That's when I knew that Richard was tapping into something that was magical, that had power beyond just talking."
Yepsen thought back to the letter that was sent to him: "I'll never forget I got a letter Luke wrote before he died that gets delivered if something happens. It said, 'Go pursue your dream and start a business, make a difference in the world.' I already had a successful business, but I wanted to do something more meaningful. And Luke and Richard helped me figure out what that was."
After going through the songwriting process, Yepsen was able to heal in his own way from the loss of his brother. By the end of the three-day program, he was all in. He left his successful business and joined CreatiVets as deputy director.
Partners to lean on
Today, almost 900 veterans have been through one of the CreatiVets programs, and more than 350 more are on a waiting list.
The organization has a partnership with Big Machine Records, one of the biggest independent record labels in the country. And CreatiVets is looking forward to its next annual Key West Songwriters Festival, where the entire staff goes to recruit songwriters and enjoy a mini vacation. The best part is being able to use its Chase Ink Business Card rewards to pay for either the lodging or the flights.
"We put everything on our credit card throughout the year. Then we always have like 3,000 or 4,000 bonus points to use for our trip," says Casper.
Beyond offering banking products, Chase has been a great partner for CreatiVets. "I did a pitch competition where Jamie Dimon was one of the judges. I ended up winning, and they gave $5,000 to our organization," says Casper. "They've also invested in our OurCorner, an event we did last year with another organization called Operation Stand Down, where we had a bunch of artists performing in our parking lot and it was free to the public. This year, Chase came in on our September 12 event and supported us. Almost every relationship we go into, we want to make sure it's a win-win. We don't just want to be the one taking — we want to give back. And Chase shares those values."
In recognition of those who serve, Chase for Business is proud to offer military banking benefits. See what benefits you may be eligible for to help you grow your business.