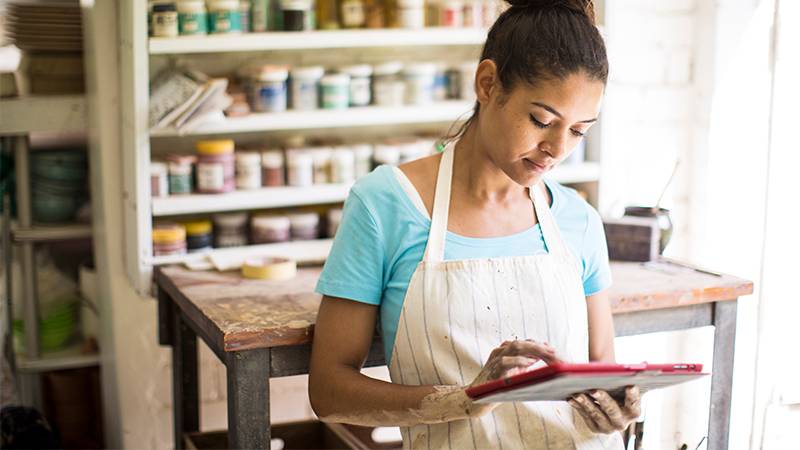 One of the most important relationships you develop as a business owner is with your bank. That's because when it comes time to find a bigger space, improve operations or add employees, your bank will be the first place you turn to acquire capital. In this sense, your business's bank is a partner in its growth — so it's important to spend the time and energy to find a banking partner that's the best fit for your business. Banks have different offerings for personal and business accounts, so it's smart to thoroughly review all your options when looking to open a business bank account. Whether you're getting your business off the ground or reevaluating your current banking relationship, here are some important considerations when looking for a bank for your business.
Evaluate growth opportunities
Before scouring the offerings at various banks, take a moment to review your business goals — both for the short and long term. For each goal, determine what financing you might need to achieve this milestone. Do you see yourself eventually needing a loan to open a brick-and-mortar store? Could a business line of credit help you ramp up inventory while allowing you to maintain healthy cash flow? Some banks have comprehensive payroll services, something that may be useful if you already have employees or plan to add them to your company. While these offerings may seem premature for your business now, accounting for your business's needs as it grows is just as important as meeting its current needs.
Thoroughly explore the financing options of prospective banks and the terms attached to each. These details have the power to become either an obstacle to growth or fuel for success. Some loans, for example, have minimum requirements tied to a company's time in business or the age of your business bank account — stipulations that may not work with your growth plan. You'll also want to consider how important it is that your bank be a preferred lender for loans through the Small Business Administration (SBA), a program that helps borrowers get funds faster than they would through a regular SBA lender.
Explore features and benefits
Because your bank plays such an integral role in your business's financial success, it's important that you work well together. Do you want to have a relationship with a bank employee whom you can call with questions? Do you operate outside of normal business hours and appreciate having access to 24-hour live chat? Do you value being able to do your banking on a mobile app? Some banks have built out their tech offerings to help meet the needs of business owners on the go, and others have made it a priority to have dedicated specialists available to build relationships and give business owners like you one-on-one attention. Knowing what works best for your business is a good starting point to help you determine what amenities and features you want from your bank.
Look up the bank's reviews to see what its customers say about their interactions with bank representatives. Doing this can help you get a sense of how they go about solving problems and how customer-friendly they make their processes. Another element to explore is whether your bank integrates with your accounting software, something worth its weight in gold if you've ever had to enter transaction data manually.
Take location into account
Some business owners are happy with internet banks that have no physical location to visit, while others prefer having a brick-and-mortar building to walk into. For some business owners, a bank's location plays an important factor in day-to-day operations. Having a bank to visit has benefits beyond seeing the friendly face of a banker. If your business works with a lot of cash, requiring you to make regular deposits, then a bank in your neighborhood versus one across town could improve your efficiency and minimize headaches. Determine whether your business will need bank-issued, certified checks or business travel will leave you needing access to national ATMs without fees. When doing business away from home, having a bank with branches across the country could end up making a big difference for your business in the long run
Determine industry experience
Depending on the type of business you have, it might be important that the bank you choose to work with has experience in your industry. Running a seasonal business comes with wholly different financial needs from those operating year-round. Even if your industry doesn't translate to specialized financial offerings, it may be nice to work with someone who understands your line of work. This experience is something you'll benefit from, as your banking partner may be proactive in anticipating your business needs or offer insight into what has worked for other businesses in similar situations. If this is important to you, consider consulting with trade organizations or talking with owners of similar businesses to find out which banks have good rapport in your industry.
Weigh the requirements and fees
Additional things to keep in mind when looking for a bank are the requirements associated with opening and having a business bank account. Some banks limit the number of transactions you can make within a certain period. You'll want to make sure these parameters work with your everyday business operations — both for your current and future business activities. If reaching your sales goals translates to penalty fees with your bank, perhaps it's not the right bank for your business. Remember also to pay close attention to rules such as balance minimums, as they could end up tying up cash that you need available should things not go as planned.
Fees are also common with banking, so listing out the fee structures could help tip the scale in favor of working with one bank over another. Be sure to read the fine print so that you're familiar with the various scenarios that trigger fees. Common fees include service fees, ATM fees, overage fees, management fees and withdrawal and deposit fees.
Get started today
Speak with a Chase business banker to discuss how Chase's business bank offerings can help set you up for your business's financial success.
For informational/educational purposes only: The views expressed in this article may differ from those of other employees and departments of JPMorgan Chase & Co. Views and strategies described may not be appropriate for everyone and are not intended as specific advice/recommendation for any individual. Information has been obtained from sources believed to be reliable, but JPMorgan Chase & Co. or its affiliates and/or subsidiaries do not warrant its completeness or accuracy. You should carefully consider your needs and objectives before making any decisions and consult the appropriate legal, tax, accounting and other professional(s). Outlooks and past performance are not guarantees of future results.
JPMorgan Chase Bank, N.A. Member FDIC. ©2023 JPMorgan Chase & Co.