5 steps to adopting contactless payments
New Chase research suggests a critical shift to touchless transactions. Learn the simple steps to get started.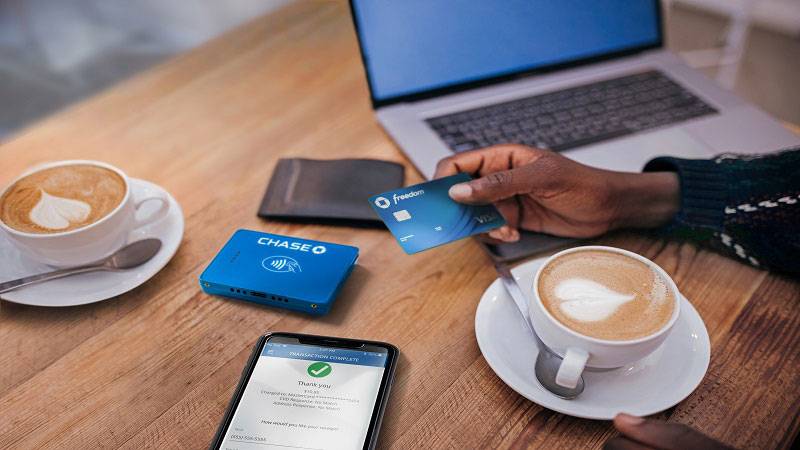 Contactless payments have quickly become a must-have for shops, restaurants and businesses across the country. In this past year, the desire for touchless payments has accelerated as a way to promote safety and social distancing, with 83% of consumers noting in recent research they are concerned about touching a credit card reader.
Chase Ink® business credit cards
Businesses that have moved to contactless checkouts are feeling the benefits as consumers increasingly look for these options. Research indicates that over half of consumers would switch to a store that installed contactless payments, and businesses agree, with data from Chase showing that a majority of all businesses that have switched to contactless payments intend to make the change permanent.
Nationwide, 55% of business owners we surveyed are taking steps to reduce touch interactions when accepting payment. Of these, 66% said they'll continue to accept contactless payments once business practices return to normal. Beyond keeping customers and employees safe, removing friction from the checkout process creates lasting business benefits.
Consumers say:
83%
Consumers worried about touching a credit card payment reader
54%
Consumers who would switch to a new store that installed contactless payment
70%
Consumers new to contactless payments and plan to continue after the pandemic
55%
Businesses reducing contact during payment
66%
Businesses planning to stay with contactless payments forever
Embrace contactless payments in five easy steps
Getting started with contactless payments is simple with just five steps.
1. Understand your options
Contactless payments come in various forms that suit different types of businesses and transactions. Popular options include:
Contactless solutions for on-site: These are a great fit anywhere credit cards are accepted, including shops, cafes and doctor's offices. You can accept contactless payments with countertop terminal solutions in your store or wireless terminals for pay-at-the-table in your restaurant. Chase has solutions for standalone point-of-sale needs.


Mobile on-the-go contactless solutions: For informal on-the-go payments, such as for housekeeping and dog walking, consider simple mobile solutions like Chase QuickAccept℠. And for businesses, like food trucks, that are on the go and need more functionality like catalog management features, consider a mobile payment app, like Chase Mobile Checkout.
Types of contactless payments businesses accept
66%
Tableside payments (restaurants only)
2. Check your existing equipment
The point-of-sale terminals and other equipment in your business might already be capable of accepting contactless payments. If you see three lines that look like the Wi-Fi symbol tipped on its side, you're good to go. Just make sure the contactless feature is turned on.
Need help upgrading your equipment? Talk with a Chase specialist.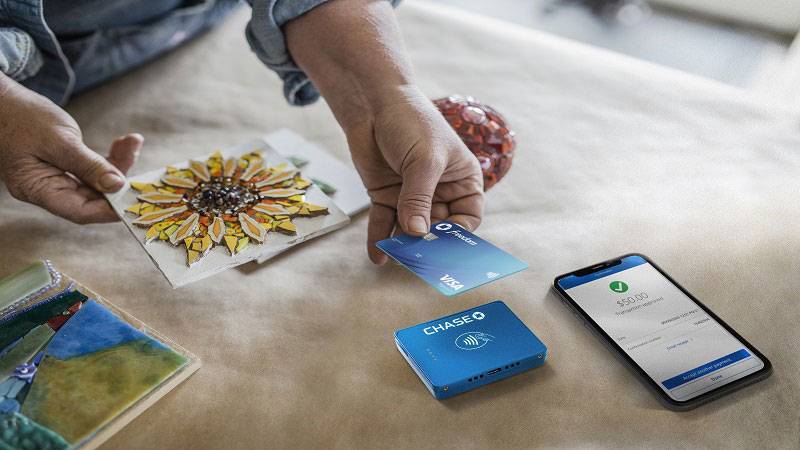 3. Link to popular digital wallets
Set up your business to collect payments through the mobile wallet apps that your customers may be using. If your equipment is already enabled to accept contactless payments, it likely accepts digital wallets as well. Apple Pay and Google Pay are two of the most popular. Others include Fitbit Pay, Garmin Pay, LG Pay and Samsung Pay. Learn more at our Digital Payments overview page.
4. Get your staff up to speed
You'll also want to make sure your employees know how to use the equipment for contactless transactions. Be prepared for customers to ask for guidance on where to tap their card, how to tap symbol to symbol and other details of the process. Knowledgeable staff members will create a more pleasant experience for your patrons and a smoother, faster checkout process for your business. Go to our Support Center to learn more (scroll to Contactless Payments Training for Cashiers).
5. Tell your customers
Spread the word that your business accepts contactless payments — with signage in the window, at your checkout registers and in advertisements. Offering this option is a powerful draw for both new and existing customers. Go to our Support Center to learn more (scroll to Contactless Payments Training for Cashiers).


It's all about safety
Meet growing consumer demand while supporting the health and safety of your customers and employees. Moving to contactless payments can make that possible for your business. And Chase is here to assist you.
For informational/educational purposes only: The views expressed in this article may differ from those of other employees and departments of JPMorgan Chase & Co. Views and strategies described may not be appropriate for everyone and are not intended as specific advice/recommendation for any individual. Information has been obtained from sources believed to be reliable, but JPMorgan Chase & Co. or its affiliates and/or subsidiaries do not warrant its completeness or accuracy. You should carefully consider your needs and objectives before making any decisions and consult the appropriate professional(s). Outlooks and past performance are not guarantees of future results.
Chase COVID-19 Small Business Sentiment Tracker results come from 16 waves of statistically significant data, from 500 respondents each wave including 50 restaurants, 50 retail, and 400 other small businesses, between May 4, 2020 and December 4, 2020.
You should carefully consider your needs and objectives before making any decisions, and consult the appropriate professional(s).
JPMorgan Chase Bank, N.A. Member FDIC. Equal Opportunity Lender, ©2023 JPMorgan Chase & Co.
Chase QuickAccept is only available within the Chase Mobile® app on select mobile devices and is not available in U.S. territories or outside the U.S. Usage of Chase QuickAccept subject to eligibility and further review. Deposits are subject to limits, verification, fraud monitoring, and other restrictions. Message and data rates may apply.