Sometimes it's the puzzle that completes you
A lifelong puzzler turned entrepreneur finds the piece she'd been missing.
Chase for Business customer Kris Hale has spent the last decade building a successful puzzle business piece by piece.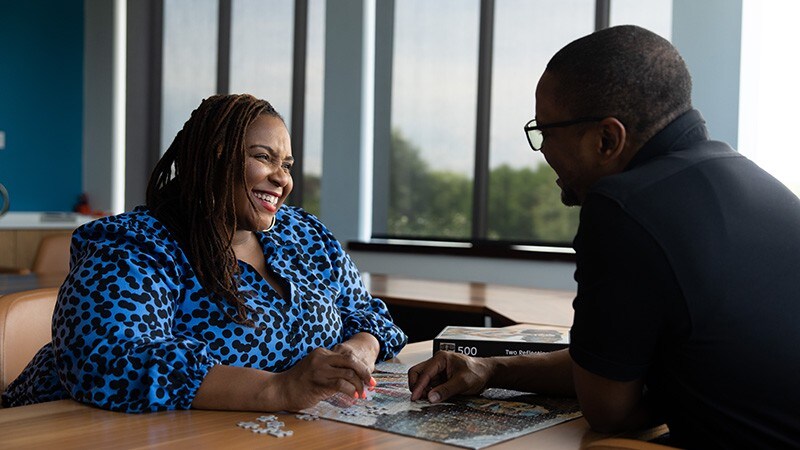 Five-year old Kris Hale had no one to play with.
"I am the youngest of seven children. My sister Diane and I are 24 years apart, and the second youngest was my brother Terrance, who was seven years older," Hale says. "Needless to say, my siblings had better things to do than play with a little sister — except on puzzle nights! I remember the first time they let me put the last piece in, everyone clapped. I was a star! I still love the feeling of putting the last piece in to complete the puzzle."
Excitement. Accomplishment. Pride. Even now as she talks about puzzles, these feelings flash across her face.
Experiencing the power of puzzling at a young age had a profound impact that she would only truly understand later in life. Puzzles gave her fulfillment. Puzzles gave her family. And while she didn't know it at the time, one day puzzles would give her an idea for a business.
That "aha!" moment
In 2013, Hale moved to Atlanta. Being new to the city, she turned again to puzzles. While visiting Barnes & Noble, she was drawn to one puzzle in particular. It was 1,000 pieces that formed an image of the 100 best literary works, which was perfect for the former English major.
When she completed the puzzle, something was still missing. Although the content captured her interest, the images left more to be desired. She wanted something that connected with her on a deeper level. Something she'd want to keep and maybe even frame. She wanted images that looked like the people in her life and reflected the culture around her.
Art imitating life
Around the time of this realization, Hale remembers being mesmerized by a piece of art that a friend, Vincent Ballentine, had prepared for an art show. It was an image of a fellow Black woman. Her face, her lips, her earrings — everything resonated with Hale. She thought, "I would do this as a puzzle." In that moment, everything came together.
With permission from Ballentine, she turned his art into a puzzle. One look at the finished piece, and she knew it was special and had to be shared.
Questions worth asking
Hale came from a family of entrepreneurs but still had things to learn about running a company. Although puzzles started out as a hobby, Hale knew that turning this hobby into a successful business would require becoming an expert in the industry. She set out to do market research to better understand the puzzle world and her customer base.
She studied the history of puzzles, learned about the top puzzle companies and reached out to manufacturers to inquire about every aspect of producing a puzzle. Hale asked tons of questions about everything: average thickness of pieces, photo quality, materials, the printing process, minimum orders.
"I told them to talk to me like I didn't know anything," Hale recalls.
"There's a bit of alchemy in starting a business. As an entrepreneur, you have to take all those things that are part of your life, part of your journey. Your successes. Your failures. The things you have learned. Then turn them into something positive to help you on your journey."
Hobby turned business
In 2016, Hale tested the waters by producing a small batch of puzzles featuring images that resonated with her. It didn't have to be faces. Sometimes it was just the content and the spirit of the piece. Once she used an image of a bus created by an artist named Dante. He told her that he'd always felt like the school bus was his limousine out of the neighborhood, out of the distractions and into education and a better life.
"I can relate to that. I understand what it feels like to be a kid on the bus going to school to be educated," Hale says.
She was happy with the images featured in her puzzles but knew the quality could be better. Still, it was a stepping stone. That next step would come two years later — and it was a big one.
In 2018, Hale became an executive assistant at the Russell Innovation Center for Entrepreneurs (RICE) for Black business owners, which had opened the previous year. It was 54,000 square feet of space that has since brought in hundreds of entrepreneurs and partners. For Hale, it was a whole new set of resources to tap into. She began sharing her dream with others.
One of the partners heard about Hale's puzzles and encouraged her to aggressively focus on the growth of her company. That weekend, Hale went out and displayed all of her puzzles at the center.
"If you're starting a business, tell people what you're doing. Tell them what you need. Tell them what you think you don't know. Be vulnerable. Be coachable. And keep asking questions."
A piece of advice that always stuck with Hale came from a former colleague. "She told me, 'If you can go to a job and work 9 to 5, you can work 5 to 9 for yourself," Hale recalls. "That made a lot of sense to me. So I had two desks at the Russell Center. One that I worked at during the day and one that I used to work on the puzzles after work."
Fueled by fear
Having other people encourage her, including Jay Bailey, the president and CEO of RICE, gave Hale the nudge she needed to finally leave her job and go all in with her business — Dope Pieces Puzzle Company.
"At some point you just have to believe in yourself and do it scared," she says. "When I left my job, I was terrified. I didn't know if I would end up living in my car, but I believed in my company and I really wanted to make it work. So I turned that fear into motivation."
Hale credits her success today in part to her endless curiosity — and will tell any new business owner the same. "Research your industry and learn all you can," she advises. "I believe it is how you show the greatest respect to your customers. Even now, I stay on top of the industry and prioritize understanding the competitive landscape. From the behemoths to the newest brands, it is important to know the industry standards and newest trends. Learning should be ongoing and always."
"I found the more I believed in the process and committed to the business, the more the business committed to me."
Those three words
Chase opened a lounge in the innovation center, and Hale had developed relationships with many members of its leadership team. So when she decided to take the leap, her Chase contact was the first person she called for advice about scaling her business. The answer: "We got you."
"Having a global bank like Chase invest their resources, thought capital and marketing in Dope Pieces is validating," she says. "It sends a very public message that Chase believes in my business and the quality of my puzzles and that we're ready for partnerships with a Fortune 500 company. My relationship with Chase has also opened up a world of opportunities for me through their Minority Entrepreneur Program and participation in the Black Women's Expo. And as a result, my company has grown exponentially."
Chase helped Hale build brand awareness by featuring her business and her puzzles on its ATMs. "I had family and friends calling me from all over," Hale says. "The support has been incredible. And as a business owner, you want to work with people who are as excited about your business as you are."
Hale also loves the flexibility that working with a global bank like Chase affords her. She can work anytime, anywhere and manage her work through Chase's digital platforms. She has access to 24/7 customer support, and she knows she'll always have someone in her corner — a community bank she can turn to anytime she needs it.
"My interactions with Chase across the board have been phenomenal," she says. And Hale is hardly alone there. Many Chase for Business customers find that flexibility is one of the things they love most about working with Chase.
Coming full circle
For Kris Hale, every puzzle tells a story. And now after all these years, she's created ones that tell her own story — and reflect others in the Black and Brown community of puzzlers.
"Who would have thought that the one thing I loved most as a child would turn into my business?"