Growing organically
See how patience, passion and an investment in the future with Everyday 401(k) are helping this sandwich shop grow.
Chase for Business customer and Organic Sandwich Company owner Marcy Miller invests in her business, her community and her customers.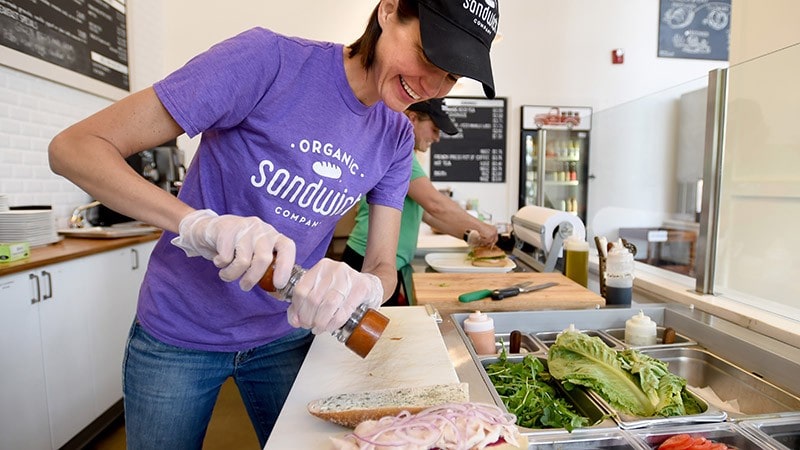 Why does good, clean food have to be limited to fine dining?
Marcy Miller had been mulling over this question for years. She was pretty sure she knew the answer.
So in 2015 she put her theory, and her healthy recipes, to the test.
Miller left a career in investment management and moved with her young family from Chicago to Colorado for her husband's new job. In addition to the time it allowed her to spend with her two children, the move also served as a catalyst for her own career move — this time working for herself.
Putting a plan in motion
Miller always knew she wanted to do something entrepreneurial. The question was what. She and her sister spent endless nights talking about the possibilities.
"I have an MBA, and my sister graduated from culinary school. We would have these ideation parties over food and wine," Miller says. "And we kept coming back to the idea of organic sandwiches. We even created a business plan. But this was 2004, when organic food was a lot more expensive and not as easily accessible."
In Colorado, Miller dusted off her old business plan and set the wheels in motion. She treated the process as she would a job. She hired a sitter for the kids every morning. Went to the coffee shop to work on her plan. Talked with other business owners. Researched the market. Then enlisted the help of happy tasters to perfect her recipes.
Every move was deliberate. And each one brought her one step closer to opening her business.
She knew that hospitality, like finance, could be a very demanding field. Miller had no illusions that it would be easy, but she was determined.
"It's hard to get people to work in the hospitality industry today. I do everything I can to find good people and then make it hard for them to leave. Everyday 401(k) is a big part of that."
– Marcy Miller, Owner of Organic Sandwich Company
"I would rather look back on my life knowing that I reached for the stars. I went for my dream and either succeeded or failed. Either way, it's better than not having tried at all," she says. "It's hard and it's scary and there are so many other words in between. But if you're OK with the possibility of failure and you can stomach the risk, then you've got to go for it."
"It's hard and it's scary and there are so many other words in between. But if you're OK with the possibility of failure and you can stomach the risk, then you've got to go for it."
Taking it slow
All the hard work started paying off when Miller was approved for a coveted spot at the Boulder Farmers Market. It was only one day a week, but it was enough to launch the business she had been working so tirelessly to create. And to do it her way — slow and steady.
"The farmers market was my launchpad for Organic Sandwich Company," Miller says. "I feel really fortunate that that was the case because it was a good way to ease into a business. I was able to come back each week with different sandwich combinations so I could build a more permanent menu for the brick-and-mortar I knew would eventually come."
As she worked to build a name for herself in the market, Miller continued to search for a permanent spot. But finding the right location and one that she could afford was tricky.
A lot of the places I thought would work fell through for one reason or another," Miller recalls. "It took a while, but we landed in a really great spot in Boulder. It's small, so the lease is manageable, and we were super frugal about the build-out. When I created my financials, I fully expected to be in the red for the first couple of years. I was just being realistic."
Leading with values
Being on the famous Pearl Street in the heart of Boulder, Miller felt like she almost had free advertising. Although she admits she's never above trading sandwiches for ad space, she refuses to compromise on ingredients. Some things may be more economical to purchase from large distributors, but she insists on keeping it fresh and local. Bread is delivered every day from a local bakery. Seasonal produce from local farmers. Beef from a local rancher. Even the shop's drink coolers are stocked with products from Colorado-based companies.
"We can find other ways to be creative with food costs, but we're going to continue to buy quality, organic food locally because that's who we are and who we will always be," Miller says. "A lot of our suppliers have used us as a launching pad. I'm a big fan of supporting fellow entrepreneurs in any way we can. Is it local? Is it organic? If the answers to both of those questions are yes, we'll typically give it a try."
Staying local is a core value for Organic Sandwich Company. It's something Miller looks for in any other businesses she works with. So it may be surprising that she chose to go with a large national bank. But for her, Chase is as local as it gets.
"I realize it's a really big company, and I tout trying to be as local as possible. But the folks I work with are local. They're here in the community and trying to help small businesses," Miller says. "It's like when farmers walk in the door and they bring me a big bundle and I have a relationship with them. That's what I have with Chase. They bring it down to a human level, a personal level."
Focusing on the future
Miller appreciates having all of her banking needs in one place. She's able to pay bills, transfer money and view her business and personal accounts. She's particularly grateful that the team at Chase always looks at the bigger picture and connects her to people who can help with any business needs — even outside of banking. So when she wanted to start a 401(k) for her business, she knew just where to go.
"It's something I'd been thinking about for a long time," Miller says. "I used to work on 401(k)s back in the day, but I couldn't figure out the best way to go. A lot of people don't realize small businesses can offer a 401(k). But the team at Chase introduced me to a program specifically for small businesses."
They put her in touch with a J.P. Morgan Retirement Plan Specialist to discuss her options. "They made it super simple. Anyone that can simplify my world, I'm a big fan," she says.
Miller understands how a 401(k) can provide value to both her business and her young workers. And she's on a mission to help her staff, many of whom are college students, understand the importance of investing early.
She worked with the team from J.P. Morgan to set up an Everyday 401(k) plan that would be as enticing as possible for her workers — and her business. These plans are specifically designed for businesses with 2 to 50 employees. With the Everyday 401(k)'s low costs and transparent pricing, business owners like Miller can budget for a retirement plan without unexpected expenses.
"A small sandwich shop that has a 401(k) plan that will match your contributions, and it's vested immediately? You're not going to find that elsewhere," Miller says.
Currently half of her full-time employees participate in the plan. "For many of my long-term employees, this is their first retirement plan, so I'm thankful I've been able to help them understand the importance of saving for the future," Miller says.
She is taking advantage of recent tax credits for starting and contributing to the plan. As an owner-employee, she's also able to participate. It's a win for everyone.
For business owners who think you have to be a huge corporation to offer a 401(k) plan, Organic Sandwich Company is proof that bigger isn't always better.
"A lot of people don't realize small businesses can offer a 401(k). But the team at Chase introduced me to a program specifically for small businesses."
Thinking differently
It's been eight years since Miller served her first organic sandwich. Today, she has two shops in Colorado — the one on Pearl Street in Boulder and a second location in Louisville — a booming catering business and a loyal following.
Thanks to Miller and her team at Organic Sandwich Company, the answer to "Why does good, clean food have to be limited to fine dining?" is a resounding "It doesn't."
Learn more about how Everyday 401(k) can help your business, or connect with a Retirement Plan Specialist.
Certain recordkeeping and administrative services for plans may be provided on behalf of JPMorgan Invest Holdings LLC (J.P. Morgan) by subcontractors as disclosed in the services agreement with J.P. Morgan.

Optional services, including but not limited to trustee, brokerage, fiduciary, are provided by third party providers that may receive fees for services. Available services are elected by the plan and noted in separate agreements.
Securities transactions, including trading and clearing services, are effected by a registered broker dealer and member of FINRA as disclosed in the services agreement with J.P. Morgan. Representatives are not registered investment advisors and cannot offer financial, legal or tax advice.
Subcontractors and other third party providers are not affiliated with J.P. Morgan. The testimonials in this article are the sole opinions, findings or experiences of the customer and not those of JPMorgan Chase Bank, N.A. or any of its affiliates. These opinions, findings, or experiences may not be representative of all views or what all customers may achieve. JP Morgan Chase Bank, N.A. nor any of its affiliates are liable for decisions made or actions taken in reliance on any of the testimonial information provided.
Telephone calls and electronic communications may be monitored and/or recorded. Personal data will be collected, stored and processed by J.P. Morgan Asset Management in accordance with our privacy policies at https://www.jpmorgan.com/privacy.
J.P. Morgan Asset Management is the brand name for the investment management businesses of JPMorgan Chase & Co. and its affiliates worldwide.
If you are a person with a disability and need additional support in viewing the material, please call us at 1-800-343-1113 for assistance.
JPMorgan Chase Bank, N.A. Member FDIC. ©2023 JPMorgan Chase & Co.