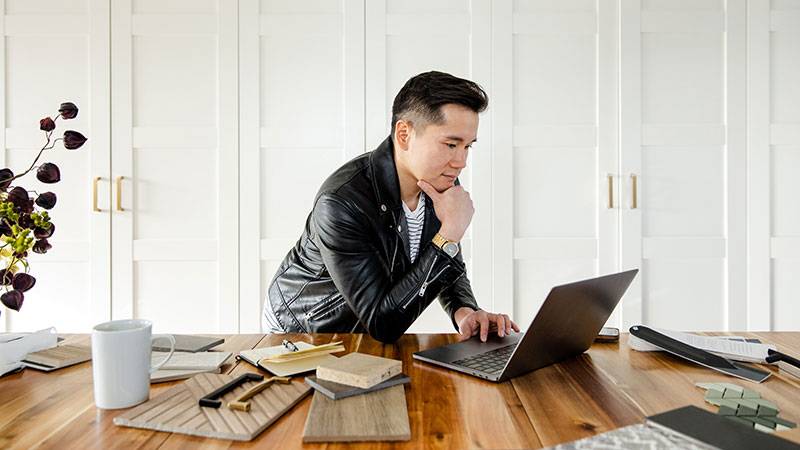 Not too long ago, transacting business at your bank involved completing deposit or withdrawal forms, traveling to your local bank branch with checks or cash deposits in hand, waiting in line and then depositing earnings through a teller window. For entrepreneurs or business owners, that meant time away from your place of business — and your customers.
Things have changed. Thanks to technological advancements, online banking allows you to manage almost all your business needs using your computer or a banking app on your mobile device.
You might be hesitant to use your bank's online services for your business bank account if you're accustomed to using traditional banking services. However, online banking is secure (in some ways more secure than traditional banking services). And online business bank accounts provide a wealth of benefits that save you and your business time, money and effort.
Here are four ways online banking works for your business.
1. Online banking could save you time
Almost any transaction you can do face-to-face, you can do online. No traveling, waiting in line or managing your schedule around a branch's hours of operation. From your laptop or banking app, you can check your balance, make mobile deposits, transfer funds between accounts, pay vendors and employees, refund customers if necessary and verify whether checks have cleared. And if there's an issue with your business bank account, customer support is available 24 hours a day in most cases, either online or by phone. Spending less time at a bank means you can devote more time to managing and growing your business.
2. Online banking could save you money
Online banking programs allow you to transfer funds between several accounts — such as savings, checking, credit cards and loans — often without incurring fees. In addition, your banking fees may be lower, as banks would prefer not to pay the costs of branch upkeep and other additional costs, with those savings passed on to you.
3. Online banking helps streamline processes
Many online banking accounts integrate with accounting and payment-processing software or apps, such as QuickBooks, Stripe, Shopify and PayPal. Instead of the time and costs required to process payroll — writing checks, purchasing envelopes and stamps and mailing them to vendors and employees (or paying an accountant to do this for you) — a more automated back end saves you time and money to devote to your business. What's more, an automated reconciliation of your revenue and other balance sheets provides a real-time snapshot of the overall economic health of your business, so you can react and plan as necessary.
4. Online banking provides an extra element of security — you
In addition to the levels of security necessary for any financial transaction to occur these days, such as encryption software or digital countermeasures to prevent identity theft and hacking, online banking provides another level of security — you. You can monitor your account anytime and from anywhere, and you will be among the first to know if a malicious or unidentified transaction has occurred. You can also establish safeguards, such as customizing employee access to specific accounts or ensuring transfers or transactions require your approval, as a way of guarding against employee theft, which is important for a growing business.
There are banking processes that should be done in person, such as applying for a loan or line of credit or acquiring insight from your local branch advisor to help you build a successful business. But a hybrid model that combines 24-hour access to your online banking accounts with the security of knowing a trusted branch advisor is a phone call or a short walk away might be ideal for your business needs.
Speak with a business banker to discuss how online banking can help you devote your time, money and energy to where you most need it: your business.

For informational/educational purposes only: The opinions expressed in this article may differ from those of other employees and departments of JPMorgan Chase & Co. Opinions and strategies described may not be appropriate for everyone and are not intended as specific advice/recommendation for any individual. Information has been obtained from sources believed to be reliable, but JPMorgan Chase & Co. or its affiliates and/or subsidiaries do not warrant its completeness or accuracy. You should carefully consider your needs and objectives before making any decisions and consult the appropriate professional(s). Outlooks and past performance are not guarantees of future results.
JPMorgan Chase Bank, N.A. Member FDIC. ©2022 JPMorgan Chase & Co.