Exercising the body, the mind and the bank account
A future surgeon decided he'd rather be a personal trainer. Now he's helping people be more mindful about fitness.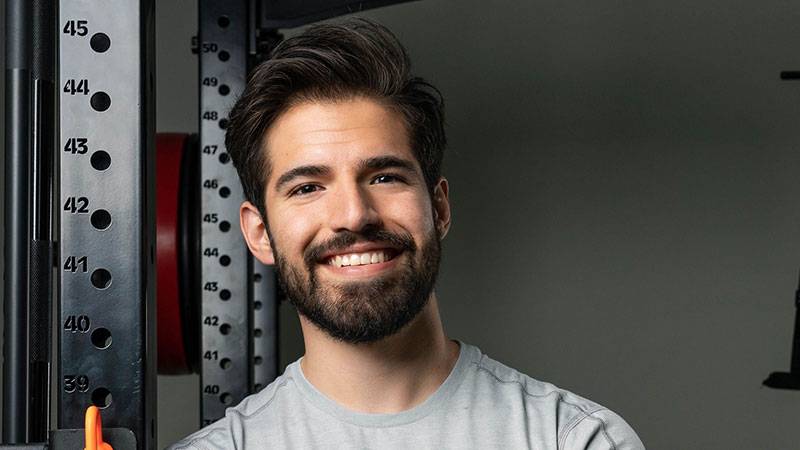 Differentiating yourself from competitors is one of the most important — and often most difficult — aspects of starting a new business. Andy Villanueva, founder of Simply Mindful Fitness, discovered his secret sauce early on: combining personal training and mindfulness to bring balance to busy lives. It's a business model tailor-made for a fast-paced, high-stress modern workforce, but he didn't come to it overnight. It took hard work and keeping his eyes open to new ideas and practices, plus some help from his banking partner, Chase for Business.
Search for balance uncovers a business opportunity
Villanueva first made fitness a part of his life in high school, long before he knew it would one day become the foundation of his business. He simply noticed that exercise helped improve his daily mental health. "If I wasn't exercising or doing some form of movement throughout the day, where I could clear my mind or I could just feel a little bit better, then my grades and my sleep suffered," Villanueva says.
He became interested in personal training later, once he started as a pre-med student at Johns Hopkins. At first, he only set out to start a fitness club to help his peers at the competitive Baltimore-based research university find more balance.

"They had no regulators," Villanueva explains. "They were just let loose, and a lot of them didn't have outlets to let go of stress or to just forget how demanding their schedule was and how much pressure there is." Like so many first-year students before them, they often turned to unhealthy coping mechanisms such as overindulging at Hopkins' gourmet dining halls.
Of course, those unhealthy coping strategies often made his peers more stressed, perpetuating a vicious cycle. "I wanted to figure out a way to help them," Villanueva says. But to start his fitness club, the university required him to become a certified personal trainer.
A deep breath offers a new perspective
Villanueva soon pursued an independent study in personal training (Hopkins has one of the best programs in the world). Training fellow students and other members of the community appealed to him so much that he eventually decided to abandon his plan of becoming a neurosurgeon. "I got to connect with people and essentially 'treat' them before these major issues that happen when you don't exercise came along," he says. "Their lives just seemed positively impacted from that. And that's something I think I craved."
But his neuroscience knowledge wasn't wasted: It helped him draw the connection between mindfulness and fitness that has become the foundation of his business. "With neuroscience, there's enough compelling evidence to think that meditation should be something we should practice more. It's something that I think can impact somebody's life a lot more than just personal training," Villanueva says.
A typical mindful fitness session begins with a short meditation. Then, as Villanueva leads his clients through exercises, he guides them toward a mindful approach. "I will ask them to just be more aware of what the sensations feel like," he elaborates. "If they're lifting a weight, where are they feeling a stretch before the muscle contracts? Where are they feeling the breath? Is it really intense? Is it really focused? How are they feeling throughout the session?" That approach reaps benefits for both physical and mental health, particularly for those who might not be as attracted to the stereotypical "No pain, no gain!" style of training.
Once Villanueva found the right niche for his training practice, it was time to relocate to Salt Lake City and get Simply Mindful Fitness off the ground.
Powering through COVID with Chase at his side
Villanueva may have become an authority on physical and mental fitness — but when it came to business, he needed his own personal trainer. Enter Chase for Business. "Chase was actually my first debit card as a high schooler," he says. It didn't hurt that there was a branch conveniently located within minutes from his front door.
Simply Mindful Fitness became part of a pilot program for Chase Business Complete Banking℠. This new all-in-one product featuring a low- to no-fee business checking account offers customers flexible payment acceptance options, including built-in card payments through the Chase Mobile® app. Villanueva was impressed with how easy Chase made everything for him. "It was a very simple process," he says.
Just as Simply Mindful Fitness had started to attract a client base, the COVID-19 pandemic struck, wreaking havoc on the economy and daily American life. "I was initially pretty terrified," Villanueva says. "Personal training, the whole idea is to be in contact!" Soon, he found a way to keep going by moving sessions online, but he's looking forward to the days when he can meet clients in person again.
For those starting their own business, Villanueva has advice similar to what he would give someone starting a new training program. "I think just doing a little bit every single day is incredibly powerful," he says. "There were days that it seemed like such a huge task to find clients and to put myself out there, but it's just little things that will eventually build up."
Looking to set yourself up for success? Chase Business Complete Banking has everything you need to get your business started, and you can open your account online any time.
For informational/educational purposes only: The views expressed in this article may differ from those of other employees and departments of JPMorgan Chase & Co. Views and strategies described may not be appropriate for everyone and are not intended as specific advice/recommendation for any individual. Information has been obtained from sources believed to be reliable, but JPMorgan Chase & Co. or its affiliates and/or subsidiaries do not warrant its completeness or accuracy. You should carefully consider your needs and objectives before making any decisions and consult the appropriate professional(s). Outlooks and past performance are not guarantees of future results.
The testimonials on this page or provided via linked videos are the sole opinions, findings or experiences of our customer and not those of JPMorgan Chase Bank, N.A. or any of its affiliates. These opinions, findings, or experiences may not be representative of what all customers may achieve. JPMorgan Chase Bank, N.A. or any of its affiliates are not liable for decisions made or actions taken in reliance on any of the testimonial information provided.
You should carefully consider your needs and objectives before making any decisions, and consult the appropriate professional(s).
JPMorgan Chase Bank, N.A. Member FDIC. Equal Opportunity Lender, ©2023 JPMorgan Chase & Co.