Chase Mobile® Banking
Business banking at your fingertips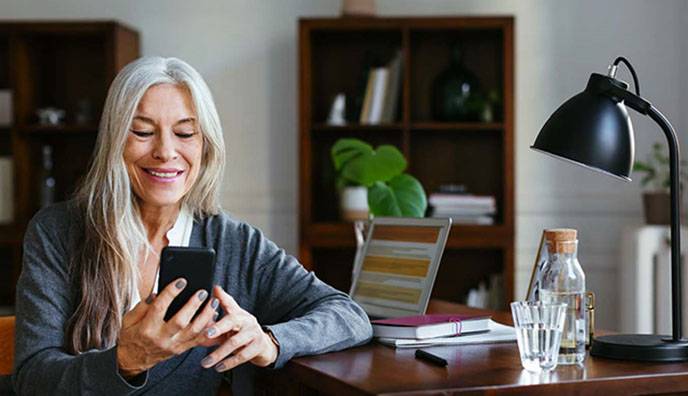 The Chase Mobile app is easy to use and offers security with encryption technology
Download the Chase Mobile app today
With the Chase Mobile app, you can:
Use Zelle® to get paid or send payments with just a U.S. mobile phone number or email address
Deposit checks on-the-go with Chase QuickDeposit℠
Pay bills or schedule when you want to pay bills
Transfer money across the country
Manage alerts and paperless statements
Add Chase Offers to your debit card and earn cash back on eligible purchases
How to get started with mobile banking
Download the Chase Mobile app directly from the app store.
Sign in with your Chase Business Online username and password. If you don't already have a username and password, you can learn more.
Choose "Request an identification code" and how you'd like to get it. Enter the code and your password — then you're done.
Frequently Asked Questions
Learn more about Chase Mobile banking, text alerts and online banking with Chase.
Yes. However, you can enroll in Chase Online through chase.com or the Chase Mobile® app. You can use the ATM & branch locator, as well as access Chase contact information, without being enrolled in Chase Online.
We use 128-bit Secure Socket Layer (SSL) technology to encrypt your personal information such as usernames, passwords and account information. The Chase Mobile® app will decode any encrypted information we send you. We also use multifactor authentication that verifies that you own the accounts you want to access when you first sign in using the Chase Mobile® app. To do this, you'll need to request an Identification Code, which you can receive by email, phone or text message.
You can read more about how we work to protect your information and money on the Chase Security Center .

Sign in through the Chase Mobile® app.
Click "Pay & transfer", then "Deposit checks."
Click "Deposit" on the menu.
Choose the deposit account.
Type in the check amount.
Take pictures of the front and back of the check.
Submit the deposit.
Currently, the security administrator who signed up for Chase QuickDeposit can deposit checks. The security administrator can also give sub-users mobile access as well as the ability to make mobile deposits.
There are both daily and monthly maximum amounts that you may deposit to each eligible business or consumer account through an eligible mobile device. You'll see those limits when you initiate a deposit.