Writing a business plan in 9 steps
Discover all the doors a solid business plan can help open for you, including business banking accounts, loans and other forms of funding. Presented by Chase for Business.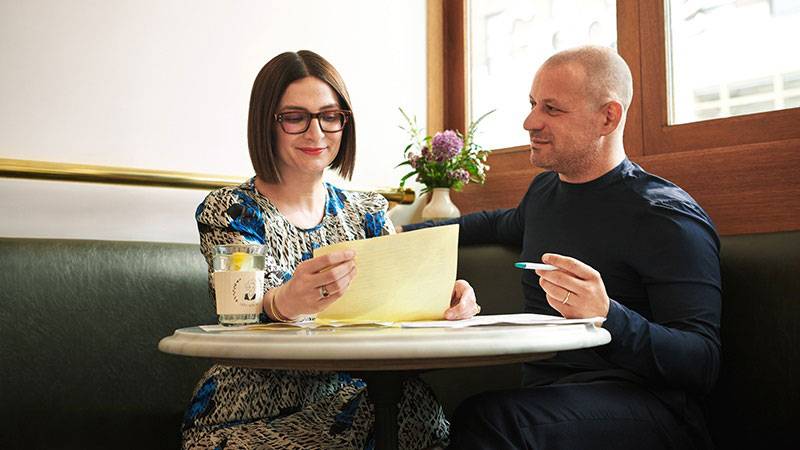 Whether you're starting your first business or your company is seeking funding, a business plan is essential for charting your path to success.
A well-written and researched business plan can act as a roadmap that outlines your plan for selling and marketing your products and services, making profits and growing over a period of three to five years. Your plan can also help position your company within the industry and set your business apart from competitors.
With the right tools and a little excitement, you can write a business plan. In this article, you'll learn how to write a business plan in a step-by-step process.
1. Ask these questions
To get in the right frame of mind and gather necessary details for writing an effective business plan, ask yourself the following questions:
Why do I want to start this business? What's my reasoning or inspiration?
How does my business stand out from the competition?
What is my unique value proposition?
Who are my target customers? How can I reach them?
Who is already on my management team? What gaps do I need to fill?
How can my business make a profit? How soon will it break even?
Knowing the answers to these questions will help guide the structure and cadence of your business plan.
2. Research before you write
Your business plan should be a well-researched, actionable document that you can return to again and again. To get the information you need, use the following tactics when writing a business plan:
Do a SWOT analysis. Consider your company's strengths, weaknesses, opportunities and threats. This type of analysis allows you to identify what sets your business apart and plan for potential risks.
Perform due diligence. If you're planning to buy an existing business, make sure you research the company's finances, sales, inventory and other aspects to ensure it's a sound investment.
Use Porter's Five Forces. This analytical approach is a framework for analyzing your company's competitive environment.
3. Think about your audience
Ask yourself, who will read my business plan, and what kind of information do they need? For example, if you're looking for funding, you should include plenty of financial data and forecasting. If you're seeking to bring on new business partners, you should include a detailed section where you outline how the business intends to support growth over the next three to five years.
If you want to share your business plan with different types of stakeholders, think about writing more than one version. This will allow you to make sure every reader has the right, targeted details about your business.
4. Include market analysis
Writing and researching a business plan gives you the opportunity to learn more about your industry, market, competitors, audience, local government, suppliers, sales channels and more. It also allows you to assess risk related to your market or supply chain.
To do this research, you can start by looking for online data related to your industry and target audience. It's a good idea to include data that's recent enough to still be relevant and from a credible source.
With a bit of patience, the information you need can be found online for free. Services also exist that provide customized data for a fee — which can be a good option for business owners without the luxury of time.
5. Make realistic projections
When writing a business plan, you're naturally going to be excited, and it may feel easy to think positively and overestimate how well your business will perform. Optimism may cause you future distress when investors or business partners expect more than your business is able to provide.
It's always better to aim low and blow your projections out of the water than to do the opposite. Make your business plan as realistic as possible. When you include accounting data, carefully consider the market, your competitors and the demand for your products.
6. Share your vision
Although financial projections, product descriptions and management charts serve as the focus for most business plans, including a vision statement can help you personalize your goals and refer back to your initial mission.
In this section, briefly discuss your reason for starting the business, share any underlying motivations and hypothesize on how your company can contribute to a larger cause.
7. Keep it concise
As you write your business plan, it's tempting to include every detail about your company. Before you know it, your market analysis alone might be 10 pages long. If your business plan becomes too big, it may become less actionable, or your readers may not devote the time to reading and comprehending it.
Take care to feature only the essential data when you write your business plan. Be sure to include the standard sections mentioned above.
A good suggestion is to feature a page or two for each section plus any financial statements or resumes. If you have additional research or notes that don't fit neatly into your plan, keep them on file for your own internal use.
8. Include a visual element
Most business plans tend to be text-heavy — but that doesn't mean you can't make yours visually appealing for the reader. Include relevant graphics, pictures, charts and diagrams.
9. Keep the style simple
Focus on presenting your information and storytelling in a clear way that doesn't require additional context to be understood. Keep the formatting as simple as possible. Use a classic serif font like Times New Roman to maintain readability. The last thing you want is for investors to focus more on your font choice than your financial projections.
A business plan can help you review your idea and put actionable goals in place. Once you've worked out the details, a business banker can walk you through important next steps like setting up a business checking account.
For informational/educational purposes only: The views expressed in this article may differ from those of other employees and departments of JPMorgan Chase & Co. Views and strategies described may not be appropriate for everyone and are not intended as specific advice/recommendation for any individual. Information has been obtained from sources believed to be reliable, but JPMorgan Chase & Co. or its affiliates and/or subsidiaries do not warrant its completeness or accuracy. You should carefully consider your needs and objectives before making any decisions and consult the appropriate professional(s). Outlooks and past performance are not guarantees of future results.
You should carefully consider your needs and objectives before making any decisions, and consult the appropriate professional(s).
JPMorgan Chase Bank, N.A. Member FDIC. Equal Opportunity Lender, ©2023 JPMorgan Chase & Co.