What Do You Need to Open a Business Bank Account?
Discover what documents you need in order to open a new business bank account. Presented by Chase for Business.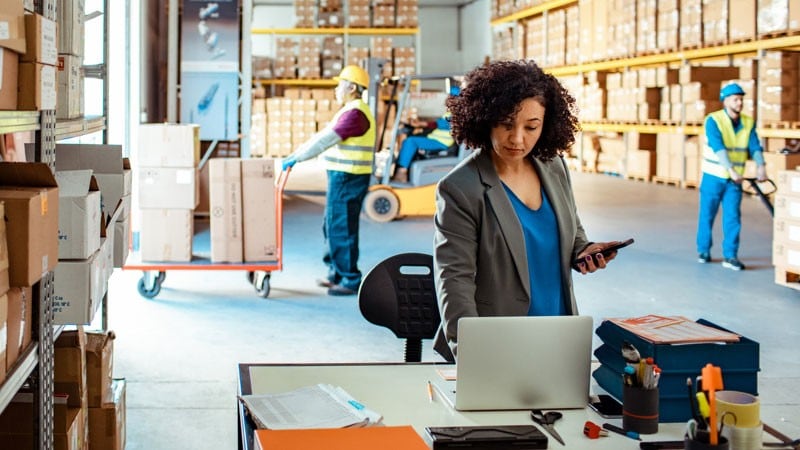 As a small business owner, it's important to keep your business and personal banking separate so you can monitor the profitability of your business and avoid mixing transactions. With a business bank account, you can help protect yourself and your business. Before opening one, be sure you understand what you need in order to start making deposits and getting the most from your account.
In this article, you'll learn what you need in order to open a business bank account and why having one is crucial for your business.
How do you open a business bank account?
Opening a business checking or savings account can be simple and straightforward when you know what information you need to get started.
1. EIN number
The first thing you'll need is an employer identification number — also called an EIN, FEIN or tax identification number. The IRS issues and manages your EIN. If you haven't filed for a tax ID number, you may still be able to open a business bank account with your personal Social Security number.
Depending on your type of business, you may not need to apply for an EIN. A sole proprietorship with no employees typically doesn't require one. A business formed as a limited liability company (LLC) may need an EIN, depending on whether it has employees. If you're still unsure whether your business needs an EIN, refer to this checklist from IRS.gov and seek professional advice.
2. Personal and business identification
Opening a business bank account requires proof of identification for both you and your business. Examples include your state-issued driver's license or passport, your business license or your partnership agreements.
Your business also may need to provide additional materials.
Sole proprietor: You will need to present your Social Security number. If your business has a DBA (doing business as) or assumed names, you will need to provide a certificate that shows the other name or names.
LLC: You may need to present the EIN and business registration. If you are the sole owner, your name should be listed as such.
Limited liability partnership: You will need to provide an agreement that shows the names of all the partners as well as the name of the business.
Have your business's paperwork ready when you go to open a bank account. If you have filed documents or licenses on the state level, you might need to bring them as well. When speaking with a business banker, make sure to ask which documents the financial institution requires to open a business checking account.
3. Initial deposit
Once you've established your personal and business identities, you may need to make an initial deposit to open your account. Initial deposits and minimum balances vary by bank and account type.
Select a business bank account with an initial deposit amount and minimum daily balance that are manageable for your business. Work with your local business banker to identify the amount of your initial deposit. Also, ask about any limited-time offers or deals; many banks waive initial deposits or contribute a monetary offer to qualifying new accounts.
The benefits of business bank accounts
Opening a business banking account for your company has many benefits, both personally and professionally.
Keeps finances separate: One advantage of opening a business bank account is separating your business and personal finances. Doing so can be important for taxes and it can help keep you from confusing business with personal expenses.
Helps maintain liability protection: If you operate an LLC or corporation, it's important to have a business bank account. Having one can help you maintain the liability protection, potentially securing you from payouts in any situation where you may be found liable. Business owners should speak with an attorney to understand what protection is available (if any) and what steps to take.
Helps streamline the tax process: Having a business bank account with all of your inflows and outflows can help when you're filing taxes. All of your business expenses will be in one place and you can use the account to pay all clients, customers and vendors. Business owners should speak with a tax professional for more information.
Establishes business credit: A business also needs to establish credit and setting up a bank account is one way to do this. If you plan to take out a loan or work with a supplier, having a business credit history can help. To establish a credit history and get access to capital, you may also consider applying for a business credit card.
The process of opening a bank account
Once you have all the documents you need, opening a business bank account can be straightforward.
When you're ready to open your business bank account, you can open an account online or stop at a branch near you. It might be helpful to meet with a business banker to determine what kind of account you need: business checking, savings or a merchant service account.
For Informational/Educational Purposes Only: The views expressed in this article may differ from other employees and departments of JPMorgan Chase & Co. Views and strategies described may not be appropriate for everyone, and are not intended as specific advice/recommendation for any individual. You should carefully consider your needs and objectives before making any decisions, and consult the appropriate professional(s). Outlooks and past performance are not guarantees of future results.
JPMorgan Chase Bank, N.A. Member FDIC. Equal Opportunity Lender, ©2023 JPMorgan Chase & Co.