Chase Chats: Creating an island of sanity
Innovative business leaders discuss ways to help employees cope with life and work so everyone profits.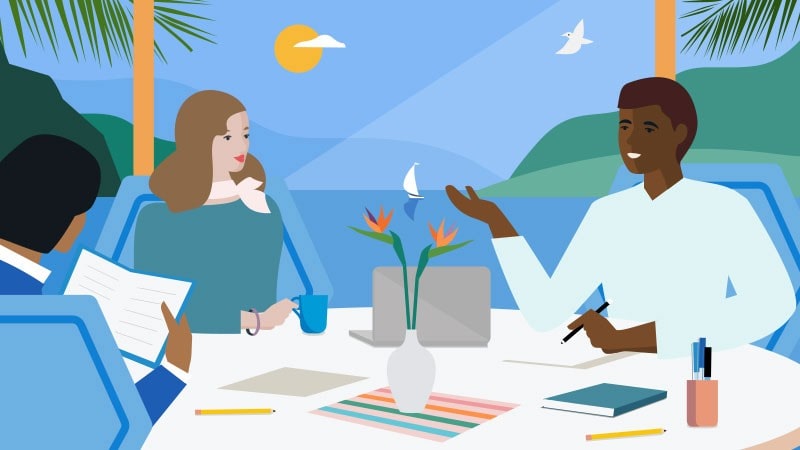 Welcome to Chase Chats, a series where we ask business leaders to share insights and inspiration on the biggest challenges they face today. What will you discover here that you can bring to your business?
No longer is providing fair pay enough. Today's employees are shifting their priorities and seeking support that goes beyond getting a paycheck. And businesses that find new ways to provide this added support have an advantage when it comes to attracting and retaining talent.
In a roundtable discussion, our panelists share how they incorporate mental health and wellness practices into their daily business operations.
Having authentic conversations
Q: There's a lot of talk about the changing nature of the workforce, with the Great Resignation and quiet quitting. How important is employee engagement in finding and keeping talent?
Henderson: This is one of the areas that's challenging to businesses, but it's critically important to find enough space to have authentic conversations. We feel so strongly about it, we built it right into our organizational structure. Hearing feedback from both employees and, in our case, our mission population and then acting on that feedback makes everyone feel heard and can create an amazing culture.
Windham: I agree that having a positive culture is key. Right now, people are experiencing so many emotions. They're dealing with a lot. I know I've got to make sure that things run smoothly, we're raising money and we deliver a quality program to our interns. But my number one priority is making sure our team and our interns are taken care of.
We've worked hard over the last several years to create a place where people want to work. It's not just about working in a restaurant. It's much bigger than that — it's about making a difference in someone's life. And that's helped us attract some great talent.
Ngai: Our company culture is strong, so we haven't experienced these trends as much as some companies. But I'm not going to lie; people do resign.
Our size works in our favor. We're still small, which means I have the luxury of having one-on-one talks with employees at every level, from management to part-time baristas. Even if it's only 10 minutes. We sit down, have coffee and chat. They can tell me anything, and I take the feedback seriously. If something is bothering them or they're not feeling it, I might call a larger meeting with the team to try to determine if there's something we're missing, something we're not doing right.
Teoh: We keep an open-door policy and let everyone know it's a safe space. If something happens at work or if an employee is going through any difficulties — and if they're comfortable sharing — we're here to listen. What's most important is to be genuine. To show that we care on a day-to-day basis, not just during one-on-one discussions.
"Employees like to feel like they are being heard. And I realize that listening to them is such an important role as a leader, and I'm thankful I can do that."
— Chi Sum Ngai
Building a solid foundation
Q: Business leaders are finding creative ways to offer employees mental and emotional support in a post-pandemic world. When did you first realize its importance within your own company?
Bartlett: Since 2014, we've been working with some amazing young people, employing them in various roles as they age out of the foster care system. Early on, we had one employee who helped us realize that understanding both the impact of trauma and best practices around mental health needs to be foundational in our business. We went back to the drawing board and rebuilt the business around it. For us, it's not just about providing a job; it's a holistic approach.
Henderson: When the pandemic hit, it was like the great equalizer. Mental health was a big part of our business model for years, but this was the first real dramatic event that everyone felt at the same time. Understanding mental health became a large part of every employer-employee equation. It had to.
Windham: For Café Momentum, it's two-fold. We provide jobs and education for justice-involved youth. Ninety-nine percent of them have experienced trauma, so mental health has always been a component for them. We also noticed that our staff needs that support, especially over the past few years. So, we've refocused how we create a positive environment for our professional staff as well as our interns and the population we serve.
"The more people feel supported and know somebody cares, the nicer they generally become themselves. Wouldn't it be great if it had a ripple effect and everybody in the world could be kind to each other?"
— Margaret Windham
Putting people first
Q: It seems there's been a shift in focus from productivity and profits to people. Is this a short-lived trend, or do you see it continuing?
Windham: I think it's something that we're always going to have to work on. It's easy to get complacent and revert back to old ways when you think everything's OK. But it's a work in progress. Needs evolve. Situations change. Inflation hits. So many things affect people's lives in and out of work. So I hope it continues and becomes part of everyone's business plan.
Henderson: I'm interested to see what happens now because there's so much uncertainty. But long term, treating your people right goes hand in hand with the growth and profitability of your business. I do think it will continue.
Ngai: I agree. We do business with so many people every day. If we don't take care of our own people first, it will show almost immediately and productivity will drop. Now, oppositely, imagine someone going to work feeling they don't have to worry about anything but doing their job because they feel taken care of and supported. What impact does that have on your business?
Q: What are ways this people-over-profits approach shows up in your business?
Windham: Instead of mandating that employees follow rules or do exactly what they're told, we let our values guide us. We developed our values as a team because it's so important that everyone believes in the values they live and work by. And each week, during our team meeting, we spend the first 15 minutes recognizing each other for specific ways someone is exhibiting these values.
Another thing we recently asked employees: what was most important to them — work, family, self, friends, job. No one answered self. So I told them their assignment for the week was to take care of themselves and do something to put themselves in the right mentality.
We've implemented three-day weekends each month, in addition to PTO and regular holidays, in order to make sure everybody actually takes time to recharge away from work.
Bartlett: There are big things we've done, like bringing in trainers and experts on trauma. Ultimately, though, it's the little things, like wearing "Be Kind" shirts around the office, starting every team call with shoutouts for everybody, making sure people feel seen and heard and are part of our community.
Henderson: As a relatively new branding and marketing agency, we've been able to work with some of the largest brands in the world. And it's because they care about what we do from a mission standpoint and how we treat our employees. We wouldn't get these kinds of opportunities if we didn't have those values within our business. It's a competitive advantage for businesses to treat employees well and create a community that puts them first.
Teoh: We've always had a lot of social events and gatherings with our team, though it has become difficult over the past couple of years. Our biggest struggle is being able to motivate the team to continue doing what they do best, with the passion they originally had — and then also motivate ourselves. We're starting to do team-building activities again. That's helped immensely.
"We might have an opportunity to make a whole bunch of money in another area if it means looking past the mission a bit, but our employees have seen that we won't do that. And that relentless focus on the mission is a good culture-building tool."
— Jordan Bartlett
Expanding outside the walls
Q: What are some ways you extend this people-first mentality to the larger community?
Bartlett: Businesses are communities of people. When those people leave at 5:00 or whatever time their shift is done, they're going out into other communities. It might be a church community, a Little League community, a family community. So when they're coming from a positive work culture, I have to believe there's an exponential impact.
Ngai: We're also tapping into different communities after we're done with our regular day. For us, we always like to start small and local and then slowly expand. We partner with nonprofit organizations to give out coffee, be cheerleaders and provide support. It's also part of our mission that everyone in the supply chain is taken care of, from the farmers to the roasters. It's a beautiful cycle.
Windham: Our kids are absolutely changing lives. They're going home and teaching their little brothers and sisters what they've learned, expanding their possibilities and giving them hope. They're creating generational change by becoming the first high school graduates in their families and the first to attend college. They're bringing their families into Café Momentum. They become change agents in their own communities. Once they have all the tools and resources and confidence they need to break the cycle, they'll be unstoppable.
"I hope one day we'll grow into a corporate-level business, but always operate with a mom-and-pop heart."
— Kaleena Teoh
Realizing you can't do it all alone
Q: Taking care of employees is great, but what about taking care of yourselves?
Bartlett: Participating in some of the programs we implemented for our employees and mission population helped us realize that, as leaders, we need to put self-care first. This is my first management position, and I've been shocked at how invested you get in the lives of your employees and how much compassion fatigue can impact you.
Q: You mentioned the term "compassion fatigue." For many business owners, the thought of adding yet another responsibility to their list may seem overwhelming. What are some small steps they can take to create a more people-first culture?
Windham: We hired a human resources representative this year for the first time. We're going on eight years, and previously, our CEO and I acted in that role. But listening to our employees, it was clear they needed an unrelated, unbiased party to go to with concerns or issues or questions about career paths. It's been a huge help. We also have a licensed therapist on staff. Adding support systems like these has helped us evolve.
Bartlett: It doesn't have to be about spending large amounts on experts. We always had mentoring programs in place. But the real shift came when the mentors became people who had also lived the experience. Suddenly, everyone is speaking the same language. There's a shared experience. That kind of engagement training is off the charts.
Building that kind of peer mentorship into our program created a huge impact at every level and also provided leadership opportunities for people who weren't quite ready to take on a management role.
Ngai: It all goes back to having those honest conversations. Even before we hire someone, we ask what they'd like to do. We think that's how Coffee Project New York has grown organically. It was just a retail shop. Then the baristas began saying, "I want to have more of a leadership role" or "Hey, I want to compete in barista competitions." So we expanded to new locations, built a roastery and opened a training facility to provide new opportunities for our employees to stretch into roles they are interested in. Turns out, it also led to new opportunities to grow our business.
"Being authentic, having work-life balance, learning what it means to be kind to ourselves and to others. These are the things that create the businesses, the communities and, ultimately, the world that we're all looking to create."
— Scott Henderson
This roundtable discussion, brought to you by Chase for Business, is part of our larger Chase Chats series that underscores our commitment to helping entrepreneurs navigate the challenges of starting, managing and growing their businesses.
The testimonials on this page or provided via linked videos are the sole opinions, findings or experiences of our customer or mentee and not those of JPMorgan Chase Bank, N.A. or any of its affiliates. These opinions, findings or experiences may not be representative of what all customers and mentees may achieve. Neither JPMorgan Chase Bank, N.A. nor any of its affiliates are liable for decisions made or actions taken in reliance on any of the testimonial information provided.
For informational/educational purposes only: The views expressed in this article may differ from those of other employees and departments of JPMorgan Chase & Co. Views and strategies described may not be appropriate for everyone and are not intended as specific advice/recommendation for any individual. Information has been obtained from sources believed to be reliable, but neither JPMorgan Chase & Co. nor its affiliates and/or subsidiaries warrant its completeness or accuracy. You should carefully consider your needs and objectives before making any decisions and consult the appropriate professional(s). Outlooks and past performance are not guarantees of future results.
JPMorgan Chase Bank, N.A. Member FDIC. ©2023 JPMorgan Chase & Co.