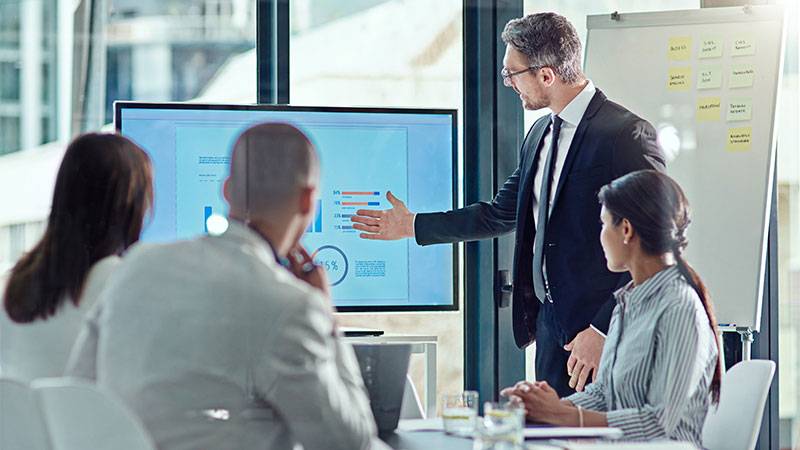 You put days, months — maybe even years — into crafting your business plan. You double- and triple-checked all the numbers. You had it professionally designed. And now the day has come. All that hard work has paid off and you have a chance to present your plan to a potential investor or group of investors. And while who you know is often a big advantage in business, in this case, what you know is even more important.
Know your business plan
Once you've made it to the step of presenting your winning business plan to potential investors, chances are they've already read it, or at least part of it, and want to hear more. Be sure you know your plan inside and out. They may ask you to give a 30-second elevator speech, which is a high-level summary of your business, your customers and what sets you apart. Or they may want you to recite the entire executive summary from memory. The point is, you have to be ready for anything. Prepare to reiterate, elaborate or consolidate what's in your plan, and anticipate any questions investors may have.
Know your audience
Many career investors will speak about their experiences, their backgrounds, what they look for in business partners, what they like to hear during a pitch (and what they don't), industries they're interested in and more. That's why it could be valuable to do some research upfront. Look for any interviews they may have given, articles or blogs they've authored and what's on their social profiles. If you know anyone in their network, talk to them. The better you know the audience you'll be presenting to, the more you can cater the presentation to appeal to them. For instance, if you know that a potential investor is a staunch environmentalist who believes in saving trees, you may not want to bring a dozen copies of a 30-page business plan to the meeting.
Know your customers
Investors want to know the people they may be getting involved with, and that includes your customers. Thoroughly research your target audience. Instead of presenting a bulleted list about your customers, you might engage investors by telling a story. Walk them through a typical day in the life of a customer. Where do they live? What do they like to do? What are their needs? And how does your product or service help fulfill those needs? If investors become vested in your customers, they may be more likely to invest in your business.
Know your data
When it comes to letting go of their hard-earned money, most investors just want you to show them the numbers. It wouldn't be unusual for a potential investor to ask for market statistics, revenue forecasts or customer acquisition costs during a pitch. Be sure you have realistic data and can back it up. After all, no matter how much investors like you as a person or believe in your product, their main goal is to make money. Their wheels are always turning as they try to figure how much of a return they can get on their investment and how long it will take.
Know your environment
You were so excited to get the meeting invite with a potential investor that you glossed over the details. But taking a closer look can make all the difference between being well prepared and scrambling at the last minute.
For an in-person meeting, the invite most likely includes the address, floor number, conference room name or specific location. If you're close enough and have the time before the meeting, you may want to consider visiting the location. And if you're able to get into the conference room, even better. If it's not possible to visit, think about calling the meeting coordinator to ask any specific questions about the meeting room. Either way, here are some things you may want to confirm before the big day:

What is the size/layout of the room?

Is there one big conference table?
Is there a large TV or monitor?
Will everyone be sitting?
Will you need a microphone?
Does the room have an internet connection? Is it password protected?
Are there available outlets?
Will you need to bring an extension cord or an HDMI cable?

If the meeting is virtual, you'll still want to prepare but in a different kind of way. With this type of meeting, you may have to work a little harder to keep your audience's attention. Be ready with these tips:

Make sure the sound, picture and material are clear, crisp and engaging.
Set up your space ahead of time.
Check the lighting in the room at the time of day as the meeting so that you can open or close shades, add additional lamps or make any adjustments.
Be sure the background is uncluttered and professional.
Try signing on to the video platform you'll be using to avoid any last-minute login issues.
Check that your speakers and computer microphone are working properly.
Do a practice run with a friend or family member, and record the presentation to see what it will look like from your audience's point of view.
Know your time
The last thing you want to do is prepare an amazing 30-minute presentation, only to find out you only have 10 minutes to present. Even though the meeting invite may indicate a one-hour meeting, things change and some meeting booking programs don't allow customizations. It wouldn't hurt to confirm how much time you have to present so there are no surprises.
The bottom line
In the same way it helps to develop a business plan checklist when crafting a business plan, it's also important to put the same time and effort into creating a strategy for presenting that plan to potential investors. Following these tips can be a great place to start. As with anything in business and in life, knowledge is key. The more you know, the more prepared and comfortable you'll be come pitch day.
For more ideas on how to get funding to grow your business, speak with a Chase business banker.
For informational/educational purposes only: The opinions expressed in this article may differ from those of other employees and departments of JPMorgan Chase & Co. Opinions and strategies described may not be appropriate for everyone and are not intended as specific advice/recommendation for any individual. Information has been obtained from sources believed to be reliable, but JPMorgan Chase & Co. or its affiliates and/or subsidiaries do not warrant its completeness or accuracy. You should carefully consider your needs and objectives before making any decisions and consult the appropriate professional(s). Outlooks and past performance are not guarantees of future results.
JPMorgan Chase Bank, N.A. Member FDIC. ©2023 JPMorgan Chase & Co.