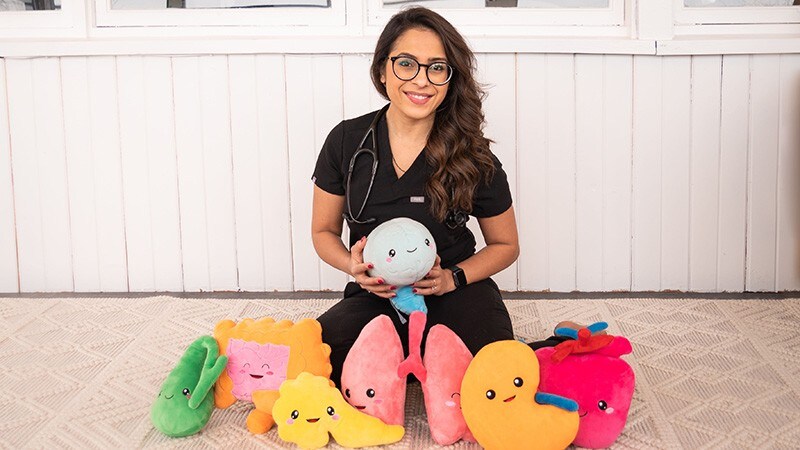 Life is a gland adventure. This isn't only a pun used to describe a thyroid plushie created by physician and entrepreneur Dr. Ronak Mehta. It's also her outlook on life.
Her circuitous journey started in medical school. As a creative outlet to balance the demands of her studies and clinical rotations, Mehta authored and self-published a whimsical children's book that was inspired by the creativity of another doctor — Dr. Seuss.
"The Extraordinary Expedition into the Human Body" features a host of characters, including the heart, lungs, kidneys and other vital body parts, and invites young readers to join her on a learning journey. It begins: "Let's go on a quest! An adventure you say? Let's explore the body. I'll show you the way!"
While the book never became a bestseller, in the back of her mind, Mehta always knew the story wasn't over.
Finding her inspiration
With the medical degree in hand and the book on the figurative shelf, Mehta began fulfilling her life's calling: helping patients.
During her rotation between the pediatric and adult units at the hospital, she saw an opportunity. She watched family and friends bring flowers and balloons to brighten patients' spirits, and she knew she could give patients something fun, quirky and lighthearted that would last longer and have a bit more meaning.
For the better part of a decade, she'd been holding onto a dream of turning the beloved characters from her book into plush toys. She shared the idea with her boyfriend, now husband, who encouraged her to go for it and promised to support her 100%. It was exactly the boost she needed.
Taking a chance
Mehta felt equal parts excitement and panic. In medicine, her path was all mapped out. She had to take prerequisites in college, pass the MCAT, get into medical school, do her residency and complete a fellowship.
There's no such script for starting a business. She took a deep breath and asked herself, Why not?
"Medical school. My career. My husband. Everything good in my life came because I took a chance," Mehta says. "So I thought, What's the worst that could happen? I knew I would be OK, even if it didn't work out. Even if I lost my investment. What I wouldn't be OK with was wondering 'what if' had I never tried."
Getting nerdy with it
After sitting on her idea for so many years, everything started moving quickly once she decided to go for it. She settled on her business name, Nerdbugs, hired an illustrator to sketch out five characters as prototypes, found a website designer and even learned how to do SEO.
For months, she worked closely with a custom toy manufacturer to ensure the plushies were the right colors, shapes and materials — making them both aesthetically pleasing and anatomically correct.
After a lot of back and forth, she began to see her vision become a reality: plushies that could raise spirits, erase stigmas, promote inclusivity and teach people about their bodies.
In 2018, Mehta launched her business online, inviting customers to "Spread kindness. Stay nerdy."
Going all in
For nearly five years after launching her business, Mehta balanced her time between practicing medicine and running Nerdbugs. When she found out she was expecting her first child, she knew something had to change.
"I didn't want to compromise my time with my family, and I knew it was a great opportunity to go all in with my business," Mehta says.
She scaled down her medical practice to four days a week (80%), then 70%, until she eventually got to 50%. That's when she decided to see what life might look like if she went in 100% on Nerdbugs.
"As a business owner, you have to take risks and trust yourself. I went in knowing I may love it, I may hate it, or I may miss clinical medicine and want to go back at some point. And that's all OK," says Mehta.
Women empowering women
When she first had the idea for her business, Mehta wasn't sure she had what it took to launch a brand. She acknowledges that she owes much of her confidence and success to the support she's received along the way.
"Aside from my family and friends, I learned there's a robust community of entrepreneurs out there. I found local mentors that helped me grow and scale, offered marketing support and even legal advice for free," Mehta says. "And I've been lucky enough to be surrounded by other really strong, driven women entrepreneurs and communities. We lift each other up and help support each other's businesses."
One of those communities is the Women's Business Enterprise National Council, known as WBENC, that provides national certification for women-owned businesses as well as networking and mentorship opportunities.
Building relationships
Mehta admits she's still learning many of the aspects of running a business, but one of the skills she's carried over from her days of practicing medicine is her ability to connect with people.
"I may not know all the nitty-gritty of my profit and loss statement, but one thing I know I'm good at is building relationships," she says. "I care about people and love hearing their stories. If you treat customers like human beings instead of transactions and nurture those relationships, it can take you far — in business and life."
Working with other businesses that share her values is important. In fact, when she needed to open a business banking account, she was initially looking at small local banks because she wanted that personal relationship. Then she heard about the travel rewards she could earn with the Chase Ink® business credit card and decided to stop in a branch. Everything changed.
"I met the business banker there, and she was so warm and inviting and so enthusiastic about my business. I felt like I was in a small-town bank. And they have a lot of programs that support women and minorities. I didn't have to go anywhere else. It was a really good fit," Mehta says. "Even when I moved from Salt Lake City to Madison, I kept in touch with my banker."
Mehta uses her Chase Ink business credit card for every major business purchase: manufacturing and shipping costs, raw materials, logistics. Any way she can get points, she does. And the points really add up.
"My parents had not taken a vacation in about 20 years," Mehta says. "This year we took the whole family to Mexico, and we were able to pay for the entire week — including hotel, flight, everything — with points. How amazing. I would have spent the money anyway, but because I used my card I was able to get something so meaningful out of it."
In addition to the Ink business credit card, she also uses Chase Business Complete Banking℠, Online Bill Pay and international wire solutions.
Changing the world one plushie at a time
To Mehta, Nerdbugs is about much more than just providing get-well toys.
"I've seen firsthand how we can create a meaningful impact by being there for people as they're going through their health journey and creating awareness of different medical and mental health conditions," she says. "We have a really unique opportunity to talk about more difficult topics in medicine and mental health that people normally shy away from or don't want to address head-on. That's where my two passions are interconnected."
For more inspiration and tips for starting and growing your business, visit the Chase Knowledge Center or speak with a Chase business banker.
The testimonials on this page or provided via linked videos are the sole opinions, findings or experiences of our customer or mentee and not those of JPMorgan Chase Bank, N.A. or any of its affiliates. These opinions, findings or experiences may not be representative of what all customers and mentees may achieve. JPMorgan Chase Bank, N.A. or any of its affiliates are not liable for decisions made or actions taken in reliance on any of the testimonial information provided.
For informational/educational purposes only: The views expressed in this article may differ from those of other employees and departments of JPMorgan Chase & Co. Views and strategies described may not be appropriate for everyone and are not intended as specific advice/recommendation for any individual. Information has been obtained from sources believed to be reliable, but JPMorgan Chase & Co. or its affiliates and/or subsidiaries do not warrant its completeness or accuracy. You should carefully consider your needs and objectives before making any decisions and consult the appropriate professional(s). Outlooks and past performance are not guarantees of future results.
JPMorgan Chase Bank, N.A. Member FDIC. ©2023 JPMorgan Chase & Co.